Coventry University Social Enterprise
Coventry University's dedicated entrepreneurship support team continue to help launch community conscious businesses through its Enterprise Hub (CUSE). Based in Whitefriars Street the space is open to staff and students with a business idea, and to any members of the public looking for advice or support to develop a social enterprise.
CUSE specialises in entrepreneur training, social enterprise development and pioneering social innovation and since being set up in 2014 has already helped to launch 50 community conscious businesses and student start-ups in the city.
As our name suggests, we're here to nurture and support social enterprises that make a positive impact on people and their communities. We've helped start over 50 social enterprises since 2014 and are now the leading university for social enterprise start-ups.
Keith Jeffrey, managing director of CU Social Enterprise
250
We have over 250 graduate start-ups, more start-up social enterprises than any other UK university
Regeneris Consulting
Give us a call

Send us an email
SpringAction
Spring Action is Coventry's only cleaning business which directly supports refugees and migrants rebuilding their lives in the city. The cleaning company was launched by Coventry Refugee and Migrant Centre with help from CUSE as a socially beneficial business venture.
Representatives from the centre now employ newly-arrived migrants and refugees who have permission to live and work in the UK but are struggling to find employment.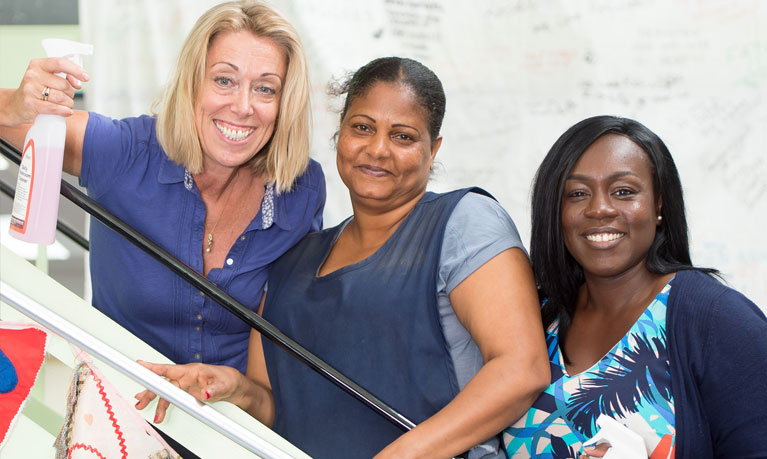 SpringAction offers refugees and migrants an entry into the job market and the chance to get experience and references while improving their English language skills, along with their knowledge of working culture and life in the UK.
Jan Malatesta from the Refugee and Migrant Centre
---
Mum's Kitchen
The catering firm now employs 15 stay-at-home mums in the migrant BME community after being launched by Nasreen Farid, interpreter and chairperson of Coventry-based charity Helen Women's Project. Mum's Kitchen has a base in the city centre and as well as providing a service, helps combat feelings of isolation and helps newly arrived women into the country benefit socially while putting their cooking skills to use.
The help we received from Coventry University has been great and it's given us the opportunity to get our business up and running, which is fantastic but what is especially satisfying for me is seeing the change in the women working for Mum's Kitchen. They're enjoying the work and the social aspect and they've really grown in confidence as a result.
Nasreen Farid from Mum's Kitchen
---
Hope for the Community
The Hope Programme is an award winning social enterprise that co-creates positive psychology resources for organisations and communities. Partnered with Coventry University the team works with voluntary, charity, NHS and commercial organisations. The team has an extensive network of experienced practitioners and has been at the forefront of many developments in self-management practice over the last decade.
Andy Turner, a health psychology professor at Coventry University is the co-inventor of the Help to Overcome Problems Effectively (HOPE) Programme – Hope for the Community's flagship course.
It was developed for anyone affected by conditions including cancer, dementia, depression, and MS and aims to educate, inspire and support people to take control of their health, wellbeing and resilience.
We select partners and collaborators carefully, on the basis of shared values and a commitment to co-creation, to making a difference, and a focus on the positive. We are commissioned by a range of funders including the NHS, local authority organisations, charities and other public bodies.
Andy Turner, CEO of Hope for the Community
Research has inspired the Gratitude Wall which focuses on the idea that the expression of gratitude can improve mental health. It was launched at the Godiva Festival in 2017 when more than 1,000 people added their words.
Hope for the Community
EnV is a Community Interest Company managing and delivering a range of events, training & volunteer programmes. EnV manage and sustain the award winning Coventry Ambassador volunteer programme.
Providing quality events, training and volunteers in the community, by the community, for the community.
EnV