Coventry University to open up cathedral views across city centre with new urban spaces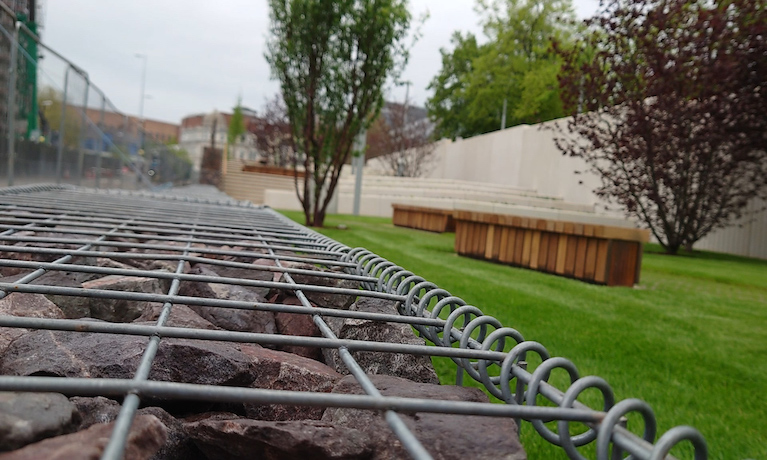 ---
Friday 14 May 2021
Press contact
---
Coventry University is planning to transform areas of its city centre campus into green spaces and enhance views of Coventry Cathedral with an ambitious redevelopment programme, which is now underway.
The university has this week unveiled Starley Gardens – a striking open-air urban space which helps open up the campus for the local community and visitors to the city to enjoy and helps the city look its best ahead of its well-deserved time in the national limelight as the UK's City of Culture 2021.
The innovative outdoor space features new pedestrian areas and landscape gardens and was created on the site of the university's James Starley building, which was demolished last year. James Starley is considered the father of the bicycle industry, which was once centred in Coventry.
Starley Gardens will have the capacity to host a variety of cultural events all year round, bringing activity and excitement to the campus, while helping to improve the social wellbeing and health of staff, students and the local community.
The next stage of development being planned aims to see the closure and demolition of the Alan Berry building in 2022. The Alan Berry building was built in 1963 and has a prominent position on campus overlooking University Square, opposite Coventry Cathedral. It currently houses the university's Business Development team, Registry and the Vice-Chancellor's Office.
The development plans focus on forming additional landscaping and a parkland area, promoting the university's desire to open up vistas within the campus whilst providing high-quality, green spaces. The plans aspire to facilitate an uninterrupted view of Coventry Cathedral from the university's Arts and Humanities facilities on Cox Street, which are currently being redeveloped.
The open landscaped area is planned to follow the demolition of the Alan Berry building and assist in forming a pathway of parkland and quality urban routes through the campus and towards the new university HQ and centre of operations, which will be built on the site of the former Civic Centre buildings on Little Park Street.
We're delighted to have unveiled Starley Gardens as a boost to the city ahead of City of Culture celebrations getting underway. We see this as the first major step in our efforts to open up views of the beautiful cathedral in the city and to make our campus as accessible and visible as possible not only to our students and staff, but to the people of Coventry as well.