Student support - Meet the team
At Coventry, we aim to cater to your individual needs so you can fully immerse yourself in the university experience, worry-free. So once you enrol, to support your personal and academic journey, you'll be introduced to your personal Success Coach and Academic Tutor.
Success coaches
Your Success Coach can be right beside you until graduation. As your life coach, they're here to help you discover what you really want and how to achieve it, by making sure you have the support you need to make the most of your course, and all that university life offers.
Academic Personal Tutors (APTs)
Academic Personal Tutors (APTs) offer an additional layer of academic support alongside your lecturers. APTs offer personal guidance about internships, optional modules that match your interests and have an in-depth knowledge of how each module is assessed.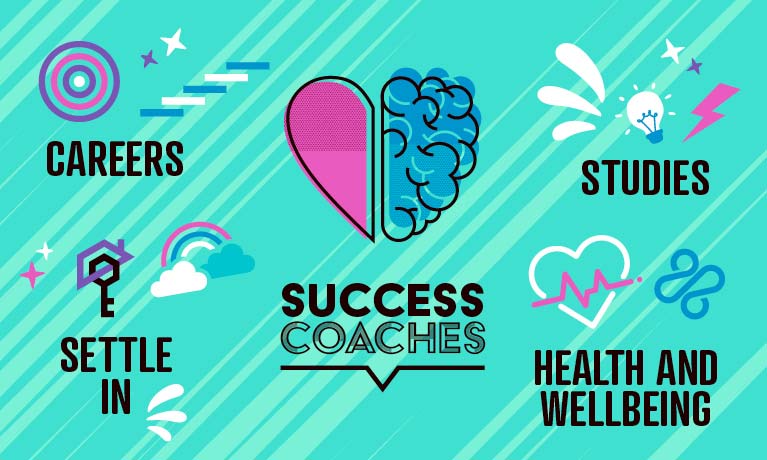 Supporting you from day one
To make sure everybody is supported, we offer lots of student services which are split into four groups: Health, Studies, Career and Settling in. But don't worry, you won't have to memorise all our services, your Success Coach can connect you to the right service, when you need it.
Help me with my...

Studies
Practice alongside experts to help work with greater clarity, elevate your study skills and achieve the best grade you can.

Health and Wellbeing
For your physical and health needs, our specialist advisors can support your circumstances and be a friendly face to talk to.

Career
Let's work together to shape your professional profile, by building a career plan and finding internships that suit your interests.

Settling in
University is a big change and there's lots of things to get used to. Check out how we can help you settle into your new home.
Find out how we can help
I've had a great experience with an amazing Success Coach. I've only started university in September and I feel like I am very confident academically, by learning new skills and successfully completing university assignments. Nathan has helped me so much and I am so pleased for getting to know him. He's one of the best Success Coaches I have ever met.

Elisabeta Mustata, Nursing and Allied Health Professions, Foundation Year quoted in 2021