Your Future, Our Support, Your Move
Exclusive to Coventry University, Phoenix+ brings together students to learn, experience and develop essential knowledge to help you succeed in life and work.
Experience the difference
The Phoenix+ programme is the spark that sets the Coventry University experience apart. Watch the video to take your first step towards a personalised journey of discovery, fuelling your passion and boosting your skills.
Key features at a glance
Personalised 1-to-1 coaching
Tailored success plan
Experiences to enhance your talent
Skills assessment
Customisable pathway
Vibrant learning community
Lasting digital portfolio and awards
Designed to help you achieve your graduate attributes
Tailored content designed to elevate your skills and knowledge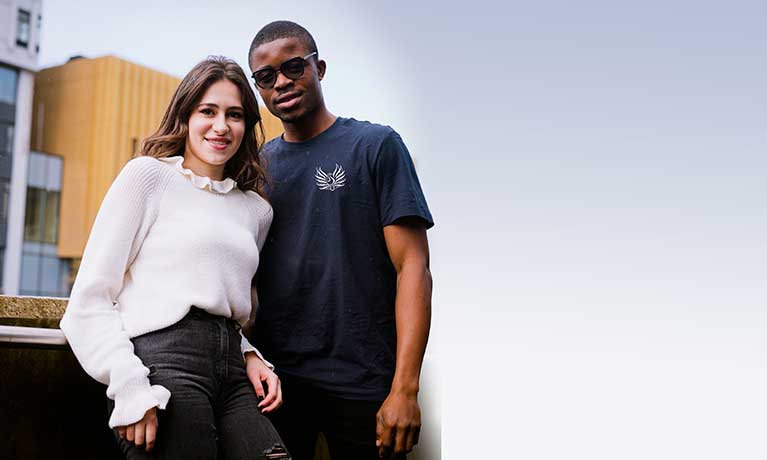 Start your Phoenix+ journey today
Unlock support to explore, plan and prepare for your future
Frequently asked questions
Explore our frequently asked questions below to learn more about Phoenix+ and how it can enhance your experience at Coventry University
What exactly is Phoenix+?

Phoenix+ is your roadmap to success at Coventry University and beyond. Phoenix+ embraces your potential, celebrates your existing talents and guides you to exciting new areas for growth. From your first day through to graduation, you'll have plenty of chances to embrace learning opportunities that enhance your skills, expand your experience and empower you to confidently step out into the world.

How will participating in Phoenix+ benefit me?

Phoenix+ aims to send you on a transformative journey, have access to a community of support and benefit from 1-2-1 coaching, all this and more awaits you within Phoenix+. It's not just about reaching your career goals; it's about preparing for life beyond university. Phoenix+ is your springboard to bigger things, honing your existing skills and introducing you to new ones.

Will Phoenix+ enhance my CV?

Absolutely. Coventry University's graduate attributes are the DNA of Phoenix+ and represent the sought-after skills and qualities that employers truly care about. And the best part, Phoenix+ doesn't just give you these attributes - it helps you showcase them. Through self-reflection and practical experiences, you'll be armed with solid examples of your skills, ready to impress potential employers.

Am I eligible to participate in Phoenix+?

Phoenix+ is all about inclusivity. Phoenix+ is open to all undergraduate students at Coventry University main campus, regardless of which course they are studying. Phoenix+ is your platform to gain additional knowledge and skills.

Why should I choose Phoenix+ ?

Phoenix+ will amplify your university experience. As well as learning, it's about growing, networking and gaining that edge that sets you apart.

How much does it cost to be part of Phoenix+?

Phoenix+ is free for Coventry University undergraduates to access. Some optional experiences might have a cost attached, but we've got plenty of free options to make sure everyone can get involved.

Is the Phoenix+ programme really worth my time and effort?

100% yes! Phoenix+ will help you to develop a skillset that's broader, deeper, and more tailored to your aspirations. Whether you want to learn new skills, gain practical experience in a range of sectors, access networks gaining contacts for life, the opportunity to take part in transformative experiences overseas or practical experience in a range of sectors and anything else in between; Phoenix+ has got you covered.

Phoenix+ allows you to discover and learn at your own pace, in your own style; it has been designed to work around you and be flexible around your time so it can fit in with your studies or whatever else you have going on.

Is Phoenix+ only for students starting in September 2023?

Phoenix+ is for all Coventry University main campus undergraduate students. If you are in year two or your final year you can still sign up.

What are the Graduate Attributes?

Our graduate attributes are a set of qualities, skills, and competencies, designed to set you up for life and the world of work by the time you graduate.

Developing these attributes should help you to recognise and appreciate your own value, giving you the confidence to:

communicate effectively
act with integrity
adapt your approach
think creatively
get things done