As an undergraduate student, you'll be introduced to a Success Coach who will be assigned to you through your first year. Their aim is to make sure you have the support you need to make the most of your course, and all that university life offers. Postgraduate students can also receive coaching from a Success Coach simply by booking an introductory meeting.
Want to know more?
Sammy Kaur, one of our Coventry University Success Coaches, talks you through what it means for you.
Hi, I'm Sammy, a Success Coach at Coventry. I mentor students from all walks of life and the one thing they all have in common is their potential. Once you enrol on an undergraduate course, you'll be given a Success Coach who can be right beside you until graduation.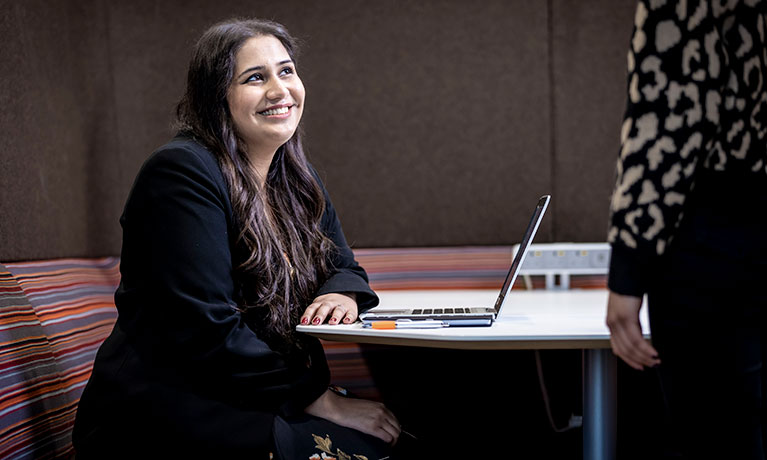 What we do
I'm your personal life coach; let's discover what you really want and how to achieve it.

Everybody's idea of success is different and I'm here to help you to define yours. Maybe you want to be at the top of your class, or become more confident. I'll guide you to develop your strategies for success, overcome challenges or find a new direction. If you leave my sessions feeling empowered, with a clear vision of your goals, I know my job is done.
How we do it
Once we've got to know each other, we'll work together on your Success Plan, so you have a clear roadmap of objectives to reach your end goal.

I'll also connect you to the services you need, when you need it, giving you peace of mind that you made the most of everything Coventry offers. Let's say you want to achieve a first-class honours, your Success Plan will be to boost your study skills, by connecting you with your Academic Personal Tutor and the right skills services for your course.

The great thing about you defining your own success is that it can always change, so we regularly check in with you, to see what else you need. Your Success Coach one-to-ones are available on campus, Aula, email, phone and Microsoft Teams. We're never far away, and it's our pleasure to help you.
Having a Success Coach was somebody I could vent my worries to with absolute confidentiality. They say that a problem shared is a problem half solved and I doubted that until meeting with my Success Coach. Now I will hear his voice in my ears, urging me on as I make the final stretch towards my finish line this year, like a coach urging on a player. It was truly the help I needed and I am so grateful to have been graced with his presence.