Disability
Disability Advisors are part of the Health and Wellbeing team and are conveniently located in TheHub. They are available at Open Days and are here to provide advice and support to students from application to graduation.
This team of dedicated professionals have the experience and skills to ensure that individuals receive appropriate support throughout their time at University. We offer support to students with a variety of disabilities including:
Specific Learning Difficulty (Dyslexia)
Physical and Sensory Disabilities
Asperger's (Autistic Spectrum)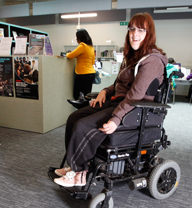 The University campus has excellent facilities, landscaped areas and buildings are fully accessible, providing an environment that can be enjoyed by everyone, including people with physical and sensory disabilities.
Our aim is to ensure that support is in place when you arrive at University. We are therefore happy to provide information and guidance before you complete your application via email or at a University Open Day.
Please download our latest information pack which provides details on the support available.
If you are a needs assessor please download NMH PDF guide for a breakdown of each band.
If you think you have a SpLD but haven't been formally diagnosed, please read our guidance on how to proceed to obtain a full diagnosis.
---
Individual Examination Arrangements
If you have a disability, learning difficulty, or other medical condition that could affect your performance in examinations, please make an appointment to see a Disability Adviser in Health and Wellbeing as soon as possible via our online booking system. If appropriate, Health and Wellbeing may recommend individual examination arrangements based on the evidence provided. Evidence accepted is a full diagnostic report for SpLD or medical evidence. The diagnostic report/medical evidence must be clear on what adjustments you require and how your disability/medical condition effects you during examinations.
Please refer to our Coventry University Individual Exam Arrangement policy for students for further information. All applications must be submitted by the advertised deadline dates which will be found in the Student Handbook, Student Portal and advertised via Moodle.
The University cannot guarantee that we can facilitate adjustments that were made at a previous institution.
New students - please download and complete the DP notice and return to disoff.ss@coventry.ac.uk
The Disabilities team can be contacted at:
The Health and Wellbeing Centre
TheHub
Jordan Well
Coventry
CV1 5QP

Telephone: +44 (0) 24 7765 8029
Email: disoff.ss@coventry.ac.uk