Buildings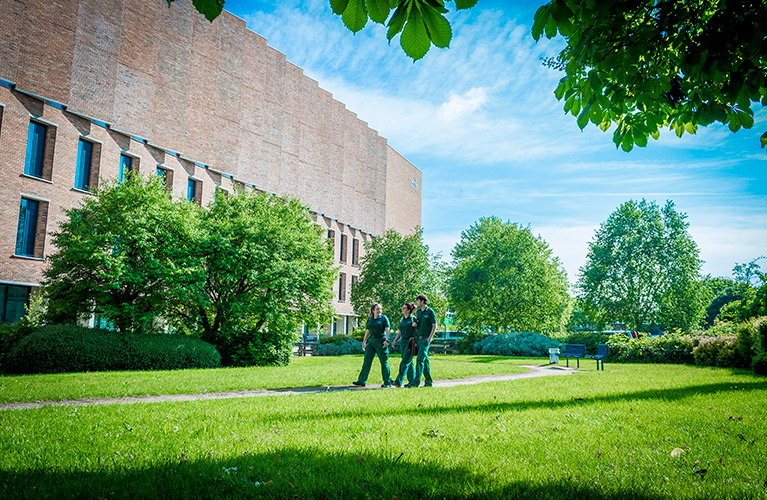 Alison Gingell Building
CV1 2DS
Opened by the Duke and Duchess of Cambridge in January 2018, this is a modern multidisciplinary facility housing new healthcare simulation, research and 'super-lab' environments. It enables students to learn to care for patients at every stage of their healthcare experience; from ambulance and hospital treatment, through to physical and mental rehabilitation. It is named in memory of Alison Gingell, a city councillor who was at the forefront of health and social care in Coventry and Warwickshire for more than 40 years.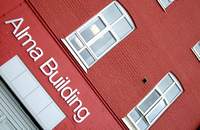 Alma
CV1 5QA
This was built in the 1920s and is used by Estates and ITS. It is the former site of the Singer Works, from which both the Singer Penny Farthing and Coventry City Football Club can trace their origins.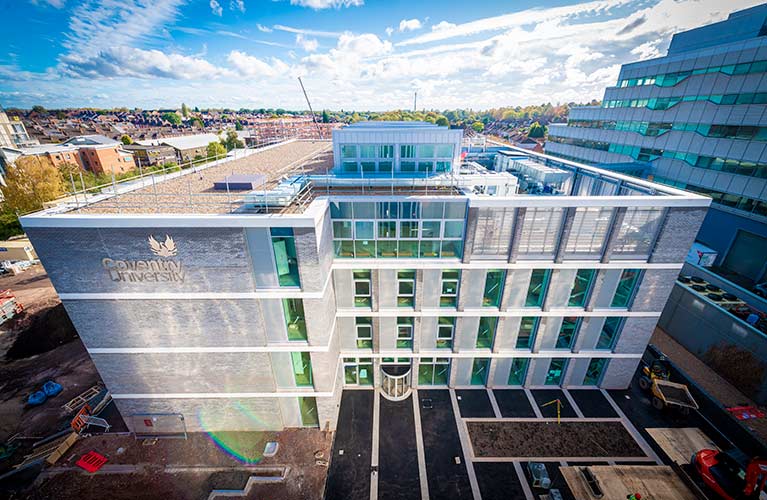 Beatrice Shilling Building
CV1 5JH
Completed in 2020, this state-of-the-art building provides an additional range of teaching and learning facilities for students, including a VR gaming studio, specialist PC labs and an array of multi-purpose engineering labs and workshops. Joined to the Faculty of Engineering, Environment and Computing's existing teaching block via a covered bridge, this first-class addition to the university has been commended for its quality and functionality at the West Midlands Constructing Excellence Awards 2020, winning the value category.
---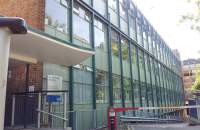 Charles Ward
CV1 5FD
Built in the 1950s, this is used mainly by our Faculty of Health and Life Sciences. The building was named after a key figure for the university, Charles Ward, who became Vice Chair of the Board of Governors in 1982.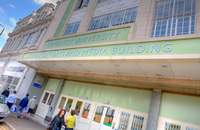 Ellen Terry
CV1 5RW
This is used by our Faculty of Arts and Humanities, specifically for the performing arts, media and music courses. Built in 1880, the art deco building underwent a major refurbishment in 2000. Fittingly, it was previously a cinema, and is named after Dame Ellen Terry, a star of the Victorian stage and a leading Shakespearean actress.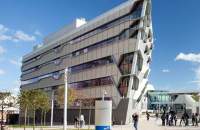 Engineering and Computing Building
CV1 2JH
Our Engineering, Environment and Computing Building (EEC), was completed in 2012. It uses a range of sustainable technologies, including rainwater harvesting, solar thermal energy and biomass boilers. Facilities include a precision wind-tunnel, a high-performance engineering centre, a Harrier Jump Jet and three flight simulators.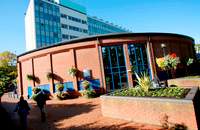 George Eliot
CV1 5FB
Built in 1960 and fully refurbished in recent years, this building provides modern teaching and learning spaces for both Coventry Law School and the Faculty of Arts and Humanities. It is named after George Eliot, which was the pen name of the novelist Mary Anne Evans, one of the leading writers of the Victorian era.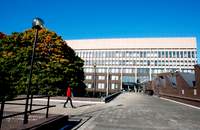 Graham Sutherland
CV1 5PH
Built in 1959, this building is currently undergoing an extensive internal redevelopment. Once completed, it will continue to be used by the Faculty of Arts and Humanities, predominantly by design and visual art students. It is aptly named after the painter and printmaker Graham Sutherland, who created the world-famous tapestry 'Christ in Glory' in Coventry Cathedral which, at 23x12m, is reputedly the largest continuously woven tapestry in the world.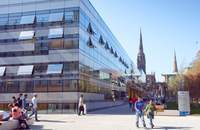 TheHub
CV1 5FB
Completed in 2011, TheHub is a modern, hi-tech building providing a welcoming social space for our students. Facilities in the building include a doctors' surgery, a multi-cultural faith centre, employment services and catering services, as well as a hairdresser, food court and the Students' Union offices. It has fully licensed function spaces and bars, a multi-purpose venue hosting regular music and film events, and a new restaurant, The Courtyard, which opened in 2019. The building holds a BREEAM status of Excellent – the world's leading sustainability assessment method.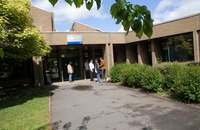 Jaguar
CV1 5DL
Built in the late 1970s, this building is sponsored by Jaguar Land Rover, the Coventry-based car manufacturer, and recently underwent a significant refurbishment. It is home to our postgraduate students, as well as our researchers within the Centre for Business in Society (CBiS).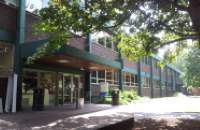 John Laing
CV1 2LT
This building is primarily used by the Faculty of Engineering, Environment and Computing, offering courses relating to the construction sector. It was built in 1970, and is named after Sir John Laing, a British entrepreneur in the construction industry.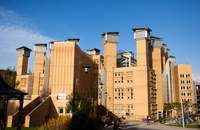 Frederick Lanchester Library
CV1 5DD
This striking building houses the main university library. It was opened in 2001, and in 2019 was upgraded to bring together all elements of academic support into one location, with a new entrance, café and collaboration spaces on the ground floor. It is named after Frederick Lanchester, the Coventry-based designer of the first British petrol-driven car. It is equipped with more than 350 computers, group and individual study rooms, books, journals, and electronic resources across five floors. It also includes the the Lanchester Interactive Archive, the largest and fully digitalised archive of the life and work of Frederick Lanchester.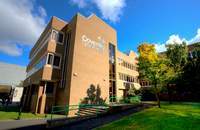 Maurice Foss
CV1 5PH
Built in 1978, this building is currently undergoing an extensive internal redevelopment. Once completed, it will continue to be used by the Faculty of Arts and Humanities, primarily for industrial design courses. The building is named after Maurice Foss, the former Deputy Director of Coventry Polytechnic and one of the university's Honorary Life Fellows.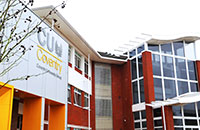 Mile Lane
CV1 2TU
This is a new bespoke campus for CU Coventry, which offers Coventry University degrees through a unique and flexible education model designed to fit around the lives of students. It opened in 2019 and provides a cutting-edge learning environment for collaboration, creativity and innovation. The building has energy-efficient features, with student having access to on-site parking and catering facilities.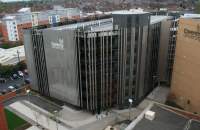 Multi-Storey Car Park
CV1 5DE
This is our impressive multi-storey car park, opened for staff and visitors in 2010. It has 457 spaces over 15 floors, including spaces for electric vehicles.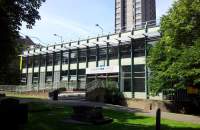 Priory Building
CV1 5FB
Built in 1964, this is occupied by the Cambridge Education Group, which runs its Coventry foundation campus from here, offering university pathway courses for overseas students who wish to gain entry to UK universities. The building also houses a large sports hall.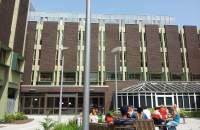 Richard Crossman
CV1 5RW
This was built in 1971 and is named after the political journalist and Labour politician Richard Crossman, who represented Coventry East from 1945 to 1974. It is used by the Faculty of Health and Life Sciences, primarily for psychology, criminology and social sciences subjects, and includes mock prison cells and psychology labs.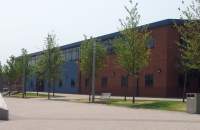 Student Centre
CV1 2JH
Opened in 2006, the centre is home to many of our key student services as well as our International Office. This is where our students enrol and is also a main information point for student accommodation and finance queries.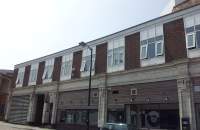 Whitefriars
CV1 2DS
This is a hub of offices and shops, and includes the Inkwell, the Printshop, as well as the Enterprise Hub. There is a suite of small offices above these units Built in 1922, its name is drawn from the Carmelite Friary founded in 1342 in Coventry.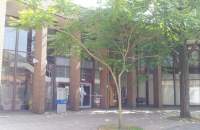 William Lyons
CV1 5DL
Constructed in 1980, this building is currently the home of the Student Engagement Centre team and a few small research units. It is named after Sir William Lyons, the co-founder of the Swallow Sidecar Company, which subsequently became Jaguar Cars.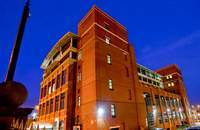 William Morris
CV1 5DL
Built by French company Hotchkiss and Cie in 1917 to make machine guns, this building was later bought by the Morris car company for engine works. Coventry pioneered car production and this building, now the William Morris, is home to our Coventry Business School.