History
Coventry University has a long tradition as a provider of education. Our roots go as far back as Coventry College of Design in 1843. It was in 1970 that Coventry College of Art amalgamated with Lanchester College of Technology and Rugby College of Engineering Technology.
The resulting institution was called Lanchester Polytechnic: 'Lanchester' after the Midlands automotive industry pioneer, Dr Frederick Lanchester, and 'Polytechnic' meaning 'skilled in many sciences and arts'.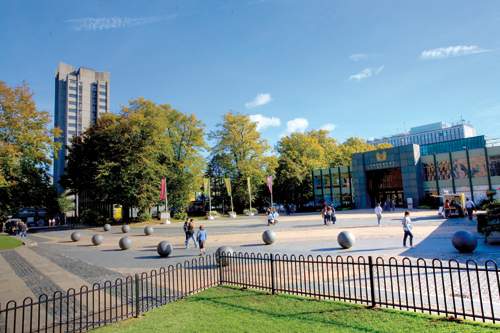 In 1987 the name changed to Coventry Polytechnic and in 1992 the University was set up under UK Government legislation, as laid out in the University's Instrument and Articles of Government.
The Lanchester name has been preserved in the title of our art gallery, the Lanchester Gallery, as well as in the Lanchester Library.
The phoenix was a mythical bird with splendid plumage, reputed to live in the Arabian Desert. Fabled to be the only one of its kind, the phoenix lived for five or six centuries, after which it burned itself to death on a funeral pyre of aromatic twigs ignited by the sun and fanned by its own wings. The phoenix rose from the ashes with renewed youth to live through another cycle.
Such a symbol is a fitting reminder of the way in which the city of Coventry rebuilt itself after suffering devastation during the Second World War. It is a symbol with which Coventry University is proud to be associated and to have adopted as its own.


Explore our timeline to see how key events from our past are shaping our future.
1940
Then: Bombing during the Coventry Blitz in November destroys two thirds of city buildings including the School of Art and cathedral.
Now: The community responded with resilience and city is still recognised as a place of peace and reconciliation.