Chancellors of Coventry University
As Coventry University's first female chancellor with a background in law and in promoting diversity and equality in education, Margaret Casely-Hayford is leading Coventry's work on corporate responsibility, social mobility and community engagement.
A former solicitor, Margaret is an active champion for young people, women and ethnic minority groups. She is helping to increase inclusion and representation at top levels in business, and to teach entrepreneurial skills to children as young as six-years-old.
She will ensure Coventry can continue its work to help establish businesses and start-ups, and encourage young people from all backgrounds to enter higher education or training.
Coventry is an energetic university which dares to be different and where social mobility and inclusion complement a truly entrepreneurial spirit. It shares my commitment to equality of opportunity, and proves that a university can be world-class while admitting talented students from a range of backgrounds.

What is so important is for young people to see different sorts of people coming into top and diverse roles and that gender and race don't need to be a barrier.

I am a feminist, and what that means is the promotion of equality for everyone, meaning not only allowing people to feel safe whoever they are, but also creating equality of opportunity, including encouraging young white working class men and young people of colour who are underrepresented at all levels of education.

The role that Coventry plays in raising ambition and skill levels in our communities is one step to achieving that level playing field and it is wonderful to see how staff here empower students and give them the confidence they need to succeed.

I am thrilled to be part of such a dynamic team at a time when we are bursting onto the world stage.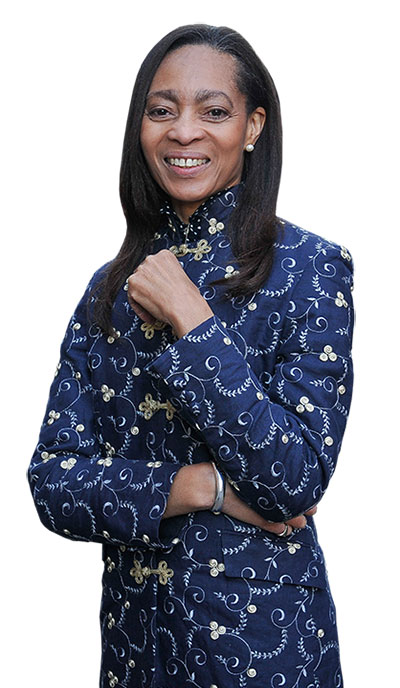 2017 - Present
Margaret Casely-Hayford
2017 - Present
Margaret Casely Hayford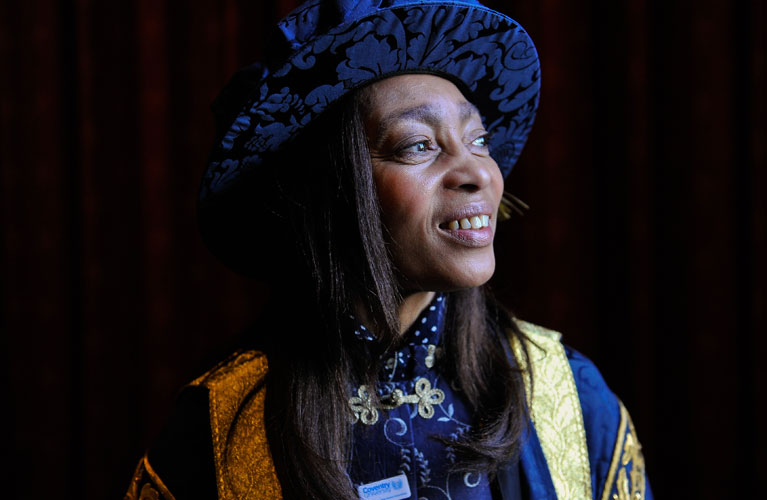 Margaret speaks to Rise Magazine
Margaret Casely Hayford took over the ambassadorial role from Sir John Egan, former BAA and Jaguar Land Rover CEO, who led Coventry University for 10 years before stepping down as chancellor in 2017.
Biography: Margaret Casely-Hayford
Margaret Casely-Hayford studied law at Somerville College, Oxford University, and was called to the Bar in 1983.
She joined Denton Hall Law Firm (now SNR Denton) four years later to specialise in planning law, and in 1998 was made partner - becoming the first black woman to hold the role at any City law firm.
Director of Legal Services at John Lewis Partnership from 2006 to 2014, and a Non-Executive Director of NHS England.A Freeman of the City of London, Margaret served on the Metropolitan Police Oversight Panel to investigate corruption.
She has sat on the board of the Young Vic theatre; and spent eight years as a Government appointed trustee of Great Ormond Street Children's Hospital Charity.
In 2008 The Black Power List named her generation of Casely-Hayfords as the most influential black family in the UK; and in 2014 Margaret was named Black British Business Person of the Year.
Now retired from the legal profession, Margaret chairs Action Aid UK which strives to educate women and prevent child marriages in some of the world's poorest countries.
She advises budding entrepreneurs from all backgrounds; sits on the advisory board of Ultra Education, is a trustee with the Radcliffe Trust for heritage arts and music projects; and behind a diversity review for the Carnegie and Kate Greenaway literary awards.
She also co-manages rap artist, Kelvyn Colt.
1995 - 2007
The Lord Plumb of Coleshill DL
2007 - 2017
Sir John Egan