Study with us
Why study with us?
Opportunities to work with experts across a range of areas, including

materials, manufacturing, human factors and digital technologies

World-class infrastructure and laboratories
Meeting global challenges by

developing technology and manufacturing capability for zero-emissions powertrains

Advancing new transport solutions such as autonomous vehicles and technology to enable urban air mobility
Advanced Manufacturing Technology
Functional Materials
Manufacturing & Materials
Digital Manufacturing
Supply chain optimisation
Metrology
Materials and Structures
Structural Integrity
Materials Engineering
Future Mobility
Systems Security
Transport Safety & Simulation
Structures, Control and Optimisation
Human Factors for Future Transport
Design Ergonomics
Connected Mobility
E-Mobility
Energy Storage
Power Electronics/Electric Machines
Stimulating learning environment
The Centre for Future Transport and Cities (CFTC), the Centre for Manufacturing and Materials (CMM) and the Centre for e-Mobility and Clean Growth (CEMR) benefit from excellent facilities and incredibly close industry links, for instance with AME being the first example of a 'Faculty on the Factory Floor', being co-located with Unipart Group. This provides researchers with the opportunity to study processes within a live manufacturing environment, while benefiting businesses by amassing expertise in manufacturing research and development. They further enjoy a long-standing partnership with HORIBA MIRA, providing researchers with the associated benefits of industry expertise and access to the testing facilities at the MIRA Technology Park. An additional key partnership is with FEV. The business has co-located its UK operation with C-ALPS, ensuring that researchers into clean propulsion systems for the future are able to maintain close links with the industry.
The structure of the centres ensures that researchers in each specific field can operate within a focused environment yet benefit from the expertise of the wider institute, promoting a holistic approach to transport development. This extends to the wider Faculty of Engineering, Environment and Computing (EEC), particularly with the increasing relevance of cybersecurity, machine learning and artificial intelligence within the sector, meaning that cross-centre collaboration with other university research centres such as the Centre for Computational Science and Mathematical Modelling is increasingly pertinent.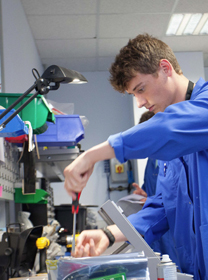 Institute for Future Transport and Cities
Find our more about the research carried out by the IFTC team.