Our Research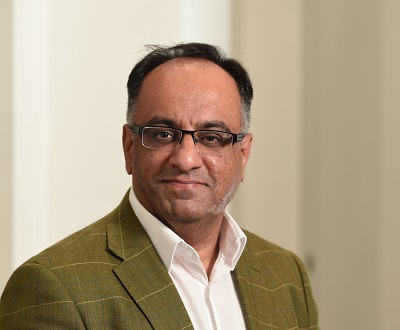 Siraj Ahmed Shaikh
Professor of Systems Security
Director of Research (Interim), Institute for Future Transport and Cities (IFTC)
We take a fresh approach to the challenges facing society by bringing together world-class experts from art and design, human factors, engineering, computer systems and business studies into one focussed Institute. Our work covers automotive, aerospace, maritime and rail transport modes and allows us to take the lead in cross cutting research developing new forms of transport, new forms of manufacturing and new forms of information provision and security.
We have a unique position in UK universities – with over 130 research staff and over 140 PhD research students in the Institute capitalising on our links with Coventry City and our close collaboration and joint initiatives with major stakeholders such as Unipart, FEV and Horiba MIRA.
We are working in exciting times with major challenges being presented by the move towards increased automation, the increasing age and urbanisation of our population, new materials and manufacturing processes and by the need to move towards sustainable non-polluting transport as quickly as possible. Current hot topics for us include developing new materials for wearable technology, driverless unmanned and vertical take-off vehicles, mobility as a service, systems security and new business models for the future supply chain.
To address these challenges, we have taken major initiatives that engage with our partners and stakeholders. The National Transport Design Centre provides state of the art design tools and studios for developing future vehicles and provides a fantastic opportunity to work directly with commercial companies, taking concepts through to real products. We have a joint initiative with Horiba MIRA called the Centre for Connected and Autonomous Automotive Research (CCAAR) that puts us at the forefront of research into the changing nature of highly automated and intelligent vehicles. We have also opened the Centre for Advanced Low Carbon Propulsion Systems (C-ALPS) in collaboration with FEV, addressing battery technology and vehicle electrification.
These new developments complement the existing research facilities within the Institute (e.g. driving and aircraft simulators, control engineering laboratories, electric motor test beds, fuel cell thermodynamics) and our real-world environments and vehicles.
The Institute also includes our multi-award winning Advanced Manufacturing and Engineering Institute (AME), partnered with Unipart Manufacturing. We have a proven track record of 100% employment for our industry-ready manufacturing graduates, and commercialisation of several new technologies for lightweight and low/zero carbon powertrain applications.
We encourage you to browse our projects, news, events and academic profiles. Please check back to our site area that we will be updating on a regular basis.
Our research themes and groups
Our research focuses on five key themes, within which there are a number of research groups, as follows:
Design
Academic Lead: Prof Andrew Parkes
Research groups:
User Centred Design
IoT (Internet of Things)
Human Systems Integration
Manufacturing
Academic Lead: Prof Andy Cobley
Research groups:
Functional materials
Manufacturing Technology
Future Manufacturing
Metrology
Materials & Structures
Academic Lead: Prof Xiang Zhang
Research groups:
Structural integrity
Materials Engineering
Advanced Systems
Academic Lead: Prof Siraj Shaikh
Research groups:
Systems Security
Connected & Autonomous Vehicles
Engineering Simulation & Optimisation
Supply Chain Optimisation
E- Mobility
Academic Lead: Prof Rohit Bhagat
Research groups:
Energy Storage
Power Electronics/Electric Machines
Design
Academic Lead: Prof Andrew Parkes
Coventry University can trace a direct line of design heritage from the formation of a Design Institute in the city in 1843. Strong links to the automotive industry led to the development, over 40 years ago, of automotive specific design courses and we now deliver the largest undergraduate transport design course in the world, with alumni in every major manufacturer and design house. The Institute builds on that background to bring together experts in the key research groups of:
User Centred Design
IoT (Internet of Things)
Human Systems Integration
with the aim of researching and developing future systems.This work is largely based at The National Transport and Design Centre (NTDC) at the TechnoCentre site.
Design Groups
Materials and Structures
Our materials research lies at the lower end of the Technology Readiness Level (TRL) scale (1 – 4) and focuses on Safety-critical applications. These include Improvements in safety, development of novel analytical methods, full component analysis, nano-scale mechanical properties, fundamental mechanistic understanding and methods for improvement in lifetime. By understanding in-service material behaviour and fatigue, we can support businesses in gaining competitive advantage and producing superior and more cost-effective products with longer lifespans.
Our largest research area is Structural Integrity, where we model the properties of materials under different stresses typical of applications such as airframes or nuclear reactors, apply novel treatments such as laser shock peening to make materials less prone to cracking, and use advanced instrumentation to test the properties of materials.
The Functional Materials group works on applying novel materials in engineering applications and also looks at changing the properties of materials using chemical treatments. They can, for instance, make fibres in clothing fabrics conductive, allowing sensors to be built into the clothes we wear.
The Materials Mechanics Measurement group researches techniques for measuring material properties from nano-indentation and atomic force microscopy, opening up the possibilities of non-destructive measurement of materials properties, and the generation of nano-engineered materials.
Materials and Structures Groups
Advanced Systems
Advanced Systems
Academic Lead: Prof Siraj Shaikh
This is a major activity in the Institute bringing together multidisciplinary teams in large scale projects that have very strong links to industry. These include the research groups of:
Systems Security
Connected & Autonomous Vehicles
Engineering Simulation & Optimisation
Supply Chain Optimisation
Applied development centres and laboratories include: Centre for Connected Autonomous Automotive Research (CCAAR) located at Horiba Mira in Nuneaton, Microcab Hydrogen Fuel Cells, Vehicle Control Systems (SVeCLab) and Power and Energy Laboratory.
Systems Groups

Manufacturing
Our manufacturing research lies at the higher end of the TRL scale (5 - 8) and comprises three themes. Specific Manufacturing Processes includes Plating & Coatings, Welding & Joining, Laser Processing and Metal Forming. Enabling Manufacturing Technologiesinclude Robotics and Automation together with Metrology and Quality. Future Manufacturing Technologies includes Industry 4.0, IoT, Big Data and Digital Process Control Systems.
The Laser Manufacturing and Engineering team sits between the materials science and the manufacturing process research; it studies the laser processes needed to carry out laser shock peening, conducts research into changing the properties of thin materials and the surfaces of bulk materials, and looks at the processes required to optimise laser welding. The latter crosses over into research in Welding, Joining and Additive Manufacturing which not only provides the knowledge required to join new or thinner materials but also models joining processes so that understanding the influence of changes in a multitude of joining parameters can be fully understood.
The Future Manufacturing researchers have a successful record of applying novel techniques such as fuzzy logic in the modelling of activity flows in manufacturing processes and of optimising industrial collaboration and accessing services such as energy usage monitoring by effective use of the internet. Our reseachers are now bringing together expertise from around the University to conduct research in modelling all aspects of manufacturing processes and applying a range of sensors to physical processes so that the performance of process against model can be continuously monitored and machines can become more autonomous. These are the cyber-physical systems that constitute what has been branded the 4th Industrial revolution, bringing in demands for processing big data, determining data integrity and ensuring cyber security.
Manufacturing Groups
E-Mobility
Academic Lead: Prof Rohit Bhagat
This team conducts research to support the national initiatives for electrification of transport, particularly in the automotive sector. Research under this theme is divided into two groups:
The team has world leading expertise in battery technologies, ranging from the chemistry of batteries through to their lifetime performance and recycling. Researchers in this group also look at other methods of generating and storing power such as fuel cell engineering and supercapacitors.
Power Electronics/Electric Machines
The group addresses power electronics from semi conductors to power converters and investigates electrical machines with their associated control systems and instrumentation. Much of this work is conducted in collaboration with the engineering company FEV at the dedicated facility on the Technocentre campus called The Centre For Advanced Low carbon Proportion Systems (C-ALPS).