Centre for Connected and Autonomous Automotive Research
The Centre for Connected and Autonomous Automotive Research (CCAAR) is a collaboration between HORIBA MIRA and Coventry University. Located at the MIRA Technology Park, CCAAR is concerned with developing intelligent, connected vehicle technology in response to the ever-changing challenges faced by the transport sector.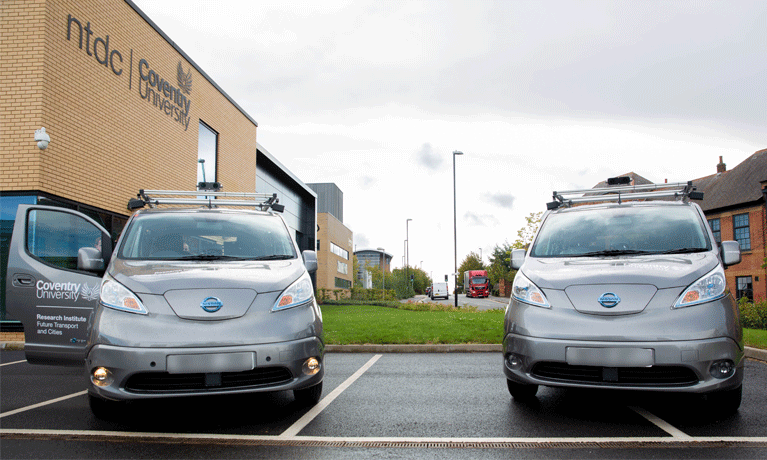 Coventry University took delivery of two autonomous vehicles from StreetDrone in September 2020.
About the centre
CCAAR has its roots in the long-standing relationship between Coventry University and HORIBA MIRA. In 2013, the success of a 2013 PhD research project into advanced traffic modelling and simulation led to a growing cohort of PhD researchers from the university working to develop new knowledge for the HORIBA MIRA business in the area of connected and automated automotive design.
This research highlighted the close strategic alignment of Coventry University and HORIBA MIRA, with the relationship being formalised in 2016 as CCAAR to grow collaborative research.
CCAAR's core objectives are to:
Provide an environment to simulate, test and evaluate the security and safety of Connected Autonomous Vehicles (CAV)
Undertake research to accelerate the development of new products and services in the CAV segment
Produce a pipeline of talent to support growth of the CAV segment
CCAAR draws expertise from both academic staff members and doctoral research students, besides HORIBA MIRA's engineering and test teams. The Centre plays a critical role in bridging the skills gap in an industry that is increasingly turning towards intelligent solutions as the demand for CAVs grows worldwide.
A particular area of interest is the development of more resilient cyber security systems within modern vehicles, with the Centre's Systems Security Group being a leading authority in this field.
CCAAR has a long track record of successful collaboration with a range of partners across the transport sector and is always interested in exploring new strategic relationships. To find out more, visit 'Work with us'.
To find out more on our partnership with HORIBA MIRA, please visit the CCAAR website.
Facilities
CCAAR benefits from access to HORIBA MIRA's world-class facilities and technologies, including a range of information and communications technology and specialist laboratories. With in-house facilities combining the real and virtual worlds for CAV, the Centre utilises a suite of simulators that interact with 'living laboratory' environments.
Overview of key infrastructure and technologies available to the Centre:
Vehicles
StreetDrone Level 4 autonomous Nissan eNV200 (x2)
Ford Fiesta research vehicle (for Secure Systems testing)
Software and Hardware
DSPACE Scalexio HiL Simulator
IPG Carmaker
Mathworks Roadrunner
CARLA
PTV Vissum
Altair Hyperworks
LS-Dyna
Simulators
Multiple immersive and augmented reality ground vehicle driving and passenger simulators
Infrastructure
CCAAR office and vehicle workshop (shared facility with HORIBA MIRA)
ASSURED CAV (Highway) CAV proving ground (shared facility with HORIBA MIRA)
Work with us
CCAAR offers unparalleled access to expertise and testing facilities in a rapidly expanding research area.
The Centre is part of the Connected and Automated Mobility Testbed UK ecosystem, Zenzic. CCAAR is part of the national strategy to establish the UK as a global-leading centre of excellence for the development, testing and commercialisation of CAVs.
Below some of CCAAR's most significant projects.
The Trusted Intelligent Connected Autonomous Vehicle consortium (TIC-IT), is part of the national strategy to establish the UK as a global-leading centre of excellence for the development, testing and commercialisation of CAVs.
This is a £32M project part funded by CCAV (UK Government) for the establishment of a world class Connected and Autonomous Vehicle testing facility.
Key points:
Purpose built realistic, safe environment for testing CAVs up to the limit of their operability
A critical activity to ensure consumer confidence in new technologies
The test environment will be unique, enabling a wide range of CAV driving scenarios to be tested
The purpose of this project is to create a bespoke and realistic, controlled set of parking environments to test and support the development of current and future connected and automated parking solutions.
Park-IT will be flexible allowing increasing complexity of use cases for parking scenarios. It will investigate V2X communication connectively for efficient communication and parking assistance including:
Wireless V2X physical layer simulation
Co-existence of multiple V2X technology
Network layer co-simulation
The facility will be supported by a 'digital twin' so users can create and run parking scenarios using simulation techniques in the virtual world.
Additional projects
Institute for Future Transport and Cities
Find out more about the Institute and the research centres.