Current PhD Opportunities
We are looking for exceptionally talented, motivated and creative scholars interested in a new generation of issues linked to the sustainable food supply for the planet, the governance of food systems, technical and social aspects of food production, hydrological processes and change, eco-hydrology, provision of clean water, and community resilience or adaption to climate change.
An engaging Doctoral Training Programme (DTP) providing bespoke and relevant training and mentoring, delivered by an international team of field experts. The DTP is versatile and flexible in addition to having rigour and relevance, allowing you to choose creditable development activites that fit your needs and research schedules.
An array of DTP activities including discipline-specific seminars and workshops, annual summer schools, peer-to-peer presentations and discussions, as well as various social activities throughout the year. We encourage and facilitate student-led activities to complement and enhance this programme.
The Doctoral Training Centre (DTC) and access to facilities. The University has invested over £7.5 million to establish the dedicated research facility at Garden Organic, Ryton Gardens, which boasts extensive office space, meeting rooms, IT equipment, soil and water labs, a computational modelling lab and a video-editing suite. As an integral part of CAWR, you will have access to all facilities and equipment.
The CAWR Research Community. We are an international team of 50 strong academics, from early career researchers, to full professors who are world leading experts in their respective fields. As a CAWR student, you will be regularly invited to participate in our thematic group meetings, guest seminars and general staff meetings, thereby gaining access to research expertise and mentoring beyond the immediate supervisory team. This allows you to gather insight into work culture, practices and norms by working alongside researchers and other professional services staff at the centre. You will have dedicated administrative support through the various stages of your progress, from application to award.
Post-doc Incentive for PhD students with a successful track record and prompt completion, who are offered the opportunity to compete for 1 year of post-doctoral funding at Coventry University.
Informal expressions of interest, including a motivation letter, a resume and a brief research proposal, can be submitted to potential supervisors within CAWR.
Entry requirements:
a recognised Masters degree in a relevant discipline from a reputable institution,
the potential to engage in innovative research and to complete the PhD within a three year period of study,
English language proficiency (IELTS overall minimum score of 7.0, with a minimum score of 6.5 in each component).
For details on the formal application process and forms, please see Making an Application on the University's website.
For potential supervisors and their areas of expertise, please see our staff list.
Contact our Current PhD students to hear first hand about their experience at CAWR.
Other Funding Opportunities:
NFU Centenary Award 2019:
Applications are now open if you are planning to start a postgraduate course in autumn 2019.
The NFU Mutual Charitable Trust Centenary Award gives annual bursaries to pay up to 75% of course fees for selected postgraduate students in agriculture (Masters or PhD).
The NFU Mutual Charitable Trust runs this scheme to create a legacy for the future and to highlight their commitment to the countryside and young people. The Centenary Award aims to give a number of students financial assistance for their studies whether they are applying for a one year Masters or a three year PhD.
The closing date for applications is 30th April 2019.
Further information about the Centenary Award and how to apply can be found here.
Coventry University Scholarships:
For information regarding the scholarships that are available via Coventry University please see the 'About our Scholarships' page for further details.
Postgraduate Doctoral Loans:
A Postgraduate Doctoral Loan can help with course fees and living costs while studying on a postgraduate doctoral course, such as a PhD. For more information click here.
Moussa Sidibe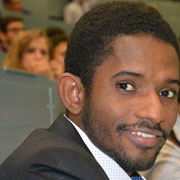 "I always perceived a PhD as a daunting task, I shall admit that undertaking it in a transdisciplinary and innovative oriented research centre as CAWR, makes it easier. As a CAWR PhD student I feel lucky to be in contact with brilliant minds from all around the world."
Christopher Yap
''Doing a PhD at CAWR means grounding your research in practice. The Centre has such a diversity of staff and students, but what they have in common is a commitment to having an impact in the real world. I am an urban geographer, but through my time at CAWR I have worked closely with economists, natural scientists, and participatory practitioners. The Centre's emphasis on interdisciplinary thinking and working, and non-traditional approaches to research, makes it a rare and important place to study particularly if, like me, you are interested in the politics of knowledge production within and outside of academia.''