Study With Us
Come Study With Us
WHY CAWR?
50 strong team of international experts
Transdisciplinary research
Research led teaching
Research seminar series
PhD student seminar series
Stimulating learning environment
Access to labs and state of the art equipment
Dedicated administrative support
And we do social events really, really well!
Our academic experts
We have an international team of academics ranging from early career researchers to full professors who are world leaders in their fields of research.
For further information on their areas expertise please see our staff list.
Stimulating learning environment
In keeping with our research themes, our office is suitably situated at Ryton Organic Gardens. Some of the teaching is conducted on site giving students hands-on experiential learning. Campus based courses offer opportunities to students to interact with their peers and access the extensive university facilities.
Support cohort building
We support cohort building through a variety of activities including dedicated administrative support, access to facilities, funding of student led events and our research seminar series.
Postgraduate research
As a Doctoral Training Centre we offer bespoke training to our PhD students. Tailored work shops are run every year taking advantage of the breadth of knowledge and varied research areas of our staff. A Summer School also takes place with a strong focus on writing as well as sessions on surviving the PhD and time management.
Taught Masters programme
The MSc in Agroecology, Water and Food Sovereignty encompasses enhanced knowledge from our now larger team of experts and is informed by recent research. This is a new programme and will welcome a second cohort in the academic year 2019-20.
The MSc is structured according to the thematic pillars of our Centre's research and is a multi and transdisciplinary course. Students are introduced to a range of different approaches to foster equitable and sustainable food and water systems.
Internships
An internship is a great way to gain an insight into working in a professional environment and an understanding of whether this aligns with your interests and aspirations. You can benefit from learning from our researchers whilst developing your skills and possibly gain credit for the time spent.
If you are interested in joining us as an intern at CAWR please get in touch; still unsure if this is for you? The Student Voices tab on this page includes blog posts from previous internships on their experiences at CAWR.
Student Voices
BLOGS
From our PhD Researchers:
Zimbabwe's Road to Transformation Denied? (Georgina McAllister, PhD Researcher) George's blog post is based on her own experiences of working with people in Zimbabwe. Over the last 10 years George has worked with civil society organisations. During her recent field work in the country George explored how agroecology can help to build peace in rural areas.
Tips to keep sane during fieldwork (Carla Kay, PhD Reseracher)
Looking over the electronic hedge: learning new farming techniques (Katie Hartless-Rose, PhD Researcher)
Food is Real and Social Media isn't: Exploring Alternative Food Networks through Online Spaces (Luke Owen with Elizabeth Bos, PhD Researcher)
From our Interns:
Jakrin Bamrungthai's time in Ryton (Jakrin Bamrungthai)
Davis Kuma's time in Ryton (Davis Kuma)
Blooms for Bees project introduces intern Hannah (Hannah Murphy)
My internship at Agroecology, Water and Resilience (Elia Mallen)
Read Alfred Szilágyi's 5 part blog where he travelled the UK with Dr. Immo Fiebrig assessing the sustainability of conventional, organic and permaculture farming systems:
Searching for Garden of Eden in Agriculture; Part One
Searching for Garden of Eden in Agriculture; Part Two
Searching for Garden of Eden in Agriculture; Part Three
Searching for Garden of Eden in Agriculture; Part Four
Searching for Garden of Eden in Agriculture; Part Five
FEATURED PHD RESEARCH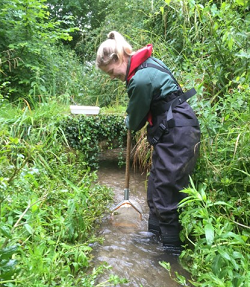 Morwenna McKenzie's PhD title is 'Quantifying the response of macroinvertebrates to gradients of fine sediment pollution'.
Excessive fine sediment delivery can cause serious deleterious effects to aquatic ecosystems and is one of the leading causes for failure to meet Good Ecological Status as set out by the EU Water Framework Directive (200/60/EC).
Fine sediment is difficult to measure. There are many different methods that each measure something slightly different telling you about a different part of the problem. The common practice now is to look at the organisms that live within a river bed to infer the level of pollution present; a process known as biomonitoring.
The overall impact of the project will be to further our understanding of the effects of fine sediment on macroinvertebrates. The project outcomes, through working closely with the Environment Agency, will help improve national biomonitoring practices so we can help clean up our rivers!
TESTIMONIALS
Carla Kay, PhD Researcher (2016-2019)
"Studying at CAWR has been a fascinating learning experience. Not only am I researching the area that has always been my greatest passion, but I am doing this in a cooperative environment filled with experts with a wealth of knowledge and experience. During my fully-funded three year PhD I have the opportunity, and am encouraged, to get training, internally and externally, to continually expand my skills. What I love the most about CAWR is the feeling that we are all working together and beyond academia to bring positive change to the world."
The title of Carla's research is Smallholder adaptation to climate change in West Africa: pathways to social and environmental resilience. Carla is currently undertaking field work in Senegal through Participatory Action Research.

Panama Donaldson, MSc Student (2016-2017)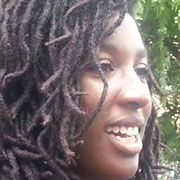 "I really enjoy studying at CAWR. It not only challenges me academically, but personally, which has resulted in me having my own allotment. I have learnt many theories and practices that I can carry into my future career, which I hope will help to shape real change in the future."