CAWR Policy Briefs
The Centre for Agroecology, Water and Resilience (CAWR) works to ensure that its research and knowledge mobilisation have the greatest positive impact for equity, resilience and sustainability.
The centre's Policy Briefs provide accessible, evidence-based, and timely analysis to audiences around the world, including policymakers, academics, practitioners, and social movements. The Policy Briefs enable CAWR and its partners to influence policy and institutional choices as well as stimulate change in practices at global, regional and local scales.
---
Published
December 2021
Authors
Priscilla Claeys and Joanna Bourke Martignoni
Abstract
Food sovereignty cannot be achieved for all people unless structural inequalities in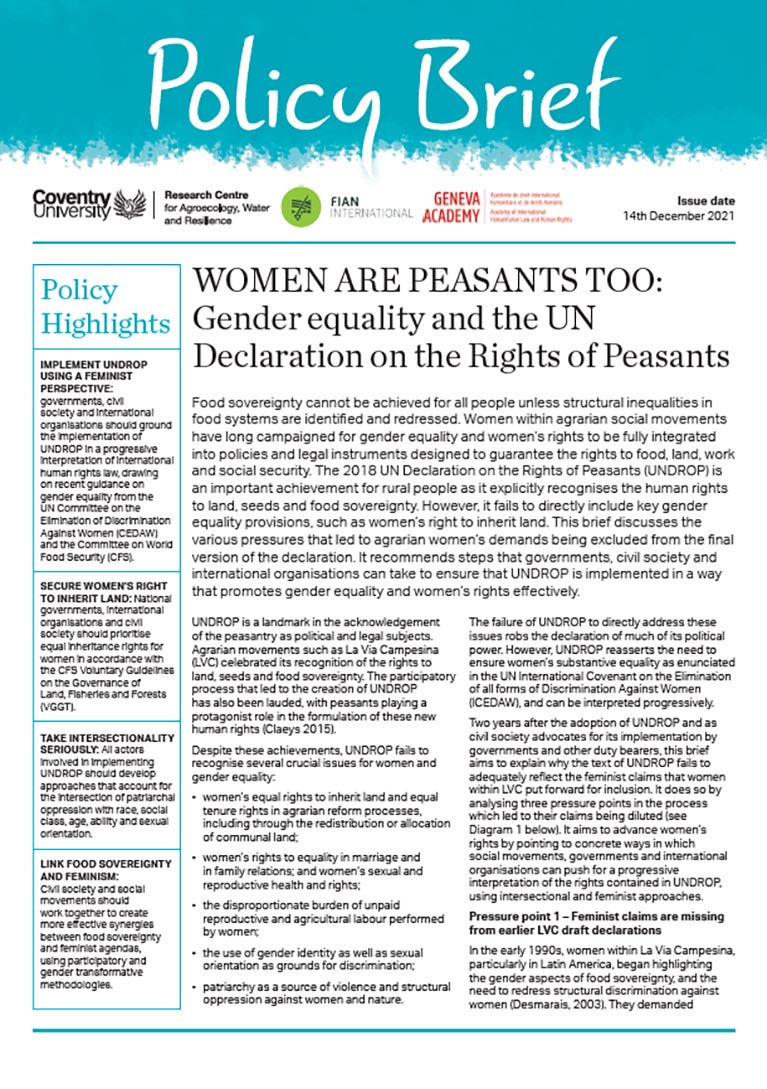 food systems are identified and redressed. Women within agrarian social movements have long campaigned for gender equality and women's rights to be fully integrated into policies and legal instruments designed to guarantee the rights to food, land, work and social security. The 2018 UN Declaration on the Rights of Peasants (UNDROP) is an important achievement for rural people as it explicitly recognises the human rights to land, seeds and food sovereignty. However, it fails to directly include key gender equality provisions, such as women's right to inherit land. This brief discusses the various pressures that led to agrarian women's demands being excluded from the final version of the declaration. It recommends steps that governments, civil society and international organisations can take to ensure that UNDROP is implemented in a way that promotes gender equality and women's rights effectively.