The Medical Centre
Whilst studying in Coventry, all students need to register with a medical doctor (GP/General Practitioner) as soon as possible, to ensure they receive adequate healthcare.
To make this easier for our students we have a Medical Centre conveniently located on campus. If you are outside of the CV1-CV6 postal codes, check the NHS website to find a local GP service
The Medical Centre hold special sessions during induction week to complete medical registration quickly and efficiently. Registration is easy and can be completed online.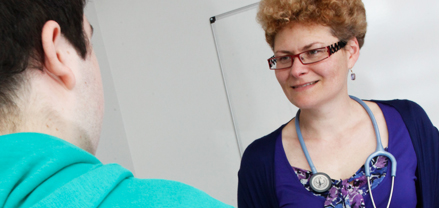 Accessing Healthcare
Download our guide on how to register and use healthcare services while you are living away from home.
The University's Medical Centre has a team of independent doctors, as well as a team of nurses to provide a daily medical support service for all students.
The Medical Centre is a partner of the NHS and is a free service to students. More about the clinics and services they run and support can be found on their website.
The Medical Centre is open Monday to Friday during term time. Opening hours can be found on the website.
Students who are registered with the Medical Centre can also access all services at Engleton House Surgery (the main branch) in Radford.
Should you require urgent medical attention, you should go to Accident and Emergency (A&E) at University Hospital Coventry and Warwickshire, in Walsgrave, or call the Emergency Services on 999. If you are on campus, alert the Protection Service on +44 (0) 24 7688 8555.
The Medical Centre can be contacted at:
Coventry University Medical Centre
Second Floor
The Hub
Jordan Well
Coventry
CV1 5QP
Telephone: +44 (0) 24 7659 2012
www.covunigp.co.uk