Spirituality and Faith
The Spirituality and Faith Centre, is located at the heart of the campus and is a warm, safe environment for all students and staff irrespective of your beliefs.
Facilities include a multi-faith meeting room, chapel, Muslim prayer rooms (with ablution facilities), lounge, multi-faith library and kitchen.
The Centre seeks to promote a harmonious and peaceful atmosphere in the midst of a vibrant campus. It provides a space that welcomes diversity and dialogue in order to encourage the development of a wider supportive community.
There are regular organised events and activities, such as retreats,
meals, discussions and speakers, celebrating the rich cultural diversity of Coventry University and the City.
Our welcome events are a great opportunity to meet students from across the University and our international students particularly enjoy these activities.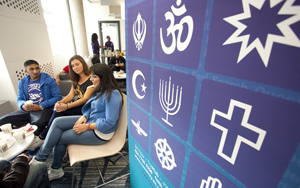 The Spirituality and Faith team of chaplains can link students and staff of most faith traditions with local communities.
Spirituality and Faith Centre
A team of chaplains offering confidential care and pastoral support to the university community (Staff and Students) of all faiths and none.
We are happy to answer any questions you may have.
Our contact details are:
Spirituality and Faith Centre
The Hub (Third Floor)
Jordan Well
Coventry
CV1 5QP
Telephone: +44 (0) 24 7765 5296
Email: faith.ss@coventry.ac.uk