At Coventry University Group we have an excellent reputation for the quality of the education provided to trainee and qualified nurses. Currently ranked as the number one university in the Midlands for Nursing and Midwifery in the Guardian University Guide 2021, our graduate nurses are highly sought after by employers, with several courses having a 100% employment rate in recent years.
Why study Nursing with us?
We produce nurses who are not only excellent clinical practitioners but who also understand the importance of care, compassion and communication. These values run through all our courses, and our staff have a wealth of experience and can demonstrate how those values make a positive impact on patients' lives.
As we take a 'whole patient journey' approach you will develop an understanding of how your role fits in to the team of healthcare professionals who work alongside nurses throughout the patient's journey to recovery, including paramedics, doctors, health care assistants and radiographers.
Top of the range facilities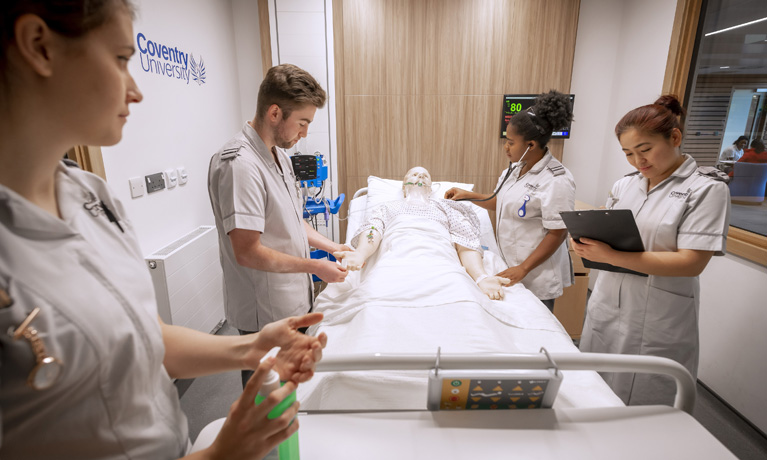 Alison Gingell Building
Our state-of-the-art Alison Gingell Building features mock hospital wards, an operating theatre, critical care settings and other real-life nursing environments.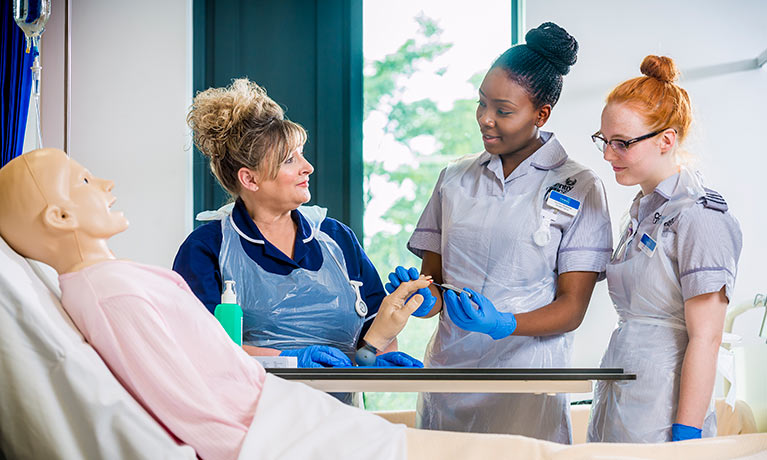 Hospital Wards
We have two fully-equipped mock hospital wards, each containing 4 beds. The wards are built to NHS standards and contain moveable beds, first aid equipment and patient monitoring tools.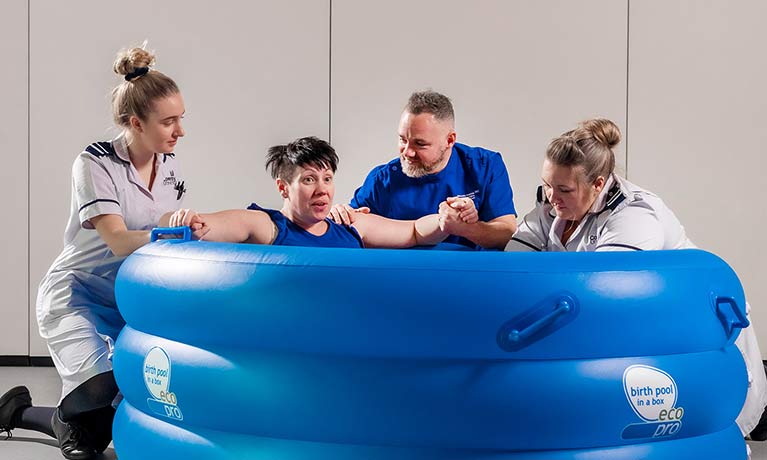 Midwifery suite
Our midwifery suite is equipped with delivery facilities including water birth options. Student midwives also use manikins to simulate routine and emergency care to mothers and babies.

Coventry University is ranked the number one university in the Midlands for Nursing and Midwifery
The Guardian University Guide 2021
The thing that most attracted me to Coventry was that it was ranked an extremely good university for nursing and is attached to a teaching university hospital with good prospects. I like that we have labs where we practise our skills and can use meti-man to pretend that we are responding to a real patient. All of the tutors have been really good and approachable and always welcome us to email them if we have any queries or if we are struggling on any aspect of our course, we know where to go to for advice and support.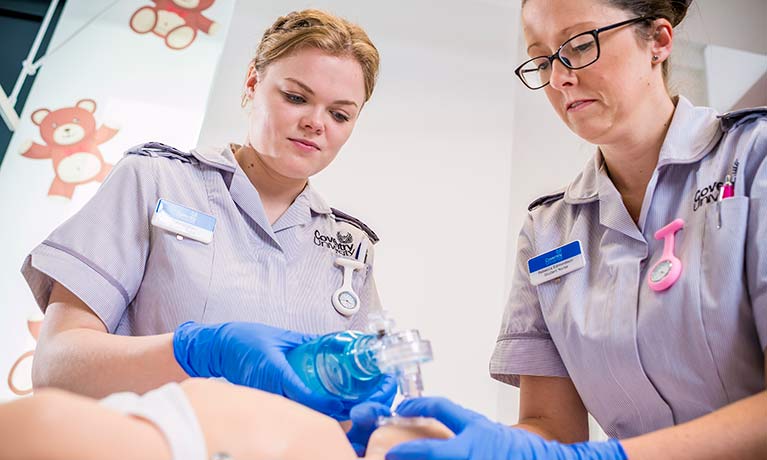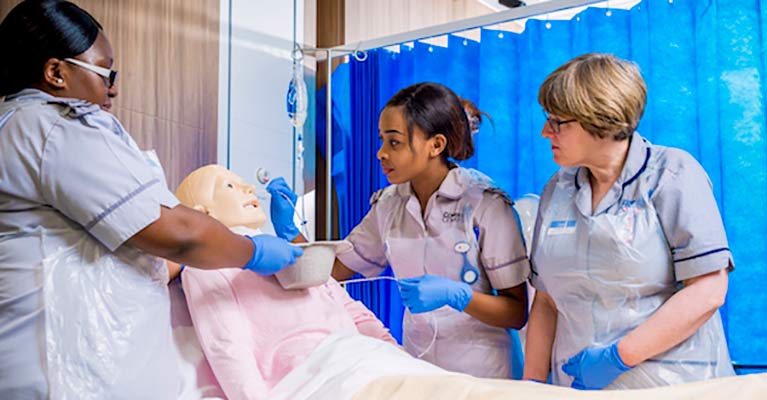 Payment for Nursing students
All UK students on nursing degrees qualify for a non-repayable £5,000 a year payment from the UK Government.
Details and eligibility

I've done it, you can do it too – Faustina's story
Mature student Faustina Nahu changed career to become a nurse when her children were older, choosing Coventry University because of its reputation for nursing and excellent facilities. Watch her story here.
Discover where and how you can study
You don't have to study a Coventry University nursing degree at our Coventry campus. In fact you can study at one of our CU campuses located in Coventry, London and Scarborough. Wherever you choose to study you'll graduate with a Coventry University.
Whatever your ambitions for your career in nursing you can specialise in a number of areas including Adult Nursing, Mental Health Nursing, Learning Disabilities Nursing or Children and Young People's Nursing. There is also flexibility in how you study, with blended learning options enabling you to study most of the course online at times when convenient to you, or face-to-face at one of our sites.
You can begin your career in nursing at a number of levels, if you have limited qualifications you can take a foundation year or access course. If you have A levels or equivalent you can apply for a 2 year Foundation degree to qualify as a Nursing Associate or a 3 year undergraduate Nursing degree. If you already have a degree and some care experience you can qualify in 2 years by taking a pre-registration master's degree either face-to-face or via blended learning.
Disclaimers

Facilities, shows or events mentioned on this page may not be relevant for every course. Please check individual course pages for specific details regarding what facilities, shows or events are available for each course.
Please note that any opportunities or experiences referred to on this page may be subject to additional costs (for example travel, visas and accommodation), competitive application, availability and meeting any applicable visa requirements.
Staff may be subject to change.
The majority of our courses are formally recognised by professional bodies. This means that the courses have been reviewed and tested to ensure they reach a set standard. In some instances, studying on an accredited course can give you additional benefits such as exemptions from professional exams.
Accreditations and memberships shall be renewed in accordance with the relevant bodies' standard review process and subject to the university maintaining the same high standards of course delivery. If the accreditation of any of our courses change, we will notify applicants and students as soon as possible. Please check the relevant course web page for up-to-date information on the current status of individual course accreditations.
The university may deliver certain contact hours and assessments via emerging online technologies and methods across all courses. The form of delivery will be determined in accordance with government and public health guidance. Whether on campus or online, our key priority is staff and student safety.
Due to the ongoing restrictions relating to COVID-19, some facilities (including some teaching and learning spaces) and some non-academic offerings (particularly in relation to international experiences), may vary from those advertised and may have reduced availability or restrictions on their use.