New Coventry University nursing degrees can be studied from anywhere in the UK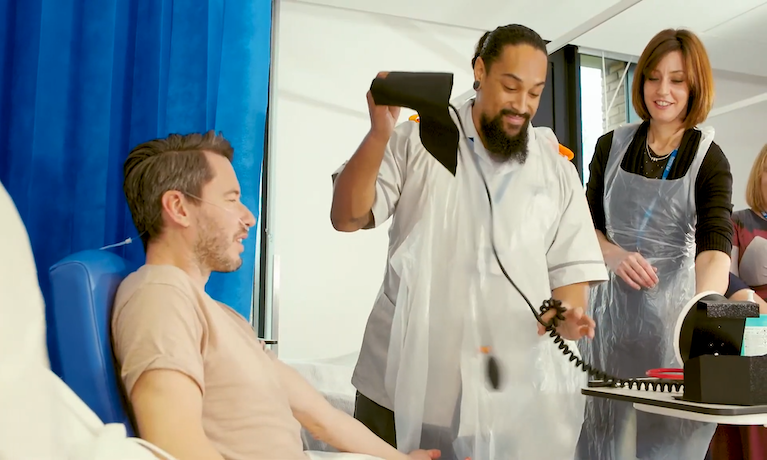 University news / Student news / Business news
---
Wednesday 16 December 2020
Press contact
---
People pursuing careers in nursing will soon be able to study Coventry University's ground-breaking new blended learning nursing degrees from anywhere in the UK.
Coventry University is the first institution in the UK to have degree courses of this kind approved, after winning a contract with Health Education England to both develop and deliver them.
It is hoped the versatile nature of the new undergraduate and postgraduate courses will appeal to a wider range of students, resulting in a more diverse workforce within nursing, while also helping to increase the number of qualified staff available to the NHS, which currently has a shortage of around 50,000 nurses.
Both new study programmes will be launched next month, with applications now open to prospective new students hoping to start the degree in January 2021.
Students on both programmes who meet the NHS Learning Support Fund eligibility criteria will be to apply for a £5000 NHS grant to support them with their living costs during their studies.
One of the fantastic things about this blended nursing degree is that because it's so flexible, it will hopefully attract new and different people into nursing. This is all about harnessing the use of digital technology to create flexible pathways. There are both national and global shortages of nursing, so providing as many innovative routes into the profession as possible is absolutely key.

Lisa Bayliss-Pratt, Pro-Vice-Chancellor (Health and Life Sciences)
Around 90% of the theory-based learning within the two new programmes will be delivered online, enabling greater flexibility by giving students the opportunity to balance work and personal commitments alongside their academic studies. Students will spend 50% of the course duration working on academic study and the other 50% gaining industry-based work experience.
As the first university in the UK to have a standalone 5G network, Coventry will maximise its collaboration with Vodafone to deliver engaging course content via virtual reality, enhancing and enriching the experiences and development of students on both of the new courses.
We'll be using our fantastic digital expertise to help our brilliant academics deliver the course in the best way possible, enabling students to work and study really flexibly at their own pace. Offering a course like this is really ground-breaking and we're delighted to be the first institution in the country to have a programme like this approved.

Dr Laura Strumidlo, Associate Professor (Health and Life Sciences)
Students on both the new BSc and MSc blended nursing courses will also need to undertake industry-based work in hospitals, community nursing settings or other care environments in order to complete their degree programmes, and will be able to do so in several locations across the UK, with Coventry University's placement providers based in a range of locations including the Midlands, London and North Yorkshire.