Adult Nursing BSc (Hons) Blended Learning
Study level:

Undergraduate
Professionally Accredited Programmes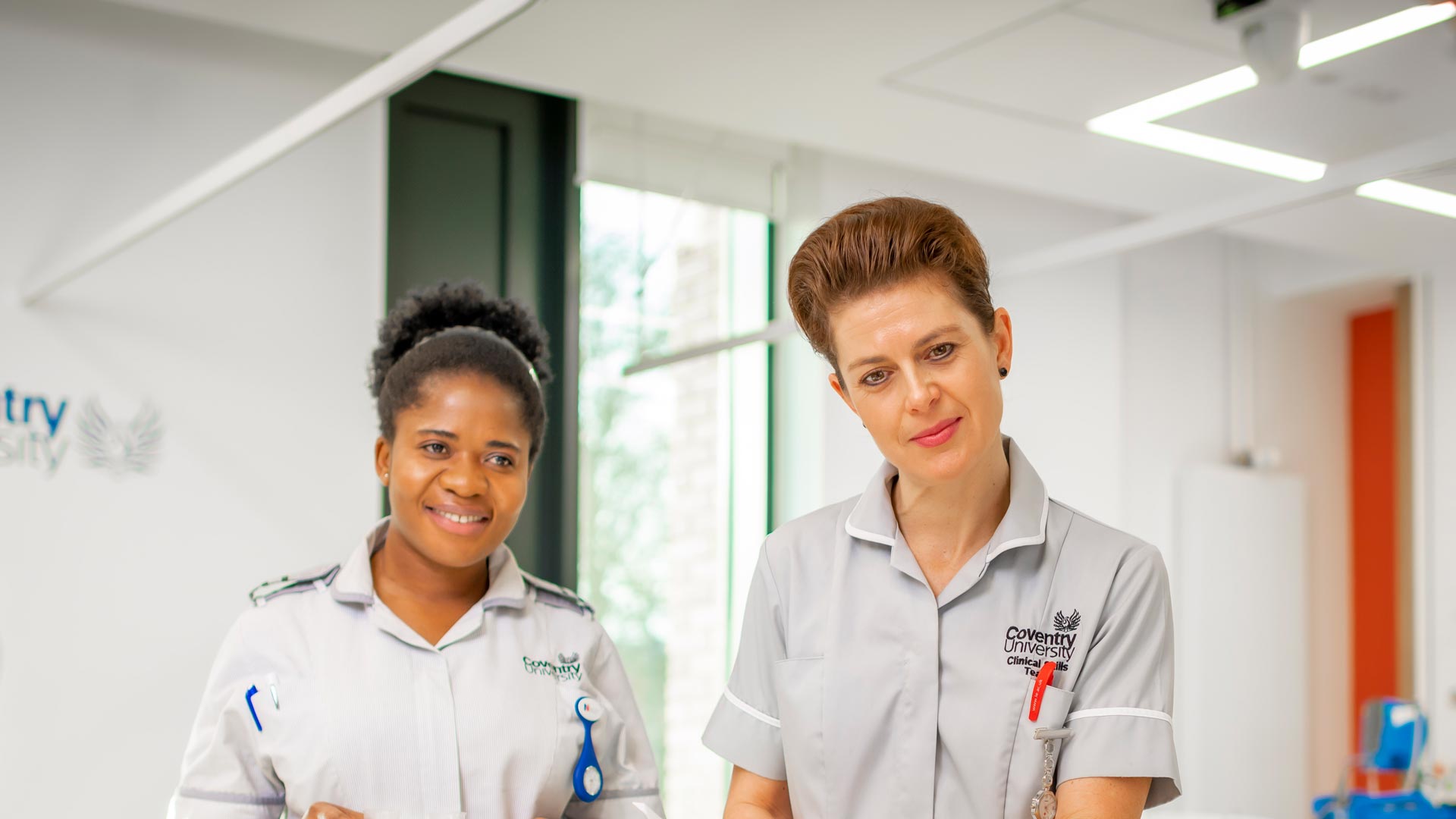 This degree combines flexible, fully interactive digital learning with practical clinical placements to lead you to an immensely rewarding adult nursing career within the United Kingdom.
Location
Coventry University (Coventry)
Coventry University (Vauxhall, London)
CU Scarborough (Scarborough)
Study mode
Full-time
Online/Blended
Duration
3 years full-time
Start date
September 2023
January 2024
---
Course overview
Fully accredited by the Nursing and Midwifery Council (NMC) providing eligibility for registration as a nurse on successful completion of the course1.
The course consists of 50% academic content, of which 95% is delivered flexibly online and 5% timetabled face-to-face sessions. The remaining 50% is placement-based learning, of which up to 25% will be simulated.
Ranked 11th in the UK for Nursing and Midwifery in the Guardian University Guide 2022
All home students on this course can apply for a minimum payment from the Government of £5,000 per year, with additional payments for students incurring childcare costs6.

Joint Top Modern University for Career Prospects
Guardian University Guide 2021 and 2022

5 QS Stars for Teaching and Facilities
QS Stars University Ratings

Top 5 UK Student City (Coventry)
QS Best Student Cities Index 2023
Why you should study this course
If you consider yourself a caring and compassionate individual, adult nursing can be considered one of most rewarding professions you can choose to work in, as well as being challenging, varied and with excellent career prospects. As a qualified adult nurse, you will be able work with a wide spectrum of service users across a vast range of services and settings – from emergency departments, critical care, medical and surgical wards to hospices, nursing homes, general practice and in people's own homes.
Nurses work with people in a wide variety of roles and settings. These include monitoring seriously ill and deteriorating patients, caring for those with long term conditions, caring for people who are dying at home and in hospital, supporting family members, and promoting the health and wellbeing of individuals and communities. The work can be intense but is rewarding. This course has been designed to develop professionals who are not only highly skilled but also caring, compassionate, effective communicators and have the capacity to be emotionally resilient. These principles are at the forefront of our teaching which aims to encompass theory, practice, and immersive learning.
This course aims to prepare you for the dynamic and fast changing health and social care system, which should help you to develop into an adaptable, flexible, reflective, competent and compassionate practitioner. The blended learning approach is suited to well-motivated, digitally confident individuals who prefer the option to study flexibly during theory modules.
We will encourage you to develop an in-depth understanding of the organisation and culture of modern health care systems, aiming to equip you with the confidence to be able to take a stronger role in the leadership and management of resources in delivering treatment and healthcare options to patients.
Throughout your studies, in groups and individually, you will be asked to undertake profession-specific health and social care related projects and case studies. These may, for example, include an appraisal of the role of the nurse in ethical and legal decision-making or complex care planning and delivery via the multi-disciplinary team. You will also participate in activities such as group presentations demonstrating your understanding of research underpinning patient care.
Blended degrees combine flexible, fully interactive digital learning with practical clinical placements and are designed to break down barriers for people wanting to get into nursing. The course consists of 50% academic or theory content and 50% clinical or practice-based placements with practice providers5. Students are required to attend university for approximately 5 days a year to attend classroom-based clinical skills and practical teaching and to meet your peers. This teaching will take place at either the university's Coventry or London campuses. We believe this approach provides you with flexibility in your learning preferences and contextualises your learning, which will help you to develop the skills you will need in practice.
Each academic year comprises two blocks of clinical placements with practice providers. Each block is 10 weeks in duration and is worth 400 hours in clinical practice. Our placement areas are spread across the following geographical regions: Coventry and Warwickshire, Luton, Dunstable and Bedfordshire, London and Scarborough. Places are limited depending on geographical placement provider so please note that you may be offered an alternative start date. Start dates of practice placements may be changed depending on availability of placements at that time. We are currently growing new relationships with placement providers. Please feel free to contact us in relation to placement area provision prior to application5.
Equal value is placed on practice and theory. You will undertake 800 hours of placement each year in a variety of hospital and community settings and study a wide range of subjects as they apply to nursing including anatomy and physiology, pharmacology, psychology, sociology, and healthcare research methods.
While the course has a clear focus on nursing adults, a key benefit of our curriculum is the notion of collaboration across all areas of health and social care. Your studies will be complemented with significant insights into mental health, learning disability and children and young people's nursing; looking at specific issues and challenges faced to broaden your knowledge and expertise.
Accredited by:

UK Nursing and Midwifery Council (NMC)
The course is accredited1 by the UK Nursing and Midwifery Council (NMC) for the 2023/24 intake and, providing you also meet the NMC requirements, on successful completion you will be eligible to apply for registration with the Nursing and Midwifery Council (subject to additional costs).
---
More than just a degree
I was after something that would allow me to build relationships and get to know patients and what they were going through; the holistic approach of nursing was the real selling point for me. Studying one module at a time on the course is intense, but it suits my style. I also like the flexibility of the course - all the material is there for you to study whenever you have time, and it works really well around family life, work and childcare.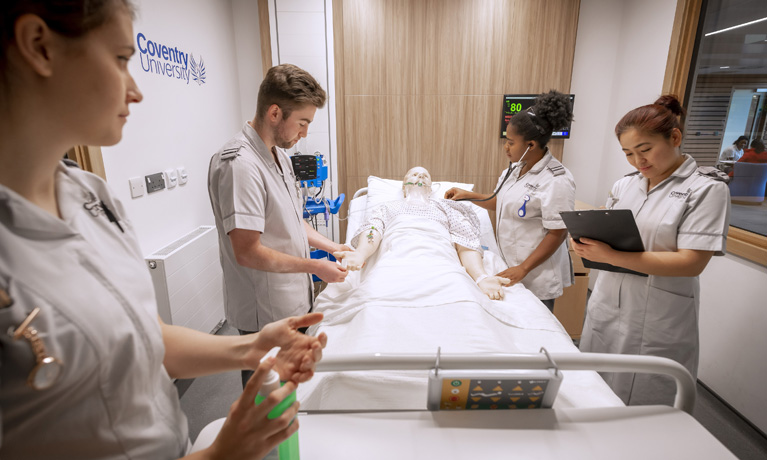 Nursing at Coventry University
We have an excellent reputation for the quality of the education provided to trainee and qualified nurses.
Learn why you should study with us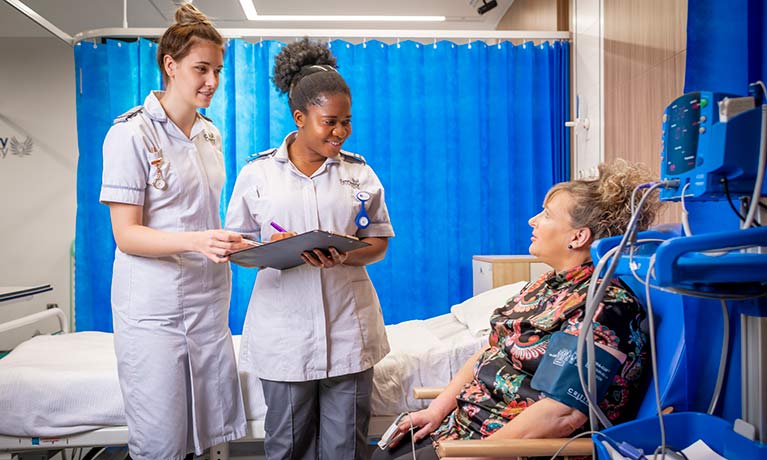 ---
This provides the foundations for nursing practice and university study. After successfully completing year one, you will have developed an understanding of the scientific principles of nursing and the importance of evidence-based practice and putting patients and their families at the centre of care. Practical skills should ensure you are able to perform fundamental care to vulnerable adults whilst on placement.
Modules
The Scientific Foundations of Nursing Practice - 20 credits

This module will introduce the scientific foundations of nursing which apply to holistic care across the lifespan and key concepts that underpin nursing practice. It will enable you to develop your knowledge of relevant human anatomy and physiology. Moreover, principles of microbiology, psychology, sociology and pharmacology will be explored, and an introduction of the common physiological dysfunctions associated to specific fields of practice will be included. Pharmacological treatment associated to common conditions will be examined.

Fundamental Skills for Person- and Family-Centred Practice - 20 credits

This module aims to introduce you to the fundamental skills required for person- and family-centred practice. You will be introduced to the concepts and theories relevant to the assessment of health and wellbeing across the lifespan, in a range of care settings for the four fields of nursing.

Study Skills for Evidence-Based Practice - 10 credits

This module aims to develop your academic writing skills, critical-thinking ability, and reflective practice in the context of degree-level study. The content will also refer to numeracy skills, which for nursing are crucial for patient safety and wellbeing. Some skills will also relate to developing competence in database searching and subsequently its importance in the utilisation and application of evidence-based nursing practice. The content of the module will also include relevant organisational skills and maintenance of personal wellbeing.

The Foundations of Evidence-Informed Practice - 10 credits

This module aims to introduce you to evidence-based practice and research in nursing. You will have the opportunity to develop understanding of your usefulness and importance in contributing to underpinning nursing knowledge and decisions. You will gain a fundamental understanding of various methodological approaches and the research process. The skills of appraising evidence and research will be explored and developed.

Health and Wellbeing in the Community - 20 credits

This module aims to develop your knowledge and understanding of the social, politico-economic, cultural, and environmental factors that influence individual and community health and wellbeing. The module aims to draw upon key international, national, and local initiatives to support learning and will take place within an inter-professional context.

To achieve this aim, you will explore concepts of wellbeing, disabilities, disease and illness, health inequality and inequity. In addition, you will examine key health and social care initiatives that will enable you to understand the importance of person-centred approaches to wellbeing, prevention, care and support. As you progress through the module you will develop inter-professional capabilities of communication, role clarification, decision-making and team-working enabling you to practice and promote healthy conversations about lifestyle.

Introduction to the Foundations of Nursing Practice (Practice 1) - 20 credits

This module introduces you to the foundations of nursing practice in the workplace. The experience will provide you with learning opportunities (under supervision) which will begin to develop the professional values, attitudes and behaviours required to deliver safe and effective holistic person- and family-centred care.

The Foundations of Nursing Practice (Practice 2) - 20 credits

This module provides extended opportunity for you to contribute to the foundations of nursing practice in the workplace. This experience will enable you to demonstrate and promote professional values, attitudes and behaviours required to deliver safe and effective holistic person-centred care.
This year builds on the foundations learnt in year one. Modules become more adult nursing focused and include pathophysiology of common diseases, relevant assessment of patients that informs planning and evaluating care and how practice is based on robust evidence.
Modules
Ethical and Legal Decision-making in the Context of Nursing - 20 credits

This module will introduce you to the underlying principles of healthcare ethics, legislation, and social policy. This will include the protection of vulnerable people across the lifespan including those with complex needs. You should be equipped to recognise ethical challenges relating to people's choices and decision-making about their health and wellbeing across care settings. Ability to act within the law to help service users, families, and carers to manage needs will be explored.

Assessing Needs and Planning Care Across the Lifespan - 20 credits

The aim of this module is to further develop your comprehension and skills acquisition for clinical assessment and the care planning process across the age continuum. The principles learned will be applicable to any care setting. It builds on year one of the curriculum adding to your knowledge of the scientific foundations and the application to nursing practice.

Providing and Evaluating Care Across the Lifespan - 20 credits

The aim of this module is to further develop your knowledge and understanding in providing and evaluating care across the lifespan. It builds on year one of the curriculum adding further to your knowledge of providing and delivering care through a range of therapies for commonly encountered mental health, physical, behavioural, and cognitive conditions.

Developing Evidence-Informed Decision-Making in Nursing - 10 credits

This module provides you with the opportunity to build further on skills and knowledge related to research and evidence-informed practice acquired in year one. It enables you to develop specific nursing-focused questions to underpin evidence-informed decision-making and practice. You will develop a research proposal to underpin year three work. The processes of literature review and research production, including ethical requirements will be analysed, considering global and cultural perspectives.

Facilitation and Teaching of Learning in Practice - 10 credits

This module demonstrates how the Nursing and Midwifery Council (NMC) Standards Framework for Nursing and Midwifery Education (particularly Part 2 - Standards for Student Supervision and Assessment (NMC, 2018)) are applied in practice.

This module will enable you to understand the role of the practice supervisor (in association with the practice assessor and academic assessor) through reflective practice and the novice to expert model. This module aims to develop your inter-professional learning and working through supporting and supervising fellow students of the multidisciplinary team.

Developing the Management of Care Across the Lifespan (Practice 3) - 20 credits

This module provides you with opportunities in the workplace to build on your foundations of practice and enable you to work more independently with less direct supervision in an increasingly competent and confident manner to deliver quality holistic person- and family-centred care. It will provide you with the opportunity to demonstrate, through your practice, your potential to become an autonomous practitioner.

Managing Care Across the Lifespan (Practice 4) - 20 credits

This module provides you with additional opportunities to display your ability to work more independently, with less direct supervision, in a safe and increasingly confident manner to deliver quality holistic person- and family-centred care. It will provide you with the opportunity to extend and apply your knowledge and skills towards becoming an autonomous practitioner
This year aims to consolidate and build on the learning undertaken in the previous two years. Drawing on theory and practice you should gain an appreciation of the value of the contribution of other health professionals when making decisions about the needs of patients who require complex care. You will be asked to investigate the contemporary issues relevant to adult nursing and explore the skills commonly required to become an accountable practitioner who is able to co-ordinate a team. Practical skills will mirror those required for a newly qualified nurse.
Modules
Application of Complex Care in Integrated Care Settings - 20 credits

This module aims to consolidate your ability to identify and respond to the complex needs of an individual. The focus will be on holistically managing, co-ordinating and evaluating optimum complex care packages within the integrated care system. It will develop skills related to co-ordination, delegation and priority of care. Critical consideration will be given to evidence-informed practice and policies that relate to complex needs in the field of adult nursing services. You will examine how these factors impact on family, carers and the service user's care journey.

Leadership and Management for Healthcare Professionals - 20 credits

This module aims to support the development of the leadership behaviours and management skills required to function effectively as a newly qualified registered healthcare professional working within the multi-professional team in the delivery of high-quality care.

You will critically examine clinical leadership and 'followership' models and the concept of empowerment and distributed leadership, to gain understanding of ethical leadership, culture and values within the delivery of care.
You will explore the concepts of service improvement and gain experience of leading and participating in projects, using relevant management tools and techniques.

You will reflect on your observed experience of clinical leadership behaviours and management skills whilst on clinical placement throughout their course, to develop a personal development plan to guide your ongoing leadership development as a healthcare professional.

Evidence-Based Project - 20 credits

This module provides you with the opportunity to undertake an in-depth exploration in an area of special interest which will have relevance to nursing practice and which makes clear connections with local and/or national priorities in health and social care. You will establish a specific question upon which to focus and using an appropriate method of enquiry, you will be required to systematically investigate the question and analyse the information generated in order to derive a set of findings or results using a literature-based strategy. On the basis of the study results, you will be encouraged to identify the implications and recommendations for professional nursing practice and collaborative healthcare. On completion of this module, you will have an enhanced understanding of the relationship between the research and evidence-based practice and professional nursing care.

Contemporary Issues in Adult Nursing - 10 credits

The module aims to explore and critically debate contemporary issues related to specialist areas of adult nursing. The broad spectrum of adult nursing and modes of provision increasingly encompasses specialist environments and roles. In relation to this, individual, local, national and international perspectives will be explored. This will enable you to become more politically aware, critically reflective and entrepreneurial in relation to service delivery. You will be exposed to the critical discussion regarding contemporary and dynamic developments in adult nursing and the implications for current healthcare practice in nursing.

Transition to the Accountable Practitioner - 10 credits

This module will critically review the accountability and responsibility of the registered nurse in clinical practice. It will explore the key attributes of accountable practice such as individual accountability, escalating concerns, managerial responsibilities, safety, quality, delegation and clinical decision-making within the context of providing safe, effective, person centred and compassionate care.

Coordinating Inter-professional Health and Social Care (Practice 5) - 20 credits

This module aims to extend your ability to practice more independently in a safe and increasingly competent and confident manner. This will enable you to become autonomous practitioners who are responsible and accountable for safe, compassionate, person-centred, evidence-informed nursing that respects and maintains dignity and human rights.

The Autonomous Practitioner (Practice 6) - 20 credits

This module aims to provide you with opportunities to practice the competencies identified for registration as a nurse which are stipulated by the Nursing and Midwifery Council (2018). This includes demonstrating your competence to:

Practice autonomously, compassionately, skilfully and safely whilst maintaining dignity and promoting health and wellbeing
Display professional accountability and responsibility by the use of clinical governance processes to maintain and improve nursing practice and standards of healthcare
Use management and leadership skills to take the lead in coordinating, delegating and supervising care safely, including the management of risk and ensuring public safety
Communicate in a safe, effective, compassionate and respectful manner
Exhibit the capability of informed decision making to promote, plan, and prioritise service delivery.
We regularly review our course content, to make it relevant and current for the benefit of our students. For these reasons, course modules may be updated.
---
How you'll learn
This Adult Nursing BSc (Hons) Blended Learning course uses a wide variety of stimulating approaches to teaching for motivated online learners. Successful completion of all modules is mandatory to enable you to exit the programme with the knowledge, values, and skills to be able to work within integrated care settings and enhance the delivery of care for service users, their families and carers.
Gaining experience using simulation across a range of care settings is aimed at building your confidence and knowledge about how to act in these situations. You can practise and develop your clinical and interpersonal skills in a safe but realistic environment. We have also used actors or staff to enhance these experiences in scenarios which include breaking bad news, demonstrating emotional resilience, conflict, aggression, teaching, and child protection conferences.
As 50% of the course is practice-based, this requires 40 hours per week in placements however up to 25% of this may be in innovative Virtual Simulated Placements. During theory modules, teaching is mostly delivered in an asynchronous manner via the FutureLearn and Aula platforms (platforms are subject to change). You will have opportunity to engage in online discussions and contribute to interactive activities under the guidance of expert assistant professors and lecturers, and experienced nurse professionals and academics from a broad range of clinical backgrounds. At present we also host once weekly live online sessions for students to stay connected and have the opportunity to seek clarification and ask questions in real time, however the focus is very much on enabling flexibility for students in a break away from traditional timetabled classroom activities.
---
Teaching contact hours
The number of full-time contact hours is 40 hours per week as per the Nursing and Midwifery Council requirement. Theory modules involve self-directed study alongside weekly online sessions with the educator team. For Practice modules, this involves undertaking 40 hrs worth practice hours in clinical settings with practice providers.
The contact hours may be made up of a combination of face-to-face teaching, individual and group tutorials, and online classes and tutorials.
As an innovative and enterprising institution, the university may seek to utilise emerging technologies within the student experience. For all courses (whether on-campus, blended, or distance learning), the university may deliver certain contact hours and assessments via online technologies and methods.
---
Assessment
This course will be assessed using a variety of methods which will vary depending upon the module.
Assessment methods include:
Coursework
Practice placement
Formal examinations
Virtual Simulated Placements
Simulations
Objective Structured Clinical Examinations
Presentations
The Coventry University Group assessment strategy ensures that our courses are fairly assessed and allows us to monitor student progression towards achieving the intended learning outcomes.
---
International experience opportunities
Throughout the course, we aim to provide key insights into cultural diversity and global issues of significance to public health and all fields of nursing practice. For example, we look at what it means to be culturally competent within healthcare today.
You may have the opportunity to take part in collaborative online international learning projects (COIL) with our international collaborators where students learn about international differences in healthcare systems2 .
All the online tools that we have available to us such as future learn and the library are great, providing us with all the e-learning books to read, which has given me the relevant resources required. The online drop-in sessions are brilliant and just give a well-rounded overview of everything we have learnt to date, recapping on all the major topics of the week. I feel very well supported by colleagues.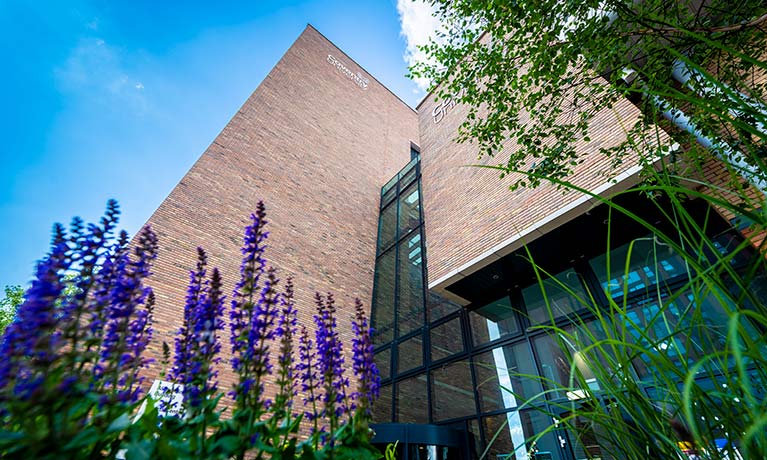 ---
Entry requirements
Typical offer for 2023/24 entry.
Requirement
What we're looking for
A level

BBC

.

Excludes General Studies.

GCSE

Minimum

5 GCSE

s

at grade 4 / C or above including E

nglish,

Mathematics and Science

or specified equivalents.

BTEC

DMM

in a Health, Sport or Science based subject.

Access Diploma
The Access to HE Diploma in Health or Science subject to include 24 Level 3 credits at Distinction in Health units. Plus GCSE English and Mathematics at grade 4 / C or above.
IB Diploma

27 points to include

14 points at Higher level.
If you do not have the the typical entry requirements, you may want to consider studying this course with a foundation year. We recognise a breadth of qualifications, speak to one of our advisers today to find out how we can help you.
Additional information
Caring experience, either paid or voluntary, is very desirable. You will also be required to attend an online selection event, which provides detailed information about the course and assesses aptitude as part of the selection process. Applicants must have certificates at point of interview. Satisfactory health clearance, DBS checks and criminal records disclosure is also required5.
In line with the National Health Service constitution, we use a values-based recruitment approach in seeking candidates with the appropriate values to support effective team working in delivering excellent patient care.
Are you eligible for the Fair Access Scheme?
We believe every student should have the opportunity to dream big, reach their potential and succeed, regardless of their background. Find out more about our Fair Access Scheme.
---
Fees and funding
2023/24 tuition fees.
| Student | Full-time | Part-time |
| --- | --- | --- |
| UK | £9,250 per year | Not available |
A non-repayable grant of £5,000 and extra payments worth up to £3,000 may be available to eligible home students for each year of study. Read more about this in the NHS Learning Support Fund information booklet.
For advice and guidance on tuition fees and student loans visit our Undergraduate Finance page and see The University's Tuition Fee and Refund Terms and Conditions.
We offer a range of International scholarships to students all over the world. For more information, visit our International Scholarships page.
Tuition fees cover the cost of your teaching, assessments, facilities and support services. There may be additional costs not covered by this fee such as accommodation and living costs, recommended reading books, stationery, printing and re-assessments should you need them. Find out what's included in your tuition costs.
How do you know if you need to pay UK or international tuition fees?

We carry out an initial fee status assessment based on the information you provide in your application. Your fee status determines your tuition fees, and what financial support and scholarships may be available to you. The rules about who pays UK (home) or international (overseas) fees for higher education courses in England are set by the government's Department for Education. The regulations identify all the different categories of student who can insist on paying the home rate. The regulations can be difficult to understand, so the UK Council for International Student Affairs (UKCISA) has provided fee status guidance to help you identify whether you are eligible to pay the home or overseas rate.

If you meet all the criteria required by any one category, including any residence requirements, your institution must charge you the home rate. You only need to find one category that you fit into.
---
Our multi-million-pound Alison Gingell Building features a range of mock healthcare settings, including hospital wards, ambulance, therapy suites and community houses, giving you the opportunity to replicate real-life situations before you go on placement.
You'll make use of our extensive simulation facilities4 – from basic life support mannequins to high tech simulation dummies, which emulate patient responses and test resuscitation skills. You will also use equipment found in the real world of practice, such as medical devices to assist with all elements of care, particularly medication administrations.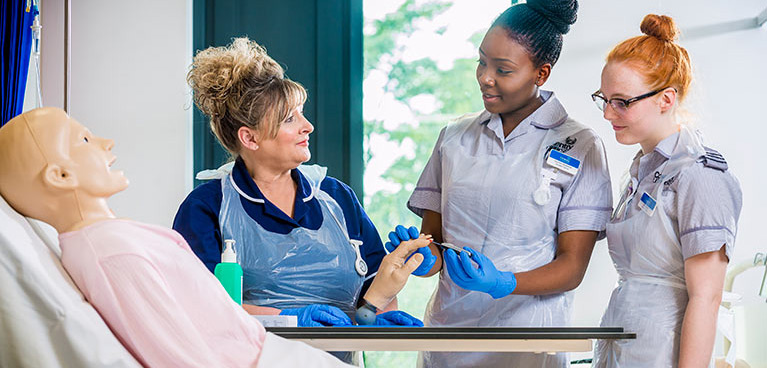 Mock hospital wards
Our mock hospital wards and critical care settings give you the chance to experience patient scenarios in a real-world environment.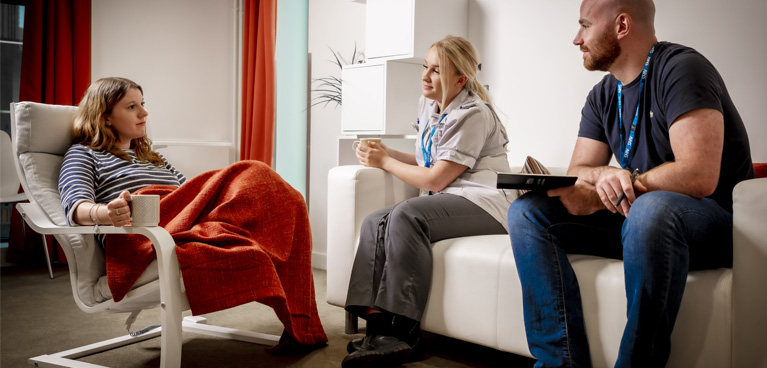 Community houses
Learn how to work with patients outside of a hospital setting in our simulated, two full-size community homes, specifically built for teaching.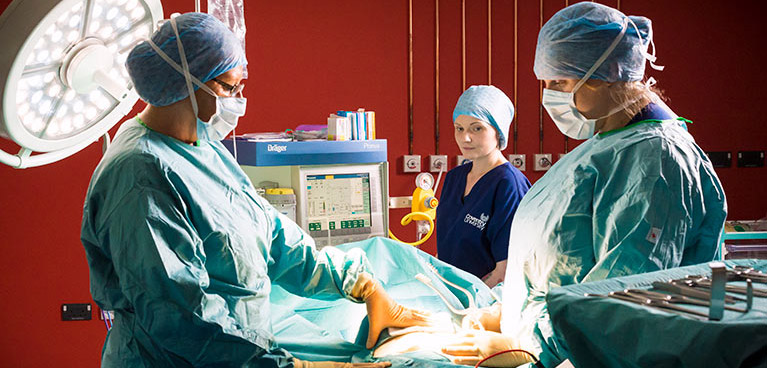 Mock operating theatre
Our Alison Gingell building includes a full-size mock operating theatre, containing scrub sinks and theatre lights.
The facilities4 available to you during the face-to-face teaching at our London campus in the new Hudson Building include a mock ward, high dependency unit and clinical skills centre with state-of-the-art equipment and simulators.
This range of mock healthcare settings, which also include therapy suites and a community apartment, give you the opportunity to replicate real-life situations before you go on placement.
You'll make use of our extensive simulation facilities – from basic life support mannequins to high tech simulation dummies, which emulate patient responses and test resuscitation skills. You will also use equipment found in the real world of practice, such as medical devices to assist with all elements of care, particularly medication administrations.
---
Careers and opportunities
On graduating successfully from this course, and providing you also meet the NMC requirements, you can apply for registration with the Nursing and Midwifery Council (NMC), additional costs apply. Successful registration enables you to practise immediately.
Coventry University is committed to preparing you for your future career and aims to give you a competitive edge in the graduate job market. The university's Talent Team provides a wide range of support services to help you plan and prepare for your career.
Where our graduates work
Many of our Adult Nursing graduates find employment as qualified nurses in the NHS with a growing emphasis on community settings, in acute hospitals, military nursing, in the private and independent healthcare sector, in private hospitals, nursing or care homes. As your career progresses a number of options may open to you for example as a lecturer or specialist practitioner, advanced nurse practitioner, consultant nurse or manager.
---
How to apply
UK students

Full-time students applying to start in September 2023 can apply for this course through UCAS from 6 September 2022. Read our application pages to find out your next steps to apply.

Part-time students should apply directly to the university.

---

If you'd like further support or more information about your course get in touch with us today.
Disclaimers

1Accreditations

The majority of our courses have been formally recognised by professional bodies, which means the courses have been reviewed and tested to ensure they reach a set standard. In some instances, studying on an accredited course can give you additional benefits such as exemptions from professional exams (subject to availability, fees may apply). Accreditations, partnerships, exemptions and memberships shall be renewed in accordance with the relevant bodies' standard review process and subject to the university maintaining the same high standards of course delivery.

2UK and international opportunities

Please note that we are unable to guarantee any UK or International opportunities (whether required or optional) such as internships, work experience, field trips, conferences, placements or study abroad opportunities and that all such opportunities may be subject to additional costs (which could include, but is not limited to, equipment, materials, bench fees, studio or facilities hire, travel, accommodation and visas), competitive application, availability and/or meeting any applicable travel COVID and visa requirements. To ensure that you fully understand the visa requirements, please contact the International Office.

3Tuition fees

The University will charge the tuition fees that are stated in the above table for the first Academic Year of study. The University will review tuition fees each year. For Home Students, if Parliament permit an increase in tuition fees, the University may increase fees for each subsequent year of study in line with any such changes. Note that any increase is expected to be in line with inflation.

For International Students, we may increase fees each year but such increases will be no more than 5% above inflation. If you defer your course start date or have to extend your studies beyond the normal duration of the course (e.g. to repeat a year or resit examinations) the University reserves the right to charge you fees at a higher rate and/or in accordance with any legislative changes during the additional period of study.

4Facilities

Facilities are subject to availability. Due to the ongoing restrictions relating to COVID-19, some facilities (including some teaching and learning spaces) may vary from those advertised and may have reduced availability or restrictions on their use.

5Placements

Satisfactory health clearance and enhanced criminal record disclosure is also required. As part of the health clearance checks you will be required to provide information about your immunity and vaccination status. You will also be required to provide information about your COVID-19 vaccination status. We therefore recommend that you are fully vaccinated including the COVID-19 vaccine. The information you provide will be used to determine your eligibility to go on placement(s). Placements are provided at the placement provider's discretion. The University is therefore unable to guarantee the provision of placements or the location and type of placement offered.

6NHS payment

The rules may be subject to review by the Department of Health and Social Care (DHSC) in the future and as a result may change. Please therefore check the NHSBSA website for up-to-date information before applying.

Student Contract

By accepting your offer of a place and enrolling with us, a Student Contract will be formed between you and the university. The 2022/23 Contract is currently being updated so please revisit this page before submitting your application. The Contract details your rights and the obligations you will be bound by during your time as a student and contains the obligations that the university will owe to you. You should read the Contract before you accept an offer of a place and before you enrol at the university.
---
---