Study With Us
Why GLEA?
High quality research
Influencing policy and practice across the educational sector
Interdisciplinary culture
National and international partnerships
Expert supervisors
Supportive learning environment
Community engagement
Educational leadership
Our academic experts
Staff in GLEA are internationally recognised as leaders in the fields of:
Interculturality in teaching and learning
Internationalising the curriculum; building capacity and quality into course design and pedagogical practices
Decolonising the curriculum
Equity of attainment
Inclusive education
Literacy and language development
Student wellbeing and mental health
Gender studies in education
For further information on their areas expertise please see our staff list.
Stimulating learning environment
GLEA promotes a supportive research environment that provides opportunity for critical thinking, reflective practice and rich discussions on research.
PhD study at Coventry University is overseen by the university's Doctoral College, who provide access to a wide range of learning opportunities and support throughout the student lifecycle from application through to graduation.
Our students are encouraged to work within the GLEA research offices, which are located in the White Friars building in the heart of Coventry City Centre. Our offices are within easy reach of local public transport, and walking distance from the University Library, Student Hub and other support services.
As well as the learning opportunities available to all students at Coventry University, GLEA research students are able to access local activities which include:
Doctoral discussions:
Our doctoral discussions are informal workshops led by our Professor for Postgraduate Programmes. These sessions give students the opportunity to share best practice, discuss progress and work through challenges, acting as a source of support for one another.
Research seminars:
Our research seminars are delivered by experts in the field, whether they be internal researchers from Coventry University, or speakers from the wider education sector. Recent seminars have covered topics including race inequality, challenges and support for care leavers, and higher education across global borders. These seminars give students the opportunity to hear from the experts in an environment where questions and debate are encouraged.
Coffee Connect:
Monthly sessions within the Centre to give students the opportunity for informal networking with our staff.
Postgraduate Research Opportunities
Within GLEA, we provide opportunities to study PhDs in a range of different ways. Choosing to undertake a PhD with us will help you to explore some of the wider issues associated with equitable education and global learning.
Main Areas of Supervision:
We welcome applications from suitably qualified self-funded or sponsored PhD candidates that relate to our current research themes.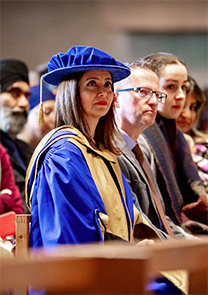 The Centre for Global Learning
Find our more about the research carried out by the GLEA team.