Course code:
Study options:
3 years full-time
4 years sandwich
Location:
Starting:
Fees:
2020/21 fees TBC*
2019/20 fees - £9,250
Faculty:
---
Get in touch
For questions regarding study and admissions please contact us:
This an innovative course, aimed at students with a keen interest in creating their own entrepreneurial venture or project alongside academic study.
Projects might include business or social enterprise start-ups, growing a family or established business, or driving a new initiative within private or public sector employment.
With creativity and innovation at its heart, this is a course for budding entrepreneurs who want to start, develop or grow a business and strengthen their skills alongside their degree.
Why Coventry University?
An award-winning university, we are committed to providing our students with the best possible experience. We continue to invest in both our facilities and our innovative approach to education. Our students benefit from industry-relevant teaching, and resources and support designed to help them succeed. These range from our modern library and computing facilities to dedicated careers advice and our impressive Students' Union activities.
Global ready
An international outlook, with global opportunities
Employability
Career-ready graduates, with the skills to succeed
Teaching Excellence
Taught by lecturers who are experts in their field
Course essentials
A degree which offers you more, at no extra cost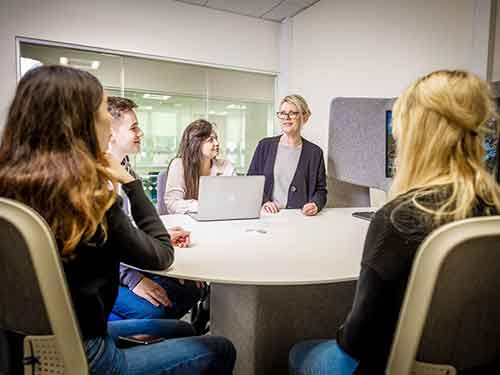 Coventry Business School's Business Simulation Suite utilises the latest business simulation software to give students the opportunity to improve their business skills.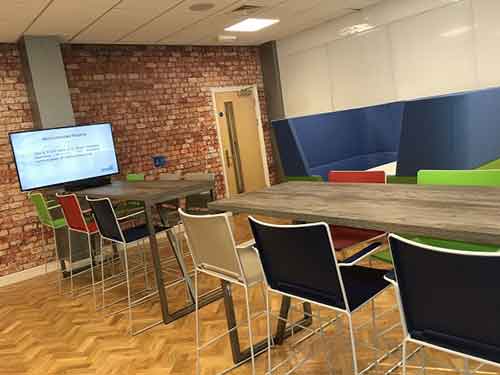 Designed to build creative minds, the DigiComm Lab is equipped with the latest industry-standard marketing and advertising software and devices to support your creative development.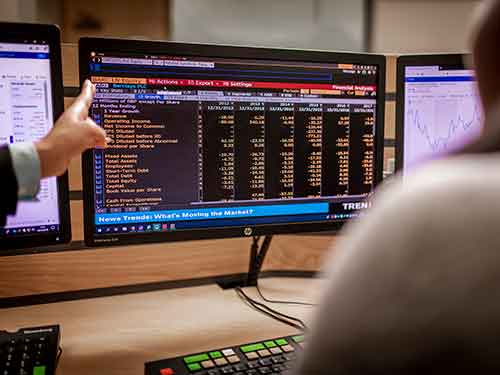 Students have opportunities to practice simulated trading and other finance-related activities using the various types of demo software available in the Trading Floor.
What our students say...
The BA Enterprise & Entrepreneurship course has had a massive impact on my life by helping to shape my entrepreneurial mindset and equipping me with the knowledge needed to put my ideas into action. The 1 on 1 business and academic support provided throughout allowed me to feel confident in my ability to achieve the best grade possible whilst also setting up a successful business. This course takes you beyond the usual Business Management degrees, enabling you to either create your own future or contribute in a unique way within another enterprise
The course will give you the opportunity to go through the three main stages of value and venture creation: Idea generation and feasibility assessment, Planning and implementation and Scaling and growth.
You will have the opportunity for in-depth exploration of your particular interests through coursework and an enterprise research project in the final year.
There is also a sandwich year option where you can apply to study abroad at a partner university or to work in employment in the UK or abroad.
The educational aims of the BA Enterprise and Entrepreneurship are to:
Stimulate interest and develop expertise to equip you to generate value through the creation of an entrepreneurial idea, reviewing the feasibility of this idea, formulating a viable business plan, and taking the necessary steps to set up and run a business or entrepreneurial project;
Provide you with an educational opportunity to broaden your knowledge around the specialist subject area of your entrepreneurial idea, to support your venture and to develop a pool of transferable skills; and
Enable you to experience value creation whilst in the supportive environment of the University and make an informed decision about your future employment.
15th
We are ranked as the 15th best University in the United Kingdom Guardian University Guide 2020
The Guardian University Guide 2019
Modules
Overview
Year one focuses on idea generation and feasibility assessment. The 'entrepreneurial mindset' and the development of the skills you need to drive an idea forward are also explored.
Modules
Introduction to Entrepreneurship Theory

Creativity and Innovation

Personal Entrepreneurial Development 1: The Entrepreneurial Mindset

Analysis of Small Business Functions

Assessing the Feasibility of a New Venture
Add+vantage
The focus on preparing students for successful futures sets Coventry apart as a university.
The Add+vantage modules teach a range of work experience and extra-curricular activities that are taken each year, and broaden students knowledge and skills within a work focused environment. There is a very wide range of Add+vantage free-choice subject areas, and they are arranged in themes.
Overview
Year two focuses on implementing a business, social enterprise, or entrepreneurial project. Skills such as entrepreneurial leadership and operations management will be explored.
Modules
Financial and Legal Issues for Business

Marketing and Small Business Operations

Personal Entrepreneurial Development 2: Leading a Small Business

Research Methods

Small Business Organisation and Culture

Personal Entrepreneurial Development 3: Designing Your Venture Implementation
Add+vantage
The focus on preparing students for successful futures sets Coventry apart as a university.
The Add+vantage modules teach a range of work experience and extra-curricular activities that are taken each year, and broaden students knowledge and skills within a work focused environment. There is a very wide range of Add+vantage free-choice subject areas, and they are arranged in themes.
Overview
Following your second year, you will have an option to apply for a one-year professional work placement or study abroad in a partner institution.
Modules
Optional Placement

Study Abroad
Overview
Year three focuses on strategic growth and planning your entrepreneurial career. Here, you will also undertake a research project tailored to your enterprise and entrepreneurship interests or career aspirations
Modules
Enterprise Research Project

Personal Entrepreneurial Development 4: Planning for Entrepreneurial Careers

E-Business and Emerging Technologies

Scaling and Growing Businesses

Personal Entrepreneurial Development 5: Learning from Value Creation
Add+vantage
The focus on preparing students for successful futures sets Coventry apart as a university.
The Add+vantage modules teach a range of work experience and extra-curricular activities that are taken each year, and broaden students knowledge and skills within a work focused environment. There is a very wide range of Add+vantage free-choice subject areas, and they are arranged in themes.
We regularly review our course content, to make it relevant and current for the benefit of our students. For these reasons, course modules may be updated.
The course is focused around the concept of 'value creation' and the activity of transforming purposeful ideas into action, thus generating value for someone other than yourself. The value created can be social, cultural or economic.
The course is a mixture of theory and practice. We aim to teach you about the theory of entrepreneurship and entrepreneurial practice and complete a research dissertation. You will also have the opportunity to be exposed to the skills and knowledge needed for entrepreneurship with guided individual and group projects, and through the analysis of real case studies. Innovatively, you will also have the opportunity to learn through your own actions on self-directed negotiated projects such as venture creation and consultancy activities.
The teaching team is made up of enthusiastic educators who are also active researchers in enterprise education and entrepreneurship-related topics. We regularly share our practice innovations and have given research presentations at conferences such as the International Entrepreneurship Educators Conference and the Institute of Small Business and Entrepreneurship Conference. Members of the team have contributed to national policy in enterprise and entrepreneurship education, while others have run their own businesses and bring real-life experiences to inform your learning.
Coventry University is one of a select group of universities to be awarded the prestigious Times Higher Education Entrepreneurial University of the Year Award (2011). The University was also commended in the recent Teaching Excellent Framework exercise for its outstanding focus on employability and developing entrepreneurship skills that are highly valued by employers.
This course, which takes a unique approach to enterprise education, will provide you with both knowledge of small business management and the opportunity to apply that knowledge to your own business venture or to a venture operated through the programme.
Through the three years of the degree, the focus will progressively move from creativity and idea development, feasibility and marketing, to business management and growth strategies. Practical aspects, such as registering your business, protecting your intellectual property and professional advice on how to manage a business – essential for your company's day-to-day operations are also covered.
Core themes include: creativity and idea development, innovation, business start-up and management (feasibility testing and planning), marketing, finance management, human resource management, business development and growth, and personal entrepreneurial development.
Your course will be based on a series of lectures, with associated seminars and practical classes. In addition, your personal tutor will review and discuss your progress with you and will be available for advice and support along with business mentoring.
This course will be assessed using a variety of methods which will could vary depending upon the module. Assessment methods include formal examinations, essays. case study analysis, poster presentations and reflective reports.
The Coventry University Group assessment strategy ensures that our courses are fairly assessed and allows us to monitor student progression towards the achieving the intended learning outcomes. Assessments may include exams, individual assignments or group work elements.
On successful completion, you should be equipped with the skills to:
Demonstrate a breadth of knowledge of theoretical concepts and perspectives that underpin value and venture creation within national and international contexts (e.g. markets, marketing and sales, customers, finance, organisational behaviour, operations, business analysis, digital business, business policy and strategy, and innovation and enterprise development)
Evaluate the operational, cultural, and strategic processes of setting up, growing and scaling an entrepreneurial venture
Understand issues around sustainability, social responsibility, responsible leadership and ethics, and consider their application to entrepreneurial ventures
Assess and apply appropriate theories, concepts, models or techniques to identify, analyse and make recommendations for solutions to business problems in enterprises of varying sizes and growth stages
Identify, select, and apply theoretical concepts to conceive, assess, plan, and enact entrepreneurial projects to innovate and create value for own venture and the ventures of others
Critically evaluate, assimilate, design and conduct research to inform business or social enterprise development
Understand the importance of reflection, using appropriate reflective theories and tools to assess entrepreneurial, learning and digital skills and knowledge capabilities; critically assess practice in order to identify areas for improvement; and develop goals and action plans to drive and monitor progress.
We set out below the typical teaching contact hours that you will receive on this course. Teaching contact hours will vary in different years of study and may vary due to module selection. In addition to the contact hours below, we offer the opportunity to attend additional optional sessions, including sessions with the Faculty's progress coaches, or to meet with staff during their advice and feedback hours.
Within your first and second year, you will have 14 contact hours of teaching a week which includes:
Medium group teaching: 6 hours of workshops, topic-related tasks and activities, or facilitated discussions each week.
Large group teaching: 6 hours of lectures each week.
Add+vantage: 2 hours a week related to your Add+vantage module choice.
In your final year, if you are undertaking a project/dissertation, there is a greater emphasis placed on independent study and therefore total contact hours may be reduced.
In addition, you will be expected to undertake a significant amount of self-directed studying and revising in your own time each week, which may include, for example, guided study using hand-outs or online activities.
Additionally, you will be expected to complete 20 hours of study and guided learning. In addition you are expected to work on your own business idea.
The International Centre for Transformational Entrepreneurship has well established international networks in Europe and Africa. Further networks are under development in the Middle and Far East, and Australia.
Students may have opportunities to apply for study trips abroad, and for long-term international and multicultural engagement, for example, a 12-month study or work abroad term through the Erasmus programme. These may be subject to availability, application and additional costs.
Global ready
Did you know we help more students travel internationally than any other UK university according to data from the experts in higher education data and analysis, HESA?
In 2016/17, we were able to provide a total of 3,482 experiences abroad that lasted at least five days.

Much of this travel is made possible through our Global Leaders Programme, which enables students to prepare for the challenges of the global employment market, as well as strengthening and developing their broader personal and professional skills.
Explore our international experiences
1st for
international experiences
Sending more students overseas than any other UK uni (HESA 2016/17)
3,482
Student experiences
The number of student trips abroad for at least 5 days in 2016/17
21,000
and counting
The number of students we've helped travel internationally so far
12
global programmes
As well as trips, we offer other opportunities like language courses
What our alumni say
Taking the BA Enterprise and Entrepreneurship was everything I wanted from a venture creation course. I gained valuable experience through practically applying my skills to business opportunities that were offered.
Entry Requirements
University Course Code: FBLU020
A Level
BTEC
IB Diploma
GCSE requirement

BBB

DDM
30 points
5 GCSEs

at grade A*–C including English, Mathematics, or specified equivalents
A-Levels
A-Level applicants are required to have three
 A2 Levels. Coventry University may include AS grades within an offer for certain courses, but we are not able to accept two AS Levels in place of one A2 Level. In some courses it may be necessary for entrants to have passed specific A2 Levels in nominated subjects. Please see the course pages for more information.
Access Diplomas
The Access to HE Diploma to include 30 Level 3 credits at Merit, plus GCSE English Language and Mathematics at grade A*-C, or specified equivalents.
Coventry University welcomes applicants who have completed, or who are studying, the Access to HE Diploma developed by the Quality Assurance Agency for Higher Education (QAA). Successful completion of the course will require you to gain 60 credits with at least 45 to be achieved at Level 3 (with the remainder at Level 2). In some cases we will require you to have gained Merit or Distinction grades in a number of units or in nominated subjects. For more information on the entry requirements for your chosen course please see the relevant course pages.
BTEC Level 3 Diplomas
The University will accept the BTEC Level 3 Extended Diploma for entry to most courses. In some cases we will require applicants to have studied either certain named modules or a specific named Diploma. The appropriate course page will have full information on the entry requirements.
The University also accepts the BTEC Level 3 Subsidiary Diploma and BTEC Level 3 Diploma for entry to degree programmes, provided that they are studied in combination with other qualifications that provide a total volume of study that is equivalent to three A2 Levels. For example, you could be studying a BTEC Level 3 Diploma plus an A2 Level, or a BTEC Level 3 Subsidiary Diploma plus two A2 Levels. Where a specific A2 or BTEC subject is required for entry then you must be offering this as part of your combination of qualifications.
Please visit our page on European entry requirements for more information about specific country information.
Our International Student Hub offers information on entry requirements for your country, as well as contact details for agents and representatives should you need more advice.
More detail
Select your region to find detailed information about entry requirements:
Our International Student Hub offers information on entry requirements for your country, as well as contact details for agents and representatives should you need more advice.
More detail
What our alumni say
Gaining the BA HONS Enterprise & Entrepreneurship degree for me did not just translate to having an open mind towards my career lifestyle, but also to how I felt about the world and the environment around me. The feeling of positivity, in a world with enormous potential and where I can achieve anything creative and enterprising that I really set my mind to, is the sort of texture which the degree gave the hands of my mind.
Tuition Fees
We pride ourselves on offering competitive tuition fees which we review on an annual basis and offer a wide range of scholarships to support students with their studies. Course fees are calculated on the basis of what it costs to teach each course and we aim for total financial transparency.

For more information, please visit our Finance pages.
Course essentials at no extra cost
We're committed to communicating study costs clearly to make sure you're not faced with having to make any unexpected payments.
This is why our 'Flying Start' package provides you with a few course essentials. Your full-time fee for an undergraduate degree will cover the following:
UK field trips
Any mandatory site visits and trips within the United Kingdom.
Key material
This can include core textbooks, software and equipment.
Laser prints
1,000 A4 sides of black and white laser printing credits per year.
Optional year
Pay no tuition fees for optional work placements or study abroad trips.
The following are additional costs not included in the fees:
Any optional overseas field trips or visits: £400+ per trip.
EU student fees
EU nationals and their family members starting in the 2019/20 academic year remain eligible for the same fees as home students and the same financial support. Financial support comes from Student Finance England, and covers undergraduate and postgraduate study for the duration of their course, providing they meet the residency requirement.
For tuition fee loans
EU nationals must have resided in the European Economic Area (EEA) or Switzerland for the three years prior to the start of their course. The purpose of that three year residency should not have been mainly for the purpose of receiving full time education.
For maintenance loans
EU nationals must have resided in the UK and Islands for the five years prior to the start of their course. The purpose of that five year residency should not have been mainly for the purpose of receiving full time education.
What our alumni say
The BA Enterprise and Entrepreneurship degree really helped me get a 360o understanding of business and has helped equip me to progress in my business and career roles.
Career prospects
The course aims to provide you with real-world experience and the necessary capabilities required in the business world. This can prepare you for a future career as a graduate entrepreneur, a business owner, or a contributor to an established business.
The ability to demonstrate business-related knowledge and skills in enterprise and entrepreneurship is increasingly sort by employers in small and medium enterprises (SMEs), large private organisations, and within the public sector.
The course's parallel emphasis on academic skills will also provide a good platform for further study.
What our alumni say
The BA Enterprise and Entrepreneurship gave me the confidence, knowledge and skills set to start my business. It covers important aspects of running a business from human resource, marketing, finance and so much more. I have applied them to this very day running my businesses.
Disclaimer
By accepting your offer of a place and enrolling with us, a Student Contract will be formed between you and the University. A copy of the 19/20 Contract can be found here. The Contract details your rights and the obligations you will be bound by during your time as a student and contains the obligations that the University will owe to you. You should read the Contract before you accept an offer of a place and before you enrol at the University.
The University will charge the tuition fees that are stated on the course webpage and in the prospectus for the first year of study. The University will review tuition fees each year. For UK and EU students, if Parliament permit an increase in tuition fees, the University may increase fees for each subsequent year of study in line with any such changes. Note that any increase for UK and EU Students is expected to be in line with inflation. For international students, the University may increase fees for each subsequent year of study but such increases will be no more than 5% above inflation.
*2020/2021 course fees have not yet been determined by the University or government legislation. Once the course fees have been determined, the course web page will be updated to reflect your first year course fee. Please continue to revisit the course web page to identify the fee before you accept an offer of a place on the course and/or before you enrol at the University.