Studying in the Library
To support different styles of study, the Library has been divided into the following zones:
Postgraduate Reading Room (Lower Ground) - Quiet
Ground Floor - Group
Floor 1 - Silent
Floor 2 - Quiet (with additional Silent Reading Room)
Floor 3 DMLL (Disruptive Media Learning Lab) - Group
Toilets are available on each floor. Baby changing facilities are located in the accessible toilet on the Ground Floor.
---
Users with a disability
The Lanchester Library is committed to the principle of equality of access to all of our services and facilities. If you are disabled, or have a learning difference, there are a number of provisions which may help you to use the library more easily. Full details of the support available is given in our Disability Support guide.
If you have any particular concerns, queries or suggestions contact:
Your feedback would be most welcome.
---
There are combined print, scan and photocopy stations on each floor.
The IT Tech Bar is located on the Ground Floor of the Library and deals with general IT enquiries, it is open from 08:00-Midnight. Alternatively ITS can be contacted by phone or online 24 hrs a day.
There are 500 computers available in the Library for use by members of the University. We also have 108 laptops that you can loan for free for use in the Library as well as Wi-Fi throughout.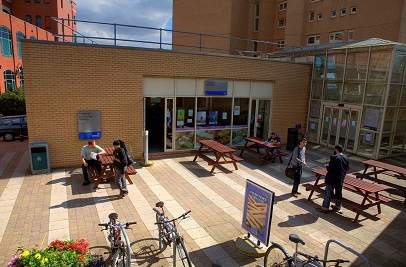 You are welcome to bring your own laptop to use in the Library, although you will not be able to connect to the campus Wi-Fi unless you are a current Coventry University member. Users from other universities will be able to connect via the UK Higher Education service Eduroam.
The café is located on the ground floor.