Coventry & Birmingham Low Emission Vehicle Demonstrator Programme (CABLED)
Funder
Innovate UK, Advantage West Midlands (former RDA)
Total value of project
£7,690,252
Value to Coventry University
£166,500
Project team
Professor Nigel Berkeley, Dr Jason Begley, Elizabeth Bos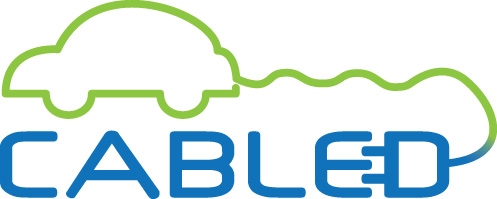 Partners
CABLED was a consortium of 12 companies:
Arup (Lead Partner), Aston University, Birmingham City Council, University of Birmingham, Coventry City Council, Coventry University, E.ON, Jaguar Land Rover, Coventry University Enterprises, Mitsubishi Motors UK, Mercedes Benz UK, and Tata Motors European Technical Centre
Duration of project
01/08/2009 - 31/05/2012
---
Project overview
The CABLED project (part of a wider national programme of demonstrator trials) showcased early electric cars across Birmingham & Coventry in the West Midlands. The project provided the opportunity for Ultra Low Carbon Vehicles to be made available to a wide cross section of real world users and collect data on their everyday use over a 12 month trial period. The project used the data collected to understand how EVs could be used in real life to assist in the planning of the further expansion of EVs.
Project objectives
The project:
Delivered a showcase demonstration of 100+ ultra low carbon vehicles across Birmingham and Coventry in West Midlands.
Delivered the charging infrastructure required in the users' property, in workplaces, and in public areas.
Collected data to measure vehicle performance, infrastructure usage patterns, impacts and requirements with a minimum 12 months experience of seasonal conditions from all vehicles.
Worked extensively with users to understand and evaluate their experience with EVs.
Publicised the benefits and progress of low carbon vehicles.
Impact statement
Coventry University's role, led by Berkeley, was to initially recruit a representative sample of drivers for the project and then to work with them over the 12 month trial period to understand and evaluate their experiences. This early research on users' experiences was vital to understanding the challenges and opportunities associated with the wider and ultimately mass market roll-out of EVs. It informed our evidence presented to the 2012 Transport Committee inquiry: Plugged-in Vehicles, Plugged-in Policy. Following written evidence, Berkeley provided oral evidence that was subsequently used by the Committee in their press release to accompany the report into its findings. This stimulated national political and media debate on the effectiveness of the policy, with Berkeley's views being sought for radio and newspaper interviews.
Issues have been explored further in PhD research and projects sponsored by the EU, Defra, Coventry and Warwickshire Local Enterprise Partnership (CWLEP), the Automobile Association and most recently Coventry City Council.
Outputs
Berkeley, N., Bailey, D, Jones, A. and Jarvis D. (2017) 'Assessing the transition towards electric vehicles: a Multi-Level Perspective on drivers of, and barriers to, take up', Transportation Research Part A: Policy and Practice 106, 320-332
House of Commons Transport Committee (2012) Plug-in vehicles, plugged in policy? Fourth Report of Session 2012–13, London, the Stationery Office