Water quality performance of permeable pavements
Funder
Formpave
Value
£21,000
Project team
Duration of project
September 2016 – April 2017
---
Project objectives
To simulate the deposition of urban contaminants such as oils and metals from transport processes onto the surface of pervious pavements.
To apply artificial rainfall onto the pavement surface to mobilise the contaminants and flow through the pavement structure.
To measure the level of contaminant retention in the pavement depending upon the design. This design difference is primarily the presence or absence of a geotextile filter fabric to remove particles and chemicals.
To assess the levels of biological treatment, of the organic contaminants such as oils, in each design.
Impact statement

Permeable pavements (PPS) are often the most appropriate sustainable drainage (SuDS) device for highly urbanised areas and can be used for parking areas, low speed roads and landscaped areas. Filter fabrics are used in some permeable pavement designs to trap urban contaminants such as the hydrocarbons and metals from vehicles. Trapped contaminants that are biodegradable such as oil fractions are subject to treatment by naturally occurring microbes that live below the surface of the pavement. These properties have been tested at Coventry University since at least 1997 and work is ongoing to test the most effective pavement design from a water treatment point of view. Design guidance e.g. the UK SuDs manual (The SuDS Manual C753 - ciria) allows for the deployment of a filter fabric or geotextile, a few centimetres below the surface of the pavement. Not all PPS include a geotextile, and it was a priority of the partner to explore the environmental impact for watercourses, of the decision to include or exclude the geotextile material.

Results showed that the inclusion of the geotextile improved the retention of sediment in the pavement rather than being released in effluent. Longer retention in the pavement results in more treatment of organics, and as many contaminants such as urban metals are associated with the retained sediments, it is expected that the final results of the study will demonstrate differences between the retention and treatment capabilities of the two PPS designs.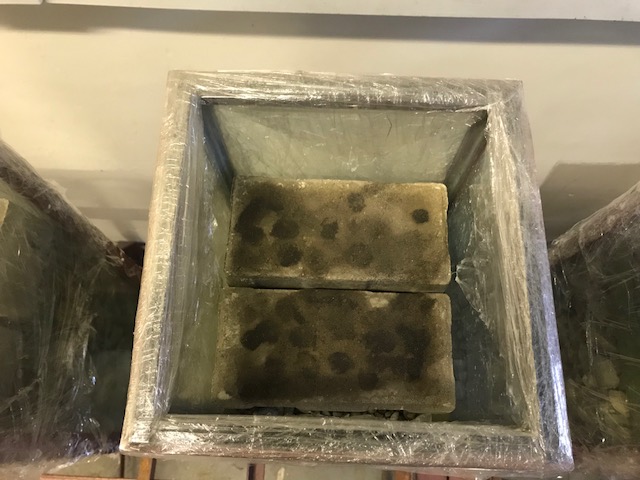 Applied oil deposited on the surface of a permeable pavement in the SUDS lab.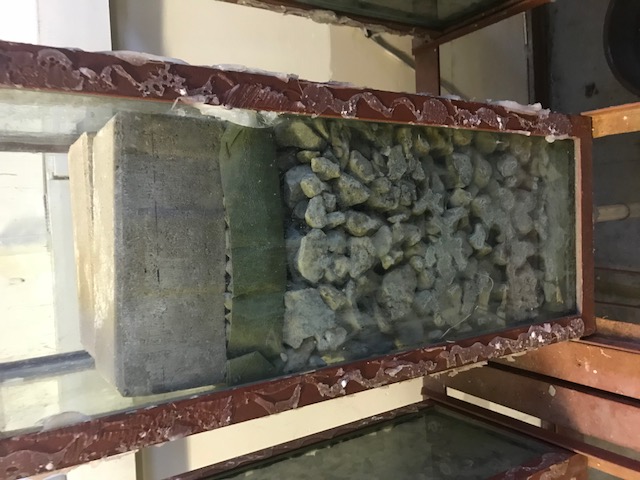 A pervious pavement with a geotextile below the pavement surface for filtering of contaminants.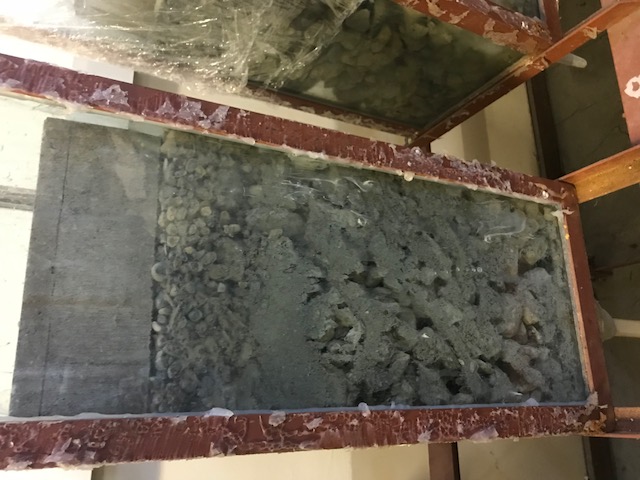 Pervious pavement with no geotextile filter fabric.