Training and Consultancy
We share our knowledge and research findings through publication, conferences, training and consultancy. The practical focus of our research means that it can be directly applied and implemented in practice to improve outcomes for individuals, communities, organisations and policy-makers.
Consultancy and collaboration
CTPSR staff have extensive experience in applying their scholarship and expertise through consultancy work, bringing rigour and academic authority to address real-world problems in organisations and communities. Whether it's a one-off project or a longer term series of interventions, we can assemble a team of experts to help tackle issues and explore questions, working alongside practitioners and leaders to find innovative solutions.
Our expertise has been drawn upon by leaders and communities dealing with significant social and security challenges. We have worked on such topics as regional conflict, distrust in public services, faith in communities, diversity and dialogue in communities struggling to cope with rapidly changing demographics.
We work with charities and community groups, public service organisations such as the NHS, local government and emergency services, with international agencies such as the United Nations, and with commercial organisations on aspects of employee and community relations.
We can work together with you to design a project to research an issue and develop workable solutions tailored for your specific goals and environment
We can bring our existing knowledge, expertise and tools to bear in a particular situation, and design approaches or interventions appropriate for your setting and objectives
We can use our research expertise and capabilities to design evaluation approaches for programmes and carry out independent assessment of the effectiveness of interventions.
---
What we can offer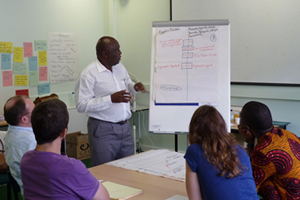 Impartial, expert advice grounded in evidence-based research
A pool of expertise with experience across sectors, geographies and a variety of research approaches, meaning that we can put together the right team for the job
Practical, real-world approaches which appreciate the realities of challenging situations
A focus on long-term value, which ensures that solutions designed are sustainable, implemented in ways which take account of local resources and can be embedded in every-day practice.
For further information or an initial discussion about our consultancy service, please contact Tom Fisher at tom.fisher@coventry.ac.uk
Training and professional skills development
As well as our suite of postgraduate programmes on peace and conflict studies, maritime security and global diversity governance, we offer short and one-off courses on focused areas of skills development as part of our Continuing Professional Development (CPD) programme.
Our standard and bespoke courses are specifically tailored for organisations, practitioner communities and policy-makers and are underpinned by evidence-based research and insights
Our training sessions are highly interactive and combine highly-specialised curriculum content with opportunities for discussion and debate
We can deliver training at your premises or host workshops here at Coventry University
We are happy to discuss your requirements in order to design a customised, highly relevant, evidence-based training programme which is practical in focus and can be applied to the real-world challenges faced by your organisation and in your community
We are flexible about the length of our sessions which can be designed to be delivered in a half-day, full-day, multiple days residential or series of sessions over a longer period
Our short courses are non-credit bearing, but could be taken into account as prior experience should a delegate subsequently wish to undertake post-graduate study with us.
---
Courses / topics offered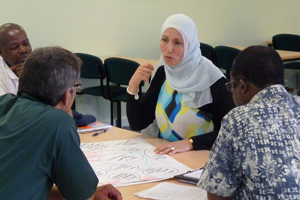 Intercultural dialogue
Working with religious diversity
Challenges and approaches for diverse communities
Building trust in your organisation
Research ethics for social researchers
Project management in practice
Theory of change approach to measuring impact
Evaluation and impact: Demonstrating the value of community programmes
We can design bespoke training and skills development in any of our areas of expertise – please get in touch to discuss your needs.
For further information or an initial discussion about our skills development offering, please contact Thea Gibbs at Thea.Gibbs@coventry.ac.uk