Our research groups
Our researchers operate within an effective interdisciplinary research environment, collaborating across the Centre and beyond through research groups which define our current areas of work and provide a framework for joint research and funding applications.
CTPSR's researchers work within specific groups and are enocuraged and supported in collaborative research which reflects the Centre's current interests. Each of these has a strong practical focus on embedded research at the local, national and international levels to ensure that we achieve research excellence with impact by developing local solutions which have global impact and resonance.
CTPSR DOCTORAL PROGRAMME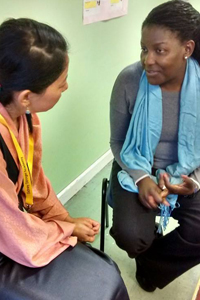 We have a vibrant, international PhD student community who are integral to the Centre and who assist us in exploring key research questions.
The Centre for Trust, Peace, and Social Relations has a commitment to achieve excellence through a stimulating, highly active, and multi-disciplinary research environment with a core, common purpose to enable collaboration across distinctive disciplines and traditions to develop novelty in theory, methodology and insight.
We welcome applications with proposals for PhD research projects in distinct and cross-disciplinary areas related to our current research themes: integrated peace building, living side by side and trust matters. We welcome proposals that challenge existing ideas in these areas and expand current thinking, offering original insights and approaches by undertaking significant and rigorous research.
Supervision teams will vary depending on the topic and comprise senior and early career researcher experts in the fields of social sciences and humanities, including business and management, international relations, political science, human geography, sociology, organisational and social psychology, economics, applied philosophy and history.
We can support PhD proposals that link to more than one member of staffs' research interests or are in related areas, as it is standard practice for supervision teams to consist of three staff members. Final PhD supervision team structure will be decided according to the available capacity of relevant staff.
USEFUL LINKS
If you wish to learn more about our postgraduate study programmes, please see the Study With Us page
---