Study with CTPSR
Postgraduate Taught Programmes
Research informed teaching to inspire the next generation of leaders
Our suite of postgraduate taught masters programmes are offered through blended or distance learning, enabling students to engage in our programme of study wherever in the world they are based.
Our blended learning combines short residential workshops with online modules, one-to-one tutoring and independent study, allowing students to fit their studies around other commitments.
We welcome applications for September 2020 entry for:
Please select the individual course listing for further information on eligibility, course structure and how to apply.
Funding Opportunities
Ferguson Trust Scholarship
---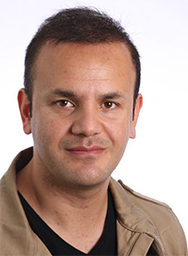 Deadline: tbc
Ferguson Trust Scholarships are made available through the generosity of The Allan and Nesta Ferguson Charitable Trust to support students wishing to pursue our Peace and Conflict Studies and Maritime Security academic streams. The scholarships are designed for candidates from low-income countries and lower-middle-income countries, which, ordinarily, are conflict-affected.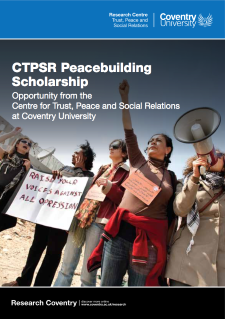 View the PDF of our Peacebuilding Scholarship.
How to Apply
Students wishing to apply for a bursary or Ferguson Trust Funding should refer to the individual course directory for further information on the application process and eligibility criteria.
Testimonials
Ali Haider
MA Peace and Reconciliation studies, 2014 Para-Legal Officer, Afghanistan
"Afghanistan is a society where violence has been ruling for the last four decades but concepts such as 'peace, love and forgiveness' remain foreign leading to greater struggle and civil conflict.
Working with the UN family for ten years is where I sought to seek reconciliation, or at least to understand the process, and how it can be applied.
However, this quest to understand the essence of 'peace' and how best to achieve it remained unfulfilled. In this journey I faced contradictions, challenge and confusion until I came to know about the Centre for Trust, Peace and Social Relations (CTPSR) at Coventry University and its tremendous capacity in all peace related subjects.
I joined the Centre in September 2013 and at my first approach I realised how huge and professional this peace family was. Being a student at CTPSR, I have not only learned about peace itself but also understand how important it is in forming a base for a humane life. Getting to know people from different cultures and attending seminars are yet another privilege that added to my capacity of
being inclusive and more understanding.
Doing my MA in Peace and Reconciliation was an informed decision I made about my academic career. Indeed, studying at this Centre has played a critical role in expanding my capabilities and knowledge, as well as building the confidence I needed for working in any post-conflict state through my knowledge of peacebuilding.
I will forever be grateful for the financial support provided by the Allan and Nesta Ferguson Charitable Trust."
Postgraduate Research Programme
CTPSRs Doctoral Research Programme is delivered in collaboration with the Doctoral College and Centre for Research Capability and Development, the training is led by Professor Matt Qvortrup and Dr. Jessica Northerly
In undertaking the DTC you will be part of a vibrant community of postgraduate researchers, coming together for induction, summer schools, seminar series, reading / writing groups and social events.
As a member of the Centre for Trust, Peace and Social Relations, you will be integrated within our rich research environment and will benefit from development opportunities offered to all our staff and students, including being a member of one of our eight research groups. You will also have access to additional training through the Coventry University Doctoral College and Centre for Research Capability and Development.
---
What we offer
Initial training is delivered through an intense first year of training and development and through direct interaction with your supervisors. We aim to equip you through your first year's training to subsequently undertake fieldwork and primary research in pursuit of your research by covering such topics as:
Philosophy of social science research
Principles of research design in social sciences
Research ethics, research integrity and legal considerations
Introduction to contemporary research in the field
Managing research data
Quantitative and qualitative research methods
Approaches to literature review and critical evaluation of sources
Managing a research project
Writing for publication
A one-week, intensive summer school focused on research skills development is held in May / June each year, and provides concentrated time to learn and reflect on progress so far and plans for the next phase of your research.
Throughout your three years as a member of the DTC you will be offered an ongoing and bespoke training programme, as well as opportunities to come together as a cohort to learn from each other's experiences. Typically this includes:
Research software training (e.g. SPSS, Nvivo, Endnote)
Specialist methods training
Academic writing workshops and weekly writing group
External conference attendance and monthly seminar series
Public engagement activity with key research centre stakeholder groups
Tailored research support according to training needs analysis
Social activity and networking.
The DTC training programme was developed around the Researcher Development Framework and reflects the priorities expressed in the RCUK Statement of Expectations for Doctoral Training.
---
Proposals Invited
We are looking for proposals that challenge existing ideas in these areas and expand current thinking, offering original insights and approaches by undertaking significant and rigorous research. We welcome PhD proposals that link to more than one member of staff's research interests or are in related areas. It is standard practice for supervision teams to consist of three staff members. For further information about potential supervisors interests and expertise, visit CTPSR.
For details on the formal application process and forms, please visit the Doctoral College website.
---
Contact Us
If you would like any more information on any of our postgraduate courses, please contact us using the details below:
Dr Heather Baggaley
Postgraduate Programmes Manager
+44 (0) 2477659059