Study With Us
M4C Open Awards with CPC
We are excited to support the development of PhD proposals for the M4C consortium fully-funded bursary scheme.
Find out more
Why CPC?
Critical creative theory and practice
Expert and experienced supervisors
Practitioner-researchers in postdigital media, art and culture
Cross-material engagement (textual; visual; aural; haptic)
A productive interdisciplinary research environment
Alliances with international art organisations, cultural institutions and activist groups
Personalised supervisory support
Access to state-of-the-art facilities and equipment
Our academic experts
The Centre for Postdigital Cultures (CPC) brings together media theorists, practitioners, activists and artists from more than 15 countries to critically investigate some of the core foundational concepts and values in the arts and humanities.
For further information on staff expertise please see the CPC Pure portal page.
Stimulating learning environment
Along with conventional arts and humanities methods we support a range of mixed methods including various practice orientated methodologies, visual argumentation, case study, and ethnography. We support PGR students in their examinations of the ontology of digital culture as an analytical pursuit, and expect them to bring a critical perspective to their PhD study.
Practice-based research
We both study and participate in creative experiments in social reproduction, and in repurposing tools, techniques and resources for cooperative living. We utilise design processes and contemporary art practices and techniques of cultural production for social change. We also experiment with horizontal and decentralised ways of working and organising using the distributed web and related technologies to create new infrastructures for the postdigital world.
Collaborative Research
We hold a number of externally funded projects in which CPC academics collaborate with colleagues from UK and international universities. We are committed to working collectively and we promote this in our approach to research. The Centre operates with an inclusive system, encouraging PGR students to attend, host and organize CPC research events (e.g. reading groups, webinars, exhibitions).
Professional Networking

We collaborate with academic and cultural institutions nationally and internationally, supporting our PGR community in their access to themed research groups and scholarly societies, as well as collectives that are active in the fields of the arts and experimental knowledge production. Associations of which our researchers are part include: the Radical Open Access collective, the NECS Cinema & Contemporary Visual Arts workgroup, and the Partisan Social Club.
Image credit: Gallery choreography experiment by Kevin Walker (CPC). Hockney Gallery/Royal College of Art, 2013, part of the research group Low Tech High Tech with University of the Arts London.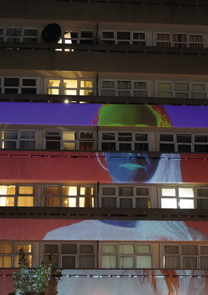 Centre for Postdigital Cultures
Find our more about the research carried out by the CPC team.