Research Group: Cybersecurity
About the group
In an increasingly uncertain world, the need for the security of citizens, data and critical infrastructure is a major concern. A parallel but not unrelated body of research acknowledges safety needs requiring rigorous engineering, fail-proof mechanisms and protection systems to ensure a dependable design and reliable operation. The Cyber Security Group at the Institute for Future Transport and Cities at Coventry University is a team of multi-disciplinary researchers addressing issues of systems security for automotive, rail and connected infrastructure.
Meet the team
Cyber security

Cyber security, formal verification, cyber-physical systems

Railway verification, computational logic, model checking and multi-agent systems

Cyber security policy making, corpus linguistics

Cyber security and computer science

Madeline Cheah

Cyber-security, digital forensics and penetration testing

Automotive cyber-security, digital forensics and trustworthy systems

Cyber-security

Connected & autonomous vehicles, vehicle to infrastructure connectivity

Connected & autonomous vehicles, vehicle to infrastructure connectivity

Digital forensics, security testing, systems engineering and automotive cybersecurity
Projects
Over the past 6 years, the group has been involved in a number of projects including:
Training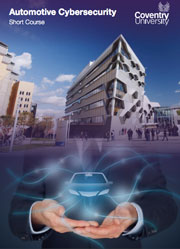 Automotive cybersecurity poses a major challenge to connected and autonomous vehicles. This course addresses the wider challenge of increasing digital and software components on connected platforms and focusses specifically on threat intelligence and engineering aspects of automotive systems. Issues of policy and personal data are also explored.
This course is for engineers, scientists and consultants with an interest in cybersecurity of connected and autonomous vehicles; automotive manufacturers, electronics designers and suppliers, components manufacturers and software tool developers; and policy makers, academics and researchers.