Metrology
About the group
This group focuses on delivering teaching, training and CPD to reduce manufacturing variation and uncertainty through improved product and process control. The group has an impressive range of dimensional measurement equipment, ranging from hand tools to 3D coordinate measurement machines and staff with not only extensive knowledge and experience of teaching and training but also of applying metrology in the production environment. The group has developed its own training materials and run the UK's only Foundation Degree in Metrology.
Research and Delivery Themes
Metrology underpins the research across the whole Research Centre by:
Extending and enhancing learning and education courses in metrology into a cohesive pathway for metrology skills and education in response to industrial needs
Developing and delivering a cohesive, comprehensive and flexible suite of metrology training materials which sit within a recognised progression framework
Providing both strategic and tactical measurement consultancy to meet the current and future needs of manufacturing.
Engaging in applied research in 3D, non-contact measurement that has well defined and widely recognised industrial impact.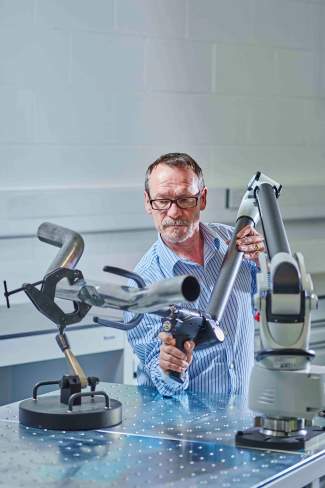 Coventry University has an extensive Metrology knowledge bank and practical manufacturing experience. We have worked with hundreds of businesses from SMEs to global manufacturing companies, helping to get the best out of their measurement capability.
Our Metrology team's complementary blend of real-world and academic knowledge offers a broad scope of experience across a variety of sectors. Our value is in providing independent advice that can be enhanced by a 300-strong team of experts across the Faculty of Engineering, Environment and Computing: so we can help to fix the whole problem rather than just part of it.
We are a professional solutions provider not a product reseller. Our services include training, consultancy and research. We are firmly established as a trusted partner for confidential data and research projects.
You can contact the Metrology team at metrology.ec@coventry.ac.uk or call us on +44 (0) 24 7765 9009.
Facilities
Our Metrology team is located in the new and iconic Engineering & Computing building, at the heart of one of the UK's historic engineering cities. The £55m building is a state-of-the-art design that brings under one roof a range of imaginative learning spaces, laboratories, workshops and lecture theatres. Our aim is that our new building will enable businesses and the University to work together testing and validating new technologies, solving problems, identifying issues and developing solutions with our students.
Our Metrology Laboratories:
Our temperature and vibration controlled Metrology laboratories house an impressive range of dimensional Metrology equipment including:
A wide variety of handheld dimensional measuring instruments and training kits
Profile projector, surface texture and profile tracer
Dedicated turned part profile co-ordinate measuring system
CNC Co-ordinate Measuring Machine (700 x 1,000 x 600mm) with continuous scanning capability
Portable measuring arms (includes a 3D laser scanning head)
Laser trackers
Photogrammetry system
Machine tool probing systems
Various Metrology supporting software
Consultancy
We have assembled a team of Metrology experts who have a successful track record in helping UK manufacturing to improve its Metrology processes and applications.
Make use of our wider team of experts

Our team includes experts who have worked in Metrology roles across aerospace, automative, medical and packaging sectors. We also have links to other areas within the University, such as materials and mathematics experts, who we include as part of our team as and when needed. Our team has hands on knowledge in real manufacturing environments, of various measuring equipment from hand tools, through CMM to large volume non-contact systems such as photogrammetry and laser scanners.
Flexible, Scalable Support

For short term support we allocate a suitable measurement expert or experts, who will work with you to advise on your need or help to solve your issue. For larger Metrology projects that require a temporary boost in your people resource, we can provide longer term help and support via student or post graduate placements, supported by our Metrology team, to help deliver projects and initiatives within your business.
Solutions, Not Products
We can offer help and advice on a variety of Metrology planning and application specific issues, including how to effectively utilise current equipment. Whether it is offering advice on a single measurement issue, helping you implement a Metrology strategy for your business, or helping to plan the up-skilling of your workforce so that you have that Metrology expertise inside your business. Coventry University Metrology can help. We are independent advisors, so will be searching for the best complete solution for you - not trying to sell you individual products.
Courses
The Coventry Metrology Group at Coventry University offers a wide range of courses in measurement and metrology culminating in formal qualification. From an introduction to advanced tools and techniques our training courses bring together the power of a university's subject knowledge and the applied expertise of trainers with strong industrial experience.
Our philosophy is to deliver value for money courses with the quality you would expect from a university, practically explained and with three key elements built in:
Knowledge delivered in an engaging, realistic and relevant way

Hands-on activities and interaction that bring this knowledge to life

Encouragement to carry on developing through work based learning

View our metrology courses