About the Centre for Dance Research
C-DaRE – The Centre for Dance Research – is a team of international researchers and postgraduate researchers based in the Institute for Creative Cultures building at the Coventry University Technology Park, Coventry.
Our research moves between theory and practice and applies body-centred understandings across disciplinary boundaries. In our projects we explore a broad range of themes including cultural heritage, computing and AI, intellectual property, practice research, performance philosophy, documentation, archives, health and well-being, digital performance, somatic practices and critical disability studies. We maintain close connections with professional practice and engage in research networks and policy level interventions that aim to sustain and develop movement, dance, and performing arts.
We work closely with partners across the cultural sector, and our work has been funded by Research Councils, the European Commission, the Leverhulme and Wellcome Trusts, British Academy, British Council, Higher Education Academy and Arts Council England.
Our outputs and publications include books, book chapters, journal articles, policy reports, films and exhibitions, and live, digital and immersive performances.
You can get involved with C-DaRE by studying with us as a postgraduate researcher, attending C-DaRE invites events, following us on social, or by emailing us to join our mailing list. For further information about the work going on at C-DaRE please visit our PURE portal page.
Image credit: Siobhan Davies in Transparencies (2018), image by Hugo Glendinning.
Find us
We are located in the Institute for Creative Enterprise (ICE) building at the Coventry University Technology Park, Parkside.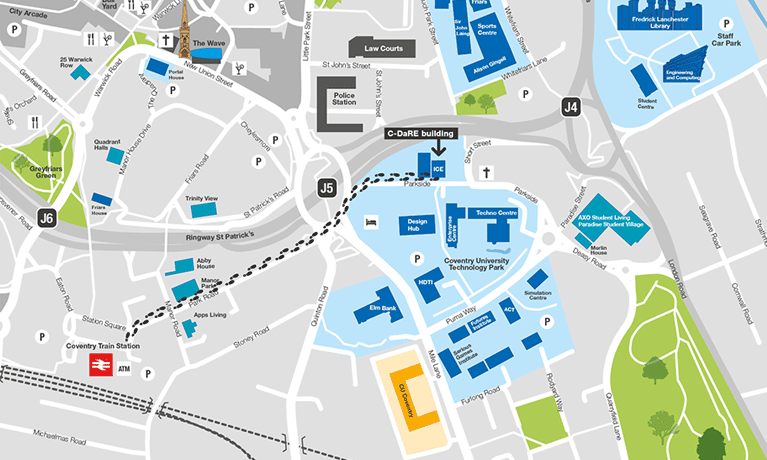 illustrated map showing journey from Coventry train station to ICE building.