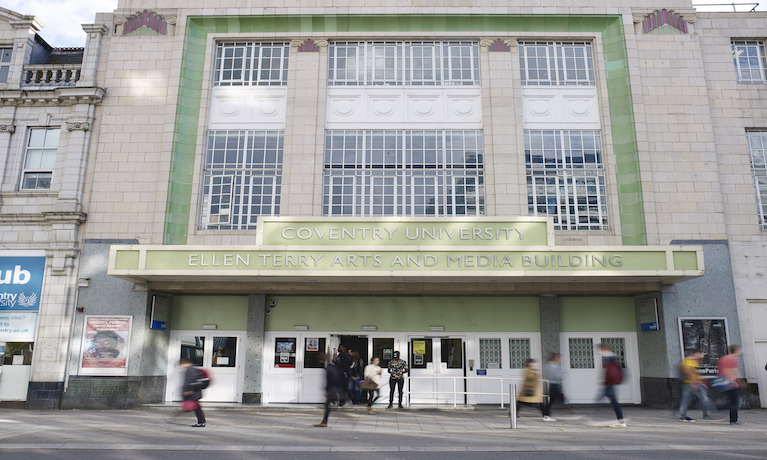 Victoria Ríos Castaño
Lecturer in Spanish
Faculty of Arts and Humanities
About
Dr Ríos Castaño teaches in the BA Languages for Global Communication, leading modules in Spanish, translation, and Spanish and Latin American cultural studies. At postgraduate level, she leads and contributes to the teaching of research methods.
She has supervised MA dissertations and co-supervised doctoral theses in cultural translation and Latin American literature.
Career overview
Dr Ríos Castaño conducted PhD research at the University of Nottingham and the Sorbonne University. Before starting at Coventry in 2018, she worked in several universities in the UK, France, Germany, and New Zealand. She served as Course Director of an MA in Translation Studies (2010-2012) and as Course Director for Languages (2020-2021) and Spanish (2020-2022).
Research
Her research focuses on colonial Latin America and contemporary Latin American literature. She has published studies on cultural translation in New Spain, the Spanish Golden Age, the relationship between writers and translators, and Latin American fiction. She is the author of one monograph –Translation as Conquest: Sahagún and Universal History of the Things of New Spain (2014)— and of articles in peer-refereed journals, including The Translator, Target, The Americas, and Hispanic Research Journal. She is currently working on a monograph on the Argentinean writer Julio Cortázar and has begun new research on the Relaciones Geográficas de Indias and 21st-century Latin American female writers.
External activities
She has been an editing member of the online journal Les Ateliers du Séminaire Amérique Latine and the publication series Colloquia (Sorbonne) and is a review contributor to the Year's Work in Modern Language Studies. She has given guest lecturers and talks in several institutions, including the Te Papa Museum (Wellington), the University of Salamanca and Oxford. She is currently an External Examiner for the University of Buckingham and Manchester Metropolitan University. She also serves as the Membership Secretary of the Association of Hispanists of Great Britain and Ireland.
Publications and press
Selected publications since 2020
Peer-refereed articles
(Forthcoming) (With Carolina Miranda) "Argentinean Women in Noir: Challenging Religious Discourses in Claudia Piñeiro's Catedrales", Bulletin of Spanish Studies
(Forthcoming) "Cortázar, un lector que escribe", Les Ateliers du Séminaire Amérique Latine (Sorbonne Université).
(Forthcoming) "Visibilizar la heterogeneidad y la sororidad: Las antologías Tsunami de Gabriela Jáuregui en conexión con #MeTooEscritoresMexicanos y la colectiva Mujeres Juntas Marabunta," special issue ed. Sofía Mateos, Literatura Mexicana (UNAM) (2022).
"La historia de la conquista de México en El inglés americano (1648) de Thomas Gage como promoción del Designio Occidental," Monograph II: La tradición textual de la conquista de México, ed. Héctor Costilla Martínez and Pablo García Loeza, eHumanista: Journal of Iberian Studies, 2022, vol. 50, 196-209.
"El sentimiento de lo fantástico en 'Instrucciones para John Howell' de Julio Cortázar," Pirandante: Revista de Lengua y Literatura Hispanoamericana, 2021, vol. 8 (2), 36-56.
"The Efficient Scribe: Translating Julio Cortázar's Todos los fuegos el fuego," The Translator, 2021, vol. 27 (2), 190-202.
Book chapters
(Forthcoming) "Indigenous Accounts of the Conquest of Mexico in Sixteenth-Century Relaciones Geográficas," in Relating Continents: Coloniality and Global Encounters in Romance Literary and Cultural History, ed. Romana Radlwimmer (De Gruyter).
"Cervantes and Other Literary Circles," in The Oxford Handbook of Cervantes, ed. by Aaron M. Kahn. Oxford: OUP, 2021, 531-545.
"Don Quixote in Argentina," in Don Quixote around the Globe: Perceptions and Interpretations, ed. by Slav N. Gratchev and Howard Mancing. Newark: Juan de la Cuesta, 2020, 173-196.
"S'échapper de 'l'élan acquis': Le penchant pour la prise de risque technique de Julio Cortázar," in Escrituras plurales: Resonancias, Colloquia (vol. IX), ed. M. Carmen Domínguez Gutiérrez, Edivaldo González Ramírez, Sofía Mateos Gómez, 2020, pp. 211-222.