Dr Rich Hall
Lecturer in Popular Music
School of Media and Performance | Faculty of Arts and Humanities
Email: ab0155@coventry.ac.uk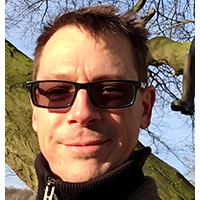 Biography
Rich Hall is a popular music practitioner, researcher and academic specialising in popular music performance, popular musicology, and music technology. He holds a degree in popular music studies from the University of Leeds and a PhD from Coventry University.
Rich's research interests centre on critical theory and critical pedagogy as it relates to the study of popular music. He retains a pragmatic emphasis and is concerned in particular with a narrative enquiry into the lived experiences of individuals and how this can inform practice. Rich has presented at conferences in the UK and America and is a published author in music and popular music journals.
Rich is also an active musician with an international profile and has worked as a performer and recording artist specialising in electric guitar.
Qualifications
BA Hons Popular Music Studies (Bretton Hall, University of Leeds – 1995 – 1998)
PhD Popular Music Industry and Education (Coventry University – 2017)
Teaching
Music Performance
Songwriting & Arrangement
Live Sound
Studio Recording
DAW recording
Music Industry
Music Theory
Outputs and Publications
Conferences
Widening Participation: Ideology or Euphemism? (USA 2019)
Conservatoire, University, and Alternative Provider: An Evaluation of Differing Models of Delivery for HPME (New York University, USA, 2019)
'Selling a Dream?' Information Asymmetry & Integrity Within Promotional Literature for Popular Music Courses (Belfast, Ireland, & Nashville, USA, 2018)
'The Future of Popular Music: What Voice Can Education Have?' (University of Northampton & University of Southern California, Los Angeles, USA, 2014)
'Where is the Creativity in the Popular Music Ensemble Workshop?' (Institute of Contemporary Music Performance, London, 2012)
Publications
Hall, R., 2019. Selling a dream? Information asymmetry and integrity within promotional literature for popular music courses. Journal of Popular Music Education, 3(2), pp.225-243.
Hall, R., 2019. An analysis of undergraduate motivations, perceptions of value and concerns in pursuing higher popular music performance education. International Journal of Music Education, 37(2), pp.327-341.
Hall, R., 2015. Enhancing the popular music ensemble workshop and maximising student potential through the integration of creativity. International Journal of Music Education, 33(1), pp.103-112.