Dr. Jim Clarke
Course Director and Senior Lecturer in English and Journalism
School of Humanities
Faculty of Arts and Humanities

Email: jim.clarke@coventry.ac.uk
LinkedIn Profile
Biography
I am course director of the English and Journalism degree, and module leader on all five Journalism modules on the degree. Previously, I lectured at Trinity College, Dublin in Modernism, Postcolonialism and in the Novel.
Prior to entering academia, I was a national newspaper reporter in Ireland, in roles including Political Editor of the Irish Sunday Mirror, health correspondent of the Irish Mail on Sunday and International Sportswriter for the Evening Herald.
My doctorate was fully funded by an internationally competitive bursary from the International Anthony Burgess Foundation.
Qualifications
Doctorate of Philosophy in English Literature, Trinity College Dublin, 2014.
English Language and Literature BA (Hons), Trinity College Dublin, 1993.
Research interests
I am principle investigator on the Parallel Translation Corpus of A Clockwork Orange with colleagues at Coventry University and the University of Birmingham.
Gylphi Press will publish my monograph on Science Fiction and Roman Catholicism in 2017.
My monograph on the aesthetics of Anthony Burgess is currently under consideration by academic publishers.
Recent outputs and publications
Clarke, J. (2015) 'Anthony Burgess and Science Fiction'. SFRA Review 313, 28-35.
Clarke, J. (2015) 'The Resurrection Days are over': Resurrection in Doctor Who and Torchwood'. Journal of Religion and Popular Culture 27 (1), 31-44.
Clarke, J. (2015) 'The Baroque Weaving Machine: Contrasting counterpoint in James Joyce and Anthony Burgess'. In Joycean Legacies. Ed. by Carpentier, M. Basingstoke: Palgrave, 127-149.
Clarke, J. (2015) 'The Sublime in Iain M. Banks's 'Culture' Novels'. Vector 281, 7-12.
Clarke, J. (2014) 'Reading Climate Change'. Critical Survey 25 (2), 7–21. Reprinted in: (2015) Earth Day – Special Virtual Issue, 162–176.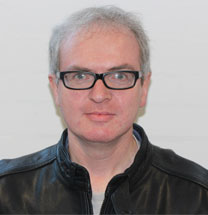 Teaching modules
I am Module Leader for all journalism modules in the department:
Democracy and the Global Media (358DEL)
Journalism, Ethics and Society (259DEL)
Journalism as Literature (359DEL)
The Face of Journalism (258DEL)
Writing for Magazines (158DEL)
The Face of Journalism (258DEL)
I also contribute to:
Career and Project Planning (200DEL)
Project – Dissertation (301DEL)
Project Literature Review (300DEL)
Project Professional Portfolio (302DEL)
Areas of expertise
News writing
Literary criticism
Copyediting
Sub-editing
Academic tutoring