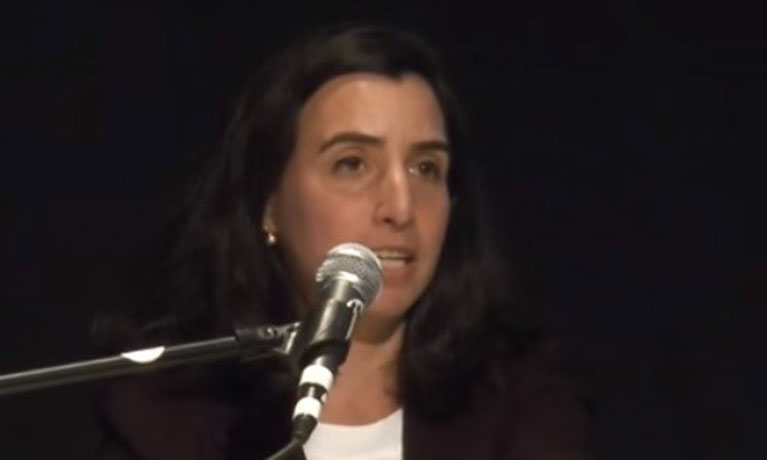 Dr Amira Halperin
Assistant Professor in Media and Communications
College of Arts and Humanities
About
Dr Halperin has been working as an academic scholar in Europe, North America, the Middle East, and East Asia, developing curriculum and research in the field of media and migration.
Career overview
In 2014, she was awarded a PhD degree in communication and media by the University of Westminster. Previously, Amira worked in the media industry in the UK (BBC TV) and abroad.
Currently, she is pursuing her academic journey and refugee research, working as an Assistant Professor in Media and Communications at Coventry University. As well as she is affiliated with the University of British Columbia Centre for Migration Studies.
Dr Halperin is The British Academy media expert on Refugees in the UK and globally. Over the last 10 years, she has been interviewed for various national and international media outlets in different languages. Her recent media article was published in China Daily (the largest English-language daily in China): "Tech can help address refugee crisis beyond Ukraine", Amira Halperin, March 2022.
Amira began working as a Lecturer at the School of Media, University of Westminster (2008). From 2018 to 2020, she worked as a Research Fellow and Lecturer at the Department of Sociology, the University of British Columbia (UBC).
She served as a UBC media expert on diversity; migration policy; journalism/media and technology, and UBC expert on COVID-19 (Immigration and media; communicating public health to refugees).
Her vision on teaching and learning is student-centred learning.
Since she completed the PhD, she has developed multiple courses at both the graduate and undergraduate levels, teaching and supervising a diverse student population, in a multicultural environment. She engages students with the studied material by inviting stakeholders to speak in class, field trips, and enhancing the students' exposure to internships and job opportunities.
Amira has been teaching and leading BA and MA modules, including Post Digital Worlds (2022- 2023), Sociology of Migration (The University of British Columbia), Middle East Migration and the Use of Digital Media (Emily Carr University of Art+Design), and Social Sciences Research Methods (2022-2023 is the third consecutive academic year she has been teaching this module at two different British universities in England and in China).
PhD, MA, and BA supervisor; MA and BA personal tutor: supported individual learners on different levels: provision of academic support, building self-esteem, career plans and administrative guidance.
Senior Tutor at the School of International Communications, UNNC; her responsibilities included coordination of pastoral care within the school, overseeing the operation of student support and development, and the personal tutoring system, acting as a point of reference and guidance for all personal tutors in the school, liaising with the faculty senior tutor and with specialist services, such as the Disability Liaison Officer and the Career Development Office, and responding to staff and student feedback.
She also acted as a mentor, as part of the university's mentoring programme, and as the BA and MA Dissertation Coordinator and Module Convener, being responsible for the academic and professional development of the School of International Communications students.
Research
Expertise in qualitative research: field interviews and ethnography.
Research areas: Refugee Integration, Media, and Technology, Mobile and Migration, Human Rights, Race, Equality, Diversity and Sustainable Development Goals.
Amira Halperin has been researching, developing content, and teaching on the usage of technology in the processes of migration, analysing both digital technology risks, and the ways to leverage media, information and communication technologies to improve refugees' lives (most importantly during COVID-19 and beyond).
She also conducted research on the use of mobile phone applications to empower women refugees, and refugee storytelling. Her research 'inclusion of migrants in society through new media technologies', contributes to UN Sustainable Development Goals.
The research has been published in 'Journalism, Audiences and Diaspora' (Palgrave Macmillan, 2015), 'British Journal of Middle Eastern Studies' (2019), the 5th most read article (as of 27 Sept 2021), and as a book, 'The Use of New Media by the Palestinian Diaspora in the United Kingdom' (Newcastle upon Tyne: Cambridge Scholars Publishing, 2018). The current book project entitled 'Mobile Phones and Digital Refugees in the 21st Century' will be published by McGill Queen's University Press.
The PhD research has been acknowledged as pioneering research. Prof. Sahar Khamis, University of Maryland:
"One of the most commonly used tactics of dehumanization in cases of conflict is denying the existence of the other party...In an effort to counter balance these negative... tactics, Amira Halperin embarks on a challenging ethnographic journey of a deep digging and persistent exploration...involving a highly volatile population, when she sets off to explore the use of new media technologies by members of the Palestinian diaspora in the United Kingdom (Halperin, 2018, Preface)."
External activities
Community engagement and impact on policies and societies are indispensable parts of Amira's work.
Returning to the UK this year, provided her with the opportunity to conduct further comparative research of media and refugees. Since she started working at Coventry University, she has been initiating new collaborations and has been working with existing academic and non-academic contacts around the UK, to enhance the research in this field. Currently, she collaborates with one of the leading refugee support organisations based in Coventry to enhance research and learning. Students' engagement is a core part of this initiative.
In 2018, Amira developed a research partnership with MOSAIC, one of the largest settlement organizations in Canada (MOSAIC and UBC community-university partnership), to support newcomers' interactions with information, media, and digital technologies.
The research team presented at the Canadian Government, Metropolis Canada Conference (2019 and 2020), together with the Director-General of Communications, at Immigration, Refugees and Citizenship, Government of Canada.
During the period she worked at UBC Department of Sociology, Amira secured 9K US Dollars funding by a Social Threat Intelligence company.
In 2021, Dr Halperin initiated The Migration Conference Partnership Organization Agreement between the Migration Conference/Transnational Press London and the University of Nottingham in China (UNNC). In the last few years, she has presented at the Migration Conference and she is a member of the Scientific Committee.