Active-LIVing Envelopes (ALIVE)
FUNDER
EPSRC
VALUE
£100,277
PROJECT TEAM
Maitiniyazi Bake
COLLABORATORS
Phase Change Material Products Limited, TAS Eco Systems and Tata Steel
STEERING GROUP MEMBERS
Professor Shuli Liu, Coventry University
Daniel Pillai, BiPVco.
Murray Bean, SBEC, Tata Steel
Liam Collins, TASE eco systems
Jafar Ure, PCM Ltd.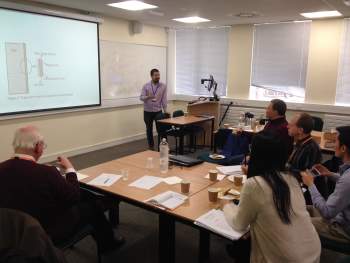 PROJECT OBJECTIVES
The aim of ALIVE is to develop climate responsive building envelopes able to provide a reliable and sustainable solution to enhance sustainable economic development in the built environment. It will be achieved through these specific objectives:
Energy generation through the metal profile and its synergy with the air gap and phase change material (PCM). This objective will investigate different design types of metal profiles which can withstand and give best performance in typical UK weather conditions. The amount and topology for PCM suitable for the developed envelope will also be investigated;
Wind, buoyancy and air flow are important performance factors for ALIVE and need to be investigated. This objective will study the effect of wind, buoyancy and air flow rate on heat transfer coefficients;
Parametric optimisation for geometrical factors of the envelope. The test programme consists of detailed information to carry out indoor testing and numerical simulations;
Developing empirical equations for temperature lift, energy saving and design characteristics for future applications of envelope design;
To investigate the energy saving and greenhouse gas mitigation potential of the optimised envelope via experimental data analysis and mathematical modelling.
These objectives will be achieved through a two phase programme. The project will aim to achieve the following key findings: (i) To what extent can ALIVE improve energy efficiency of building envelope (ii) based on findings of (i), provide optimum envelope design guidelines for the Built Environment (iii) to what extent does ALIVE impact on the heating/cooling demands of the building and to what level does ALIVE reduce the environmental impacts of the building.
RESEARCH IMPACT
This research project has multiple impacts broken down into environmental, social and economic impacts and summarized below:
Environmental
The "Climate Change Act 2008" has set a target of 80% reduction in CO2 emissions in the UK (relative to 1990 emissions) to be achieved by 2050. The research has the potential to reduce space heating and cooling energy demands by approximately 30-50% irrespective of building types. This project will determine the credibility of this proposition. If feasible, this reduction will directly impact on greenhouse gas emissions arising from buildings.
Social
The proposed research exhibits social gains as well as environmental benefits. The new approach can provide high levels of thermal comfort and improved interior air quality, a problem often associated with other energy reduction strategies. These will contribute to improved quality of life for building occupants. The project will further benefit them by reducing their energy bills.
Economic
The future energy supply challenge is one of the biggest concerns faced by the UK today. In an uncertain world, it is prudent to ensure a resilient energy supply, given the exposure to uncertain imports, volatile markets and climate change. The proposed research project will lead to reduced energy consumption and provide practical solutions for improved building fabric lifespan. Sustainability is a major factor in all construction projects largely due to legislation. Contractors benefit from being seen to be 'green' in addition to being socially and environmentally aware businesses.
Dissemination
NEWS & EVENTS
The steering meeting for ALIVE project has been successfully hold on Feb. 7, 2017. Dr. Shukla, Dr. Wang and M. Bake have presented the project overview, project progress and PhD work, respectively. Meeting was attended by Ashish Shukla, Yang Wang, Maitiniyazi Bake, Shuli Liu, Andy West, Mark Tyrer from Coventry University and Liam Collins from TAS Eco Systems. After that, all attendees have discussed the above presentations, and have talked over further plan and development related to ALIVE project.
PUBLICATIONS
Y. Wang, A. Shukla, S. Liu. A state of art review on heat transfer and energy flow characteristics of the Active Building Envelopes (for archival journal RSER submission).
Opportunities
ACTIVE LIVING ENVELOPES STUDENTSHIP
Eligibility:
UK/EU Students
Award Details:
Tuition Fees + Bursary £15000 per year
Duration:
3 years Fixed Term (Studentships are available to commence during academic year 15/16- start date will be specified to successful candidates)
Application deadline:
Ongoing
Informal enquiries are essential before application; contact Dr. Ashish Shukla to discuss this opportunity.
The proposed design incorporates many novel features, and its in-lab performance will be tested and evaluated. The basis of the proposed envelope system utilises a perforated metal profile attached to the exterior of a building, and an underlying layer of heat storage material separated by an air gap. Initial research and simulation suggests that total energy savings in the range of 30-50% can be achieved, depending upon the type of building and set point temperature used in UK buildings.