The Coventry and Warwick Morphology and Phonology Project
FUNDER
Nuffield Foundation
VALUE
£200,138
COLLABORATORS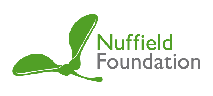 PROJECT OBJECTIVES
This project investigates how much children use information about the internal structure of words (morphology) to compensate for difficulties in phonics when reading and writing. Morphology refers to the parts of words that carry meaning, (e.g. boys = boy + plural). This knowledge can help us spell unusual words such as health (heal+th). We examine whether children with dyslexia and children with a history of ear infections are sensitive to this type of information, and if so, whether this sensitivity helps their reading and writing. If it does, then this implies that morphological knowledge can compensate for phonological difficulties.
RESEARCH IMPACT
The project will be of great interest to both researchers and practitioners in language and literacy acquisition. We will be able to demonstrate whether children with a relative weakness in phonological processing compensate by using morphological knowledge, and whether this varies given the nature of the phonological difficulty. An ongoing debate in special needs education is whether it is more effective to focus on improving a child's weaknesses or building on their strengths. This project will elucidate this issue with respect to children with a range of phonological difficulties.
The work has been presented at international conferences (British Dyslexia Association 2014; Scientific Studies of Reading 2014). Two papers have been submitted to peer reviewed journals and a further three papers are planned.
We held a teacher workshop to introduce the project in January 2013, and plan to hold another in Summer 2015.
Our findings so far show that both children with dyslexia and children with mild/transient hearing loss have difficulties working with the sounds of spoken language (phonology) but this affects their reading and spelling in different ways. Not all of the children with mild/transient hearing loss had difficulty learning to read – indeed some were reading well in advance of their age matched peers. We are now looking at our other measures to see how these children are compensating for their difficulties with phonology.
Size: 406 kb
Nuffield Main Report Oct 17
Size: 292 kb
Nuffield Executive Summary Oct 17