Europeana Space
FUNDER
European Commission – DG CONNECT
Competitiveness and Innovation Framework (CIP) Best Practice Network
VALUE
3,964,676€
COLLABORATORS
Coventry University works with 29 partners on this project. Read more...
PROJECT TEAM
Sarah Whatley, Jonathan Shaw, Pam Kato, Rosa Cisneros, Alex Woolner and Tim Hammerton.
PROJECT OBJECTIVES
It is becoming ever more important that Cultural Institutions and the Creative Industries connect, to explore new opportunities and unlock the business potential of digital cultural heritage. The Europeana Space project, including representatives of both sectors, intends to demonstrate this mutual benefit and long-term value, by creating an open, fertile environment where digital cultural content can be re-used entrepreneurially within innovative creative applications and viable products.
MOOC "Creative with Digital Heritage"
RESEARCH IMPACT
Europeana Space aims to increase and enhance the creative industries' use of Europeana (the European platform for cultural heritage) and other online collections of digital cultural content, by delivering a range of digitised resources to support their engagement.
The use of digital cultural heritage by the creative industries is still limited by factors including issues around the IPR status of content and the need for business models demonstrating the potential for exploitation of available content. To address these problems, the project draws together 29 partners to ensure the best possible impact, involving: creative industry and technology-based SMEs, cultural bodies, memory institutions, broadcasters, national cultural agencies and universities.
Europeana Space will enable the creative re-use of cultural content within six pilot areas;
Interactive TV
Photography
Dance
Games
Open and Hybrid Publishing
Museums
The Pilots will produce tools and guidance and engage entrepreneurs through creative hackathons. Impact will be measured through the generation of new user friendly ideas for the re-use of content, which will be nurtured through structured business planning and incubation support. The tools will be introduced to the wider educational sector to inspire young people to take up the co-creative challenge.
The project's impact, in addition to increasing the use of Europeana by showing how digital cultural content can generate new kinds of cultural experiences, will be demonstrated through the creation of new opportunities for employment and economic growth within the creative industries through development of innovative applications and services, based upon Europe's rich digital cultural resources.
Find out more on the project website or blog.
EUROPEANA SPACE EVENTS
Below is a list of the upcoming and past events organised as part of the E-Space project more information can be found on the project website http://www.europeana-space.eu/
EUROPEANA SPACE 3RD INTERNATIONAL CONFERENCE
Cultural Heritage: Reuse, Remake, Reimagine
21st - 22nd November 2016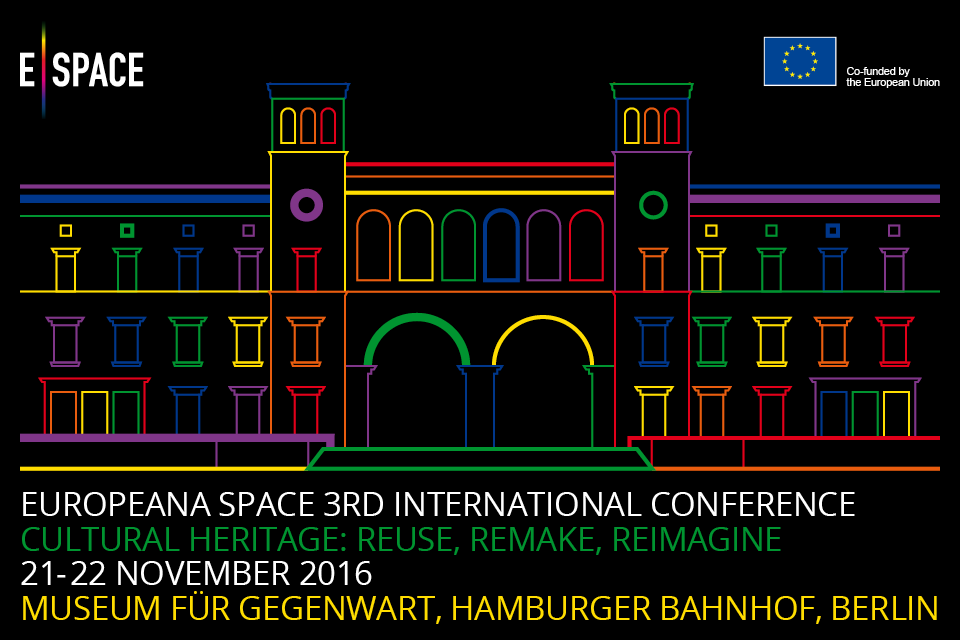 #ESPACEBERLIN2016
Hidden in museums, archives and libraries around Europe sit artifacts that tell a story and are waiting for their day in the sun. The Cultural Heritage institutions began to digitize these artifacts making them available online, so that users would discover them and find value in learning more about Europe's cultural heritage. Digitization is progressing and more hidden treasures are becoming visible. However, in today's digital society existing on the web is not enough. Audiences want to engage with culture, they want to create their own stories not just read the ones that exist, they want to integrate the information in their teaching, their creative projects, they want to play with the material, not only look at it. They want to reuse, they want to remake, they want to reimagine.
The EuropeanaSpace project is a catalyzer for generating new ways of engaging with digital cultural heritage through creative reuse in education and learning as well as in the creative industries. Cultural Heritage: Reuse, Remake, Reimagine, the third conference from the Europeana Space project, will showcase the myriad ways that cultural heritage can be used and enriched through new technologies, innovation and the ingenuity of the creative industries.
Cultural Heritage: Reuse, Remake, Reimagine

Monday 21st h. 10.00 to Tuesday 22nd h. 12.30
Confirmed keynotes:
Cornelia Sollfrank
Joyce Ray
Registration is now open at: http://www.europeana-space.eu/conferences/berlinconference2016/
EUROPEANA SPACE DIGITAL DANCE DAY
March 16th 2016 10:00 – 16:00 Coventry University
C-DaRE will be holding a Digital Dance Day, to showcase two recently developed digital tools for dance practice and scholarship.
The event is free, but places are limited and participants must register before 11th March via the following link: https://www.eventbrite.co.uk/e/espace-digital-dance-day-tickets-21307540427.
THE EUROPEANA SPACE PROJECT DANCE HACKATHON
Hacking the (dancing) body

20th & 21st November at
CIANT | International Centre for Art and New Technologies, Prague

The EuropeanaSpace project is organising an exciting event about the use and re-use of cultural digital content, in particular dance. Participants will form teams and during two days of focused and intensive collaboration, with assistance from the hackathon ambassadors (experts in programming, BCI technologies, motion-tracking, and cultural heritage), explore new creative ideas, design and develop prototypes.
Visit the E-Space hackathon website
Hackathon topics:
Dance (patterns in body movements)

State of mind (patterns in brain signals)

Cultural Heritage Content (patterns in history of art)

Light and sound (patterns and rhythms)

Interactive art, dance, body/mind, digital art
If you are wondering what teams could do during hackathon, here are a few hints:
Explore dance and choreography with a virtual notebook, DancePro tool.

Write your own dance stories using the DanceSpaces tool.

Transform data from motion capture device into visual.

Prepare multi-media project, as a presentation of your stage-design or choreography.

Remix, implement, transpose digital data from Europeana cultural repositories to inspire and create new performances.

Transform the data from EEG of dancer during the performance into the visual design (brain-computer interface application)
E-SPACE 2ND INTERNATIONAL CONFERENCE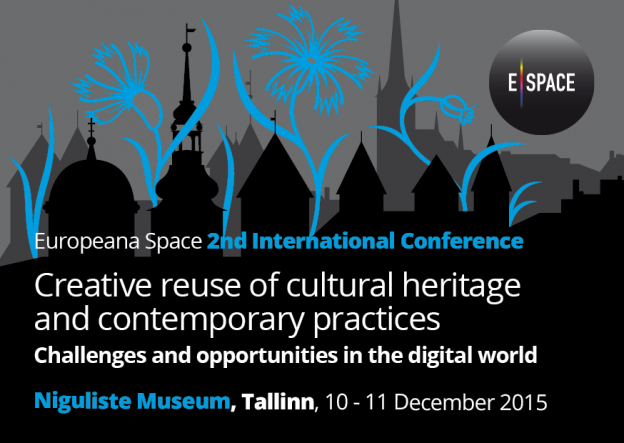 Creative reuse of cultural heritage and contemporary practices: challenges and opportunities in the digital world
10-11th December 2015, Tallinn
Represented by the gracious cornflower, the national symbol of Estonia, the II Europeana Space International Conference is announced.
This event, organized in Tallinn on 10-11 December 2015 by the Estonian Ministry of Culture, will generate new perspectives for the wider re-use of cultural heritage and contemporary practices within a framework of creative experimentation and novel dialogue between multidisciplinary sectors. It will present a critical review of the project's creative prototypes, focusing on the lessons learnt in their development and move towards sustainable results.