Moving Matters: Supporting Disabled Dance Students in HE
Funder
The Higher Education Academy (HEA) Development Award
CeMAP/PALATINE
Value to Coventry University
£8,000
Project team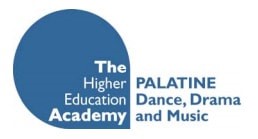 Duration of project
01/01/2007 - 31/12/2007
---
Project overview
The project developed and produced a resource document and accompanying DVD to provide an accessible resource for tutors delivering practical dance activity to students with physical or sensory disabilities in HE. The resource drew principally from a range of materials that were generated through an extended period of research culminating in two national conferences on this theme with experts in the field of dance and disability during 2007. The resource document includes best practice recommendations from within the wider dance community and provides contacts for expanding networks and collaborative working across the sector.
Project objectives
The objectives were to develop materials that will provide information about teaching and learning strategies, detailed information about working with Learning Support Assistants in the studio, suggestions for modifying and adapting curricular, and ideas for assessment methods and student support. A DVD included filmed material from both conferences including reflections by speakers students and dance practitioners.
Impact statement
The project has been frequently cited and referenced by educators, trainers and practitioners in the field of dance and disability. The tools have been adopted by many across the sector, both in the UK and overseas. It also brought greater attention to the need to ensure dance curricular, teaching, learning and assessment methods are fully accessible to ensure dancers with disabilities feel included in HE.
Outputs
Whatley, S. (2014) 'Does education include?' Animated; Winter, 2014, Foundation for Community Dance.
Whatley, S. (2013) 'Strategies for Inclusion in Dance: disability, performativity and transition into and out of higher education'; VSA Kennedy Centre.
Whatley, S. (2010) 'The Spectacle of Difference; Dance and Disability on Screen'; International Journal of Screendance, Vol. 1.1.
Whatley, S. (2008) Moving Matters: Supporting Disabled Dance Students in HE; CeMAP/PALATINE
https://www.advance-he.ac.uk/knowledge-hub/moving-matters-supporting-disabled-dance-students-he-developing-best-practice-resource
https://s3.eu-west-2.amazonaws.com/assets.creode.advancehe-document-manager/documents/hea/private/moving-matters-supporting-disabled-dance-students_1568036820.pdf
Whatley, S. (2007) 'Dance and Disability; the dancer, the viewer and the presumption of difference'; Research in Dance Education; Volume 8, No 1 2007 pp5-25