Games and Learning Alliance (GALA)
Funder
European Commission
FP7-ICT
Total value of project
€7,592,571
Value to Coventry University
€330,000
Project team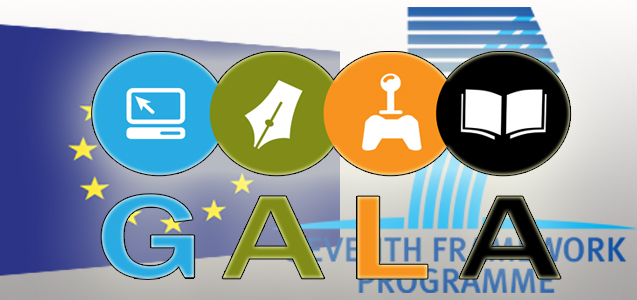 Collaborators
Universita Degli Studi Di Genova
Partners
Aalborg Universitet, Serious Games Interactive Aps, Universidad Complutense De Madrid, Atos Spain Sa, Fundacion Esade, Tty-Saatio, Aalto Korkeakoulusaatio Sr, Centre Europeen D'education Permanente, Universite Paul Sabatier Toulouse Iii, Association O.R.T., Politecnico Di Milano, Nato Science & Technology Organization - Centre For Maritime Research & Experimentation, Consiglio Nazionale Delle Ricerche, Technische Universiteit Delft, Cyntelix Corporation Bv, Universiteit Utrecht, Open Universiteit Nederland, Norges Teknisk-Naturvitenskapelige Universitet Ntnu, Inesc Id - Instituto De Engenhariade Sistemas E Computadores, Investigacao E Desenvolvimento Em Lisboa, Ministerul Apararii Nationale, Playgen Limited, The University of Nottingham, University of the West of Scotland, Heriot-Watt University, Institut National Polytechnique De Toulouse, Universite Toulouse 1 Capitole
Duration of project
01/09/2010 - 01/08/2014
---
Project overview
The Games and Learning Alliance (GALA) Network of Excellence was a multidisciplinary consortium of 30 partners from all over the EU. It comprised universities, research centers, SMEs and large enterprises. The network investigated serious games from the research, application, development, and commercial perspectives.
Project objectives
The GALA motivation stems from the acknowledgment of the potentiality of Serious Games (SGs) for education and training and the need to address the challenges of the main stakeholders of the SGs European landscape (users, researchers, developers/industry, educators). A foundational fault issue in this context is the fragmentation that affects the SG landscape. GALA aims to shape the scientific community and build a European Virtual Research Centre (VRC) aimed at gathering, integrating, harmonising and coordinating research on SGs and disseminating knowledge, best practices and tools as a reference point at an international level.
The other two key focuses of the project are (1) the support to deployment in the actual educational and training settings and (2) the fostering of innovation and knowledge transfer through research-business dialogue. The NoE organisations aim to integrate their activities and resources in a long-term view structuring the activities along 3 major axes:
Research integration and harmonisation
Strong integration among leading researchers, users and business;
Strong concern on the current standards of education, in order to favour a real uptake and scaling of the educational games initiatives;
Address sustainability.
Joint research activities
Identify key issues and address them through multidisciplinary teams (putting always the users – learners and teachers – and stakeholders in the centre of the focus) that will be iteratively explored;
Promote Research and Development team forces – organized in thematic areas - that will do focused research (e.g. joint PhD and MSc projects on hot SG research projects, joint project proposals) and continuously inform the project about the latest developments in technology and education.
Spreading of excellence
Dissemination of the NoE achievements as a flagship EU initiative in the TEL area;
Strong coordination with EU TEL activities, offering a specialised focus and expertise on SGs.
Impact statement

As the Scientific Coordinator, Coventry University led the Research and Development work package that has developed a novel mapping approach for learning and game mechanics for informing the analysis and design of serious games. Known as Learning Mechanics-Game Mechanics (LMGM) mapping, this model has been further investigated in the GameChangers Initiative.

The project has impacted the serious games research and development in the EU and beyond, pioneering new frameworks for mapping the learning and game mechanics, learning analytics associated to game-based learning, flow theory expansion that includes playability aspects, and neuroscientific perspectives on serious games applications amongst others.

These frameworks have informed the design, development, and analysis of serious games. The network has also founded the Serious Games Society that boasts memberships from academics, practitioners and the industries participating in game-based research, development and practice.

Outputs