CTPSR Research Insights
The multi-disciplinary and ambitious researchers at the Centre for Trust, Peace and Social Relations employ a range of innovative and participatory research methods with the objective of handing power from the researcher to research participants, enabling them to influence practice and policy development through evidence-based approaches.
These approaches to our research are reflected in the 200+ peer reviewed publications produced by the centre each year. The new CTPSR Research Insights highlight the importance of research conducted at the centre and summarise findings in 2-page papers that are ideal for both policy and academic audiences. Anyone interested in learning more about the research will find suggestions for further reading in the Research Insights.
---
Muslim-heritage Children in the British Care System: An in-depth exploration of the journeys of Muslim-heritage children through the care system in the UK
Author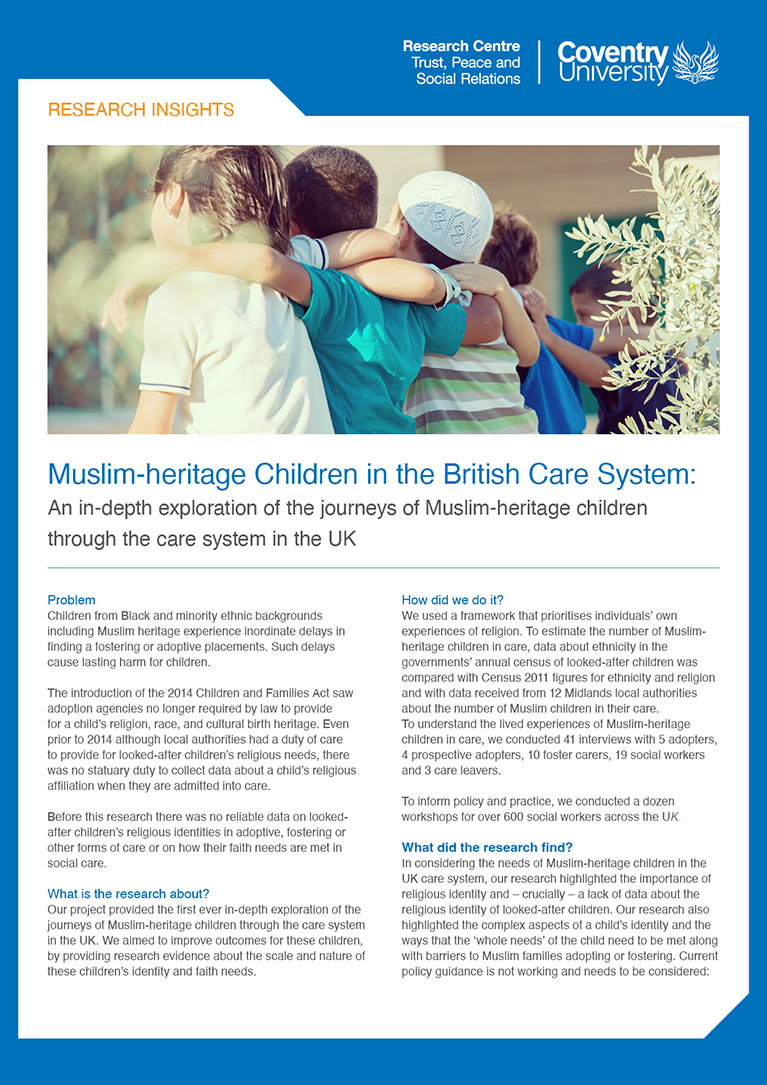 Abstract
Children from Black and minority ethnic backgrounds including Muslim heritage experience inordinate delays in finding a fostering or adoptive placements. Such delays cause lasting harm for children. Before this research there was no reliable data on looked-after children's religious identities in adoptive, fostering or other forms of care or on how their faith needs are met in social care.
---
Voices from 'Ground Zero': Interrogating History, Culture and Identity in the Resolution of Cameroon's 'Anglophone ' Conflict
Author
Gordon Crawford and Nancy Annan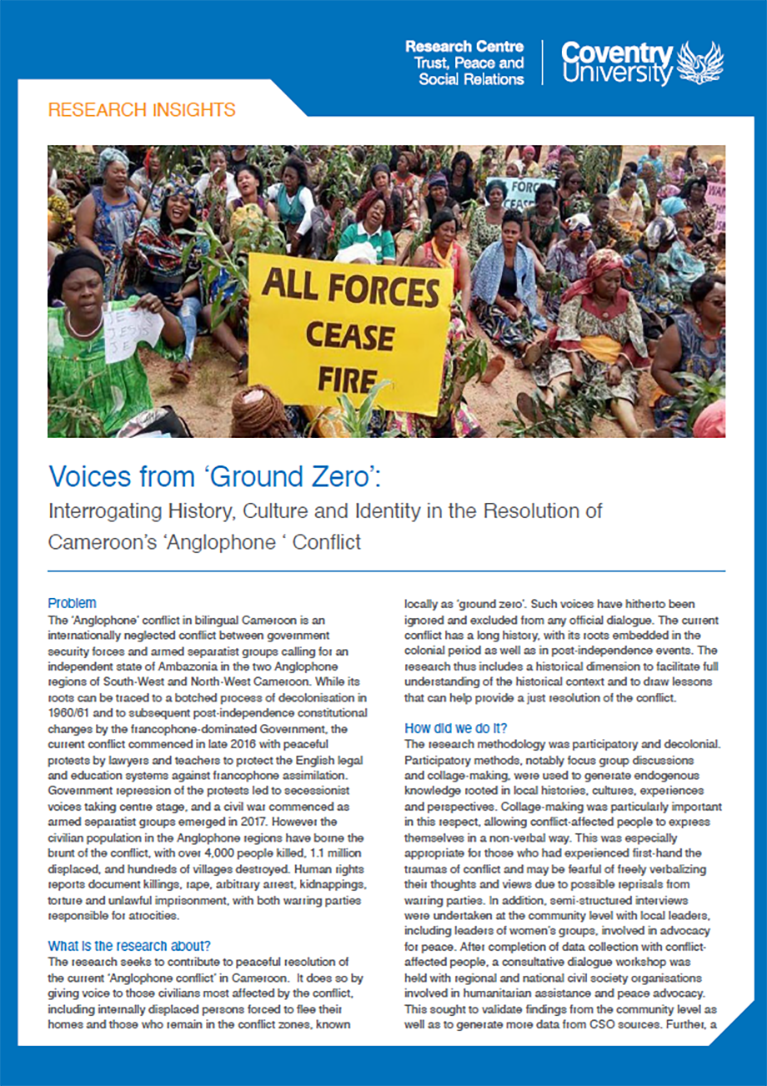 Abstract
The research seeks to contribute to peaceful resolution of the current 'Anglophone conflict' in Cameroon. It does so by giving voice to those civilians most affected by the conflict, including internally displaced persons forced to flee their homes and those who remain in the conflict zones, known locally as 'ground zero'. Such voices have hitherto been ignored and excluded from any official dialogue.
---
Incentivising the inclusion of counterterrorism protective security in the development of crowded places
Authors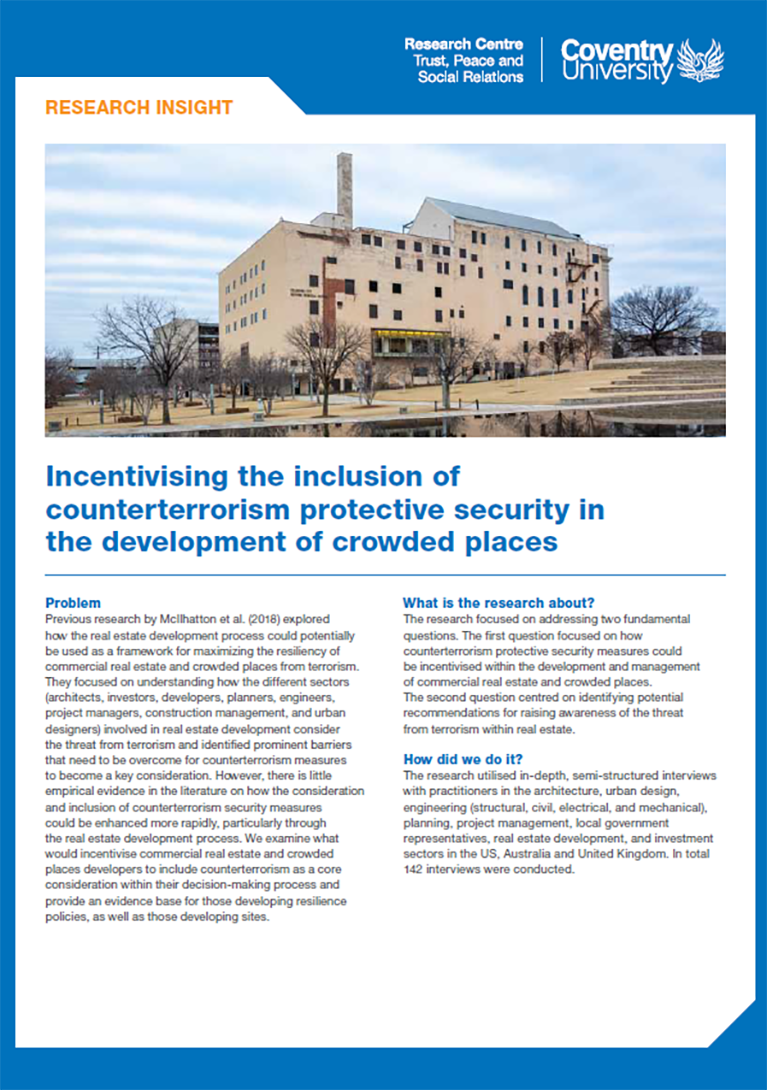 David Mcllhatton
Abstract
Previous research by McIlhatton et al. (2018) explored how the real estate development process could potentially be used as a framework for maximizing the resiliency of commercial real estate and crowded places from terrorism. They focused on understanding how the different sectors (architects, investors, developers, planners, engineers, project managers, construction management, and urban designers) involved in real estate development consider the threat from terrorism and identified prominent barriers that need to be overcome for counterterrorism measures to become a key consideration.
---
Domestic Abuse and the UK Church A study of church responses to domestic abuse in Cumbria
Author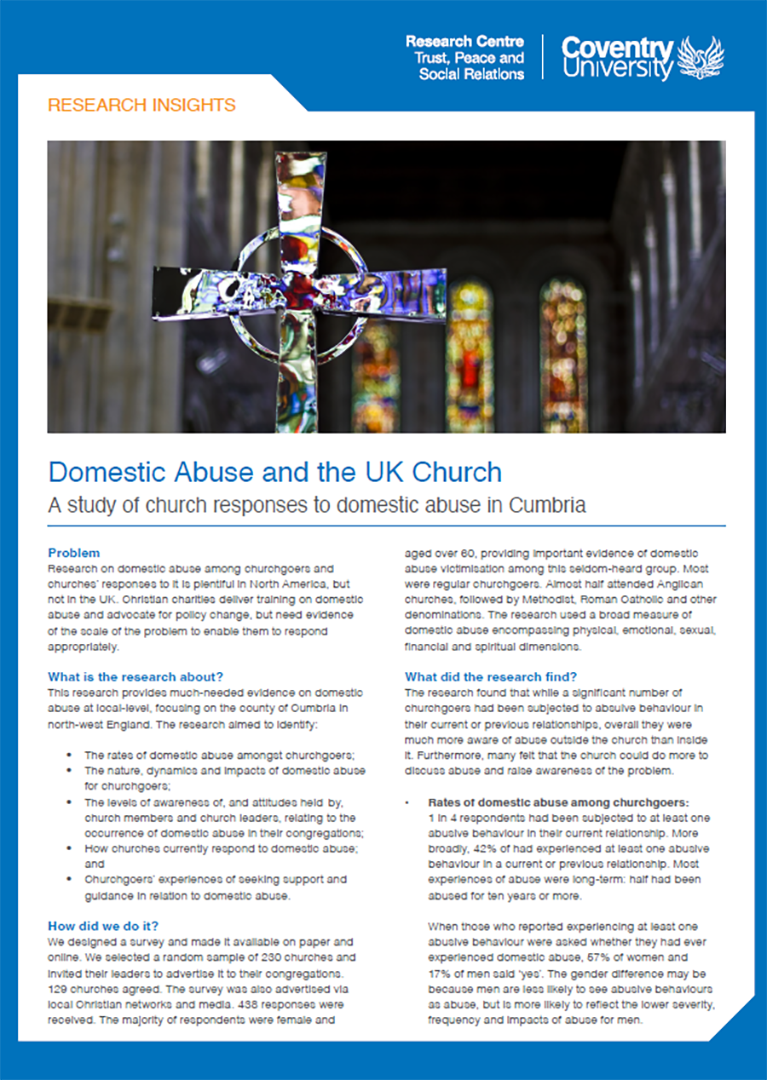 Abstract
Research on domestic abuse among churchgoers and churches' responses to it is plentiful in North America, but not in the UK. Christian charities deliver training on domestic abuse and advocate for policy change but need evidence of the scale of the problem to enable them to respond appropriately. This research provides much-needed evidence on domestic abuse at local-level, focusing on the county of Cumbria in north-west England.
---
Protecting Crowded Places from Terrorism: An Analysis of the Current Considerations and Barriers Inhibiting the Adoption of Counterterrorism Protective Security Measure
Author
David Mcllhatton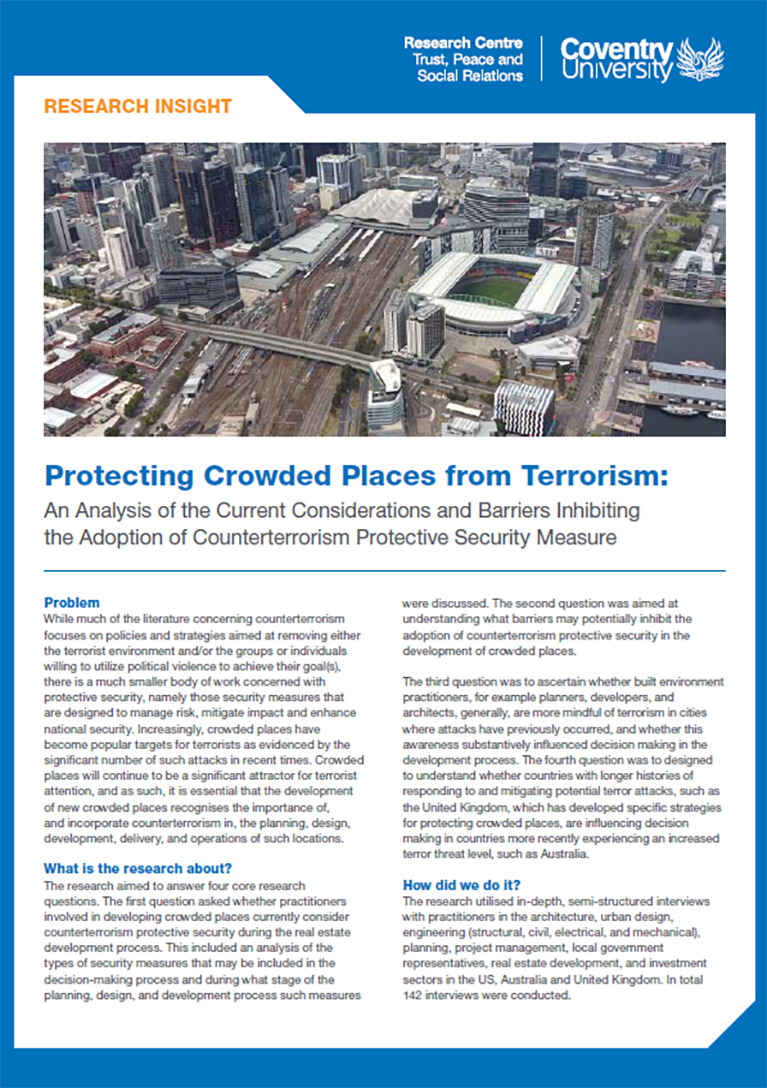 Abstract
While much of the literature concerning counterterrorism focuses on policies and strategies aimed at removing either the terrorist environment and/or the groups or individuals willing to utilize political violence to achieve their goal(s), there is a much smaller body of work concerned with protective security, namely those security measures that are designed to manage risk, mitigate impact, and enhance national security. Increasingly, crowded places have become popular targets for terrorists as evidenced by the significant number of such attacks in recent times.
---
Understanding the private security sector and its role in the organisation and governance of security
Author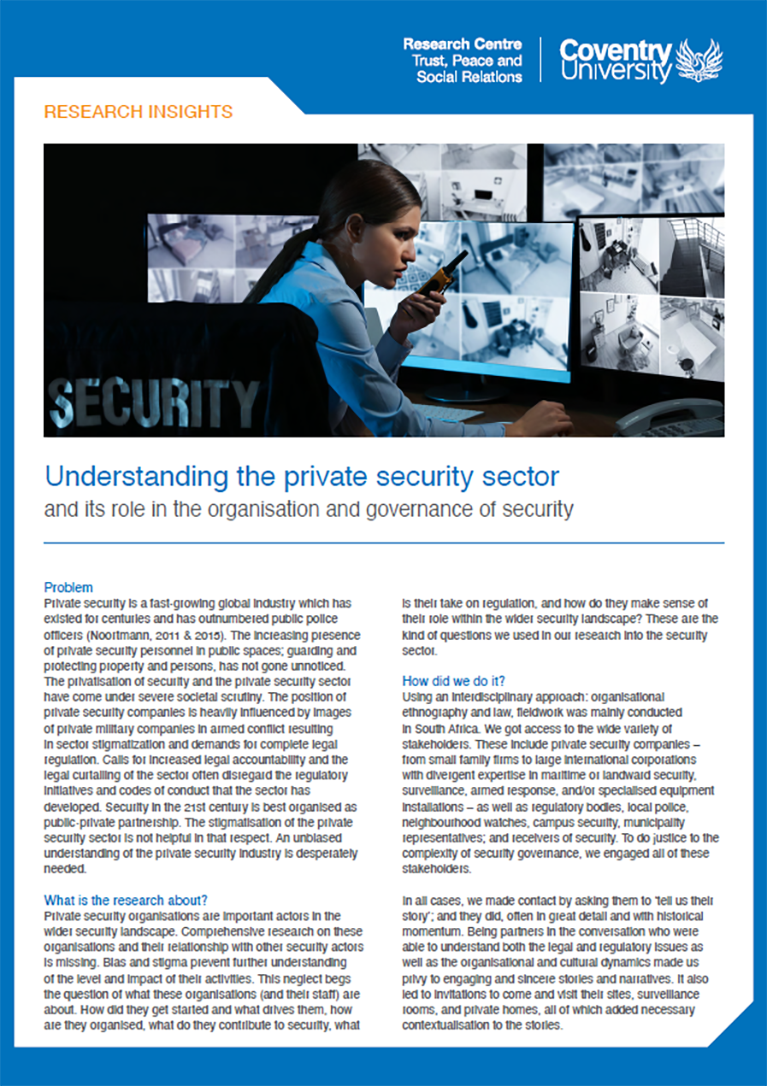 Abstract
Private security is a fast-growing global industry which has existed for centuries and has outnumbered public police officers. The increasing presence of private security personnel in public spaces; guarding and protecting property and persons, has not gone unnoticed. The privatisation of security and the private security sector have come under severe societal scrutiny. The position of private security companies is heavily influenced by images of private military companies in armed conflict resulting in sector stigmatization and demands for complete legal regulation.
---
Terminally in decline or able to be regenerated? The future of the high street
Published
June 2019
Author
Professor Lyndon Simkin and Dr Kevin Broughton
Abstract
Much has been discussed in the news headlines in recent months about the death of the High Street and the demise of the traditional town centre shopping area. Every High Street is struggling to find tenants for empty and disused shop units, some of which are large former variety stores and even larger department stores. Online shopping, changing leisure habits and new consumer behaviours are responsible. So is the traditional town centre retailing experience obsolete, now replaced by online shopping and other leisure activities, or is there hope for the High Street? This chapter first scopes the extent of the demise of the High Street and store-based shopping, before exploring the emerging options facing landlords, planners, local authorities and retailers, as they seek to inject vitality into former bustling High Streets and maintain viability.