PhD in Physical Education and Youth Sport
The online PhD in Physical Education and Youth Sport is a structured PhD designed to offer suitably qualified graduates and experienced professionals the opportunity to develop their academic knowledge, skills and qualifications through evidence based critical debate and reflective professional practice related to Physical Education and Youth Sport.
Using research to change yourself and society, this programme is ideal for those looking to undertake a PhD whilst working within Education, School or community Sport settings, professional sports academies, or for those working in grassroots sports coaching as volunteers but wanting to progress their career, wherever you are in the world.
The PhD aims to develop the capability of individuals to work within a professional context whilst researching and theorising their own practice in schools, sport and exercise settings, or other contexts related to physical education and youth sport. Students will be colleagues who construct their identities as practitioners, researchers, leaders, coaches and/or policy makers, and your prime motivation will be to generate professional knowledge, applying this to practice, and ultimately advancing your career.
You will have the opportunity to build up, through the degree, a substantial piece of original research, focused on Physical Education and Youth Sport as a pathway for positive change during childhood, and across the life-course that has real relevance to policy and/or practice.
Why now?
The study of sport and exercise remains a rapidly expanding field with both academic and professional relevance. Over the past 5 years there has been a diversification of the employment opportunities and roles undertaken by Sport and Exercise Science Graduates leading to a need for postgraduate qualifications in the discipline. This has arisen because of an increased awareness of the benefits of physical activity for health, the creation and ongoing support for the UK School Sport Premium by successive governments and ring-fenced UK funding via the sugar tax. In a time of increasing interest in health and well-being, this programme is designed to enable practitioners and professionals to understand how they can contribute to this important agenda.
Key features:
A structured route to PhD completion through eight portfolio submissions.
Significant non-credit bearing taught element.
Comprehensive induction and researcher development training workshops tailored to an at-distance cohort and delivered online.
The development of a global network of postgraduate researchers who are supported to develop as a cohort of peers and a community of practice.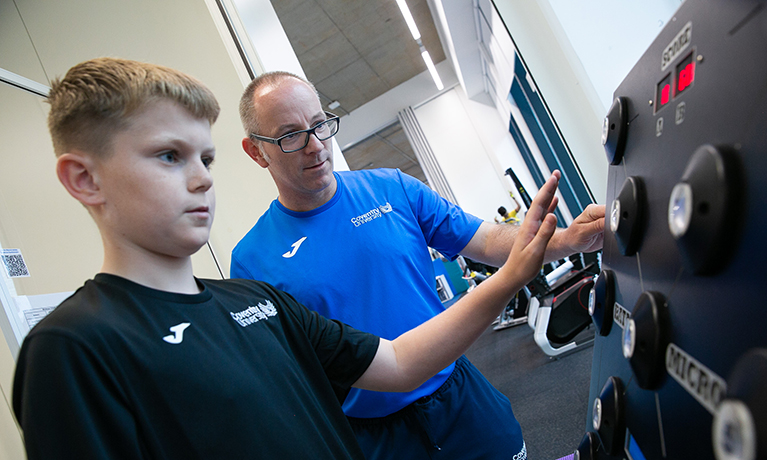 Application details:
Entry requirements are dependent on the background of the applicant and consideration is given to professional experience, prior educational awards, written and verbal communication skills and career aspirations.
Applicants should have either professional or voluntary experience in the field of Physical Education and Youth Sport, as well as the specified entry requirements.
All applications require full supporting documentation, a covering letter, plus a 2,000-word supporting statement showing how your expertise and interests are relevant to the course.
To apply, please visit the PGR plus page.
Fees:
For up to date fees please visit our fees and funding page.
Enquiries:
Enquiries may be addressed to Professor Michael Duncan, Programme Lead, at Michael.Duncan@coventry.ac.uk.