Progressing Your Employability
Career transitions are moments of challenge and opportunity
Perhaps you have a firm idea of what you want to do now that you have graduated. Alternatively, you may have a completely open mind or have only just started to address the challenges and opportunities of your recent life transition. As a new Coventry University graduate, whatever your circumstances, the Talent Team is here to provide information, advice and guidance.
Our advice and guidance services can help you to make a successful transition
Our qualified career consultants are available to support you on a one-to-one basis to help you reflect on your current situation, plan a course of action, write your CV, prepare for a graduate assessment centre and much more.
We have links with graduate employers
Our Employer Engagement team has ongoing professional relationships with local and national graduate employers: from small-to-medium-sized enterprises (SMEs) to large multinational corporations running formal graduate training schemes. Employers advertise their opportunities to Coventry University students and graduates through a number of channels, including our online vacancy database service - Coventry Prospects.
Identify your graduate skills and Unique Selling Point (USP)
A good starting point in your career management and when applying for jobs is to identify your unique selling point: that is, the combination of skills, attributes and experience that distinguishes you from others. You may find our Skills Audit help-sheet useful.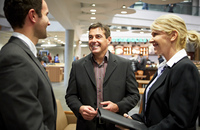 Coventry University Postgraduate Certificate in Professional Development
Coventry University offer new and eligible UK and EU graduates the online and academically accredited PG Certificate in Professional Development at the substantially reduced fee. This course is designed to help graduates develolp their leadership and professional skills to the next level and is equivalent to one-third of a Master's Degree. The course runs from January to August and requires about 15 hours of remote study per week. Eligible undergraduate finalists will be sent information about this course to their University email address prior to and just after graduation.
Please tell us what you are doing
Every year HESA (the Higher Education Statistics Agency) carries out a survey of recent University leavers. Approximately fifteen months after you finish your course, you will be contacted on behalf of HESA to answer some questions about your current professional activity (work, study, career break, etc.). This survey is called the Graduate Outcomes Survey. It is of great help to the University and future students if you are able to spare the time to respond to the survey.
If you would like further information, careers advice or general support with your employability, please contact us using the details below:
Careers
TheHub
Coventry University
Jordan Well
Coventry
CV1 5QP
Email: careers.ss@coventry.ac.uk
Tel: +44 (0) 24 7765 2011
Opening hours: 8:30am to 6pm (Mondays to Fridays)