Clearing 2019
Clearing places available on this course
We have limited places available on this course through Clearing.
---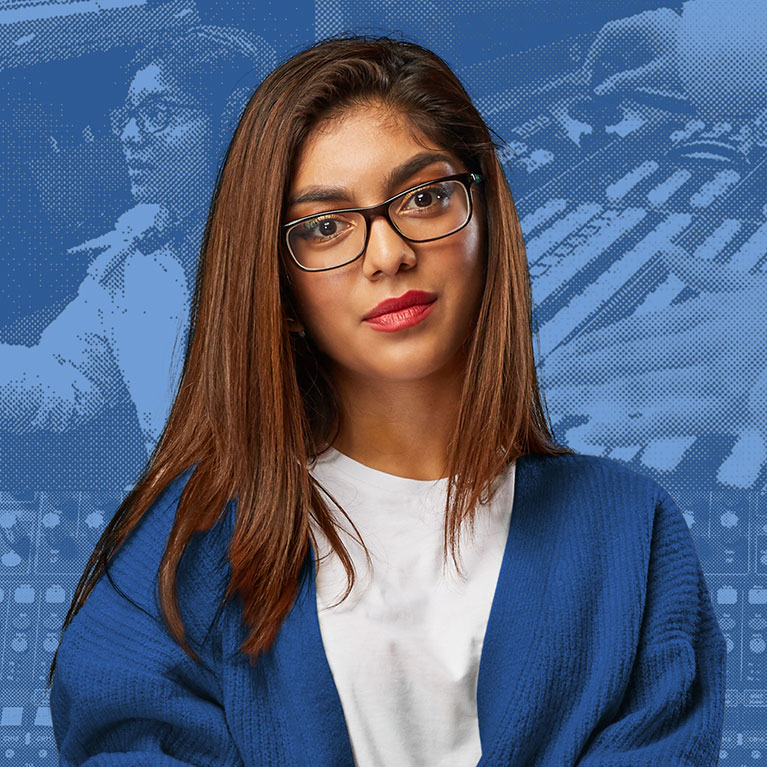 Rise above
As some of my lecturers still work in industry, they understand how the sector is constantly improving and evolving which I find very inspirational.
Unjali, Media Production BA (Hons)
---
Get in touch
For questions regarding study and admissions please contact us:
Harnessing your creative skills and turning them in to exciting career prospects is our aim on the Illustration and Graphics BA.
Supported by facilities, industry-standard software, a broad range of workshops and dedicated studio space, this exciting course aims to help prepare you to work in the growing contemporary fields of illustration, graphic design, animation and creative media both in the UK and internationally.
Providing experience in a wide variety of modern and traditional materials, processes and formats – including print, digital, 3D and moving image – we will encourage you to be imaginative, ambitious and resourceful, preparing you professionally for the challenges and opportunities of working in the global creative economy.
You will be supported by staff who are creative practitioners within the fields of Illustration, Animation, Contemporary Art, Design and Music. Their work has been featured on BBC Radio 3, BBC 6 Music, CITV, The Guardian, The Independent, Virgin, Ted Baker, Channel 4, Mixmag, Time Out, Radio Times and Macmillan. Their highly-acclaimed work includes the Guardian award-winning online comic series Dawn of the Unread, creative projects for the Cultural Olympiad London 2012, exhibitions at Bangkok Cultural Arts and Cultural Centre as well as other exhibitions and performances of work at galleries such as The MAC, Aspex, BMAG, The Herbert, The Ethnographic Museum, Krakow and The ICA.
Why Coventry University?
An award-winning university, we are committed to providing our students with the best possible experience. We continue to invest in both our facilities and our innovative approach to education. Our students benefit from industry-relevant teaching, and resources and support designed to help them succeed. These range from our modern library and computing facilities to dedicated careers advice and our impressive Students' Union activities.
Global ready
An international outlook, with global opportunities
Employability
Career-ready graduates, with the skills to succeed
Teaching Excellence
Taught by lecturers who are experts in their field
Course essentials
A degree which offers you more, at no extra cost
What our students say...
I enjoy being a student on this course as it is challenging (but fun) and encourages me to always experiment and develop ideas and skills.
Taught by professional artists and practitioners this studio-based course will enable you to develop an exciting portfolio of creative work utilising a wide variety of media and technology that is individually directed towards your own professional career goals.
Working through a wide range of project briefs, we aim to improve your ability to generate and develop ideas, creating original and inventive design solutions. We will support you as you develop your own individual illustration style and approach, advancing your narrative storytelling, branding, typography, 3D and professional skills in order to be ready to pursue a career in the creative sector.
Typical graduate portfolios might include illustration and or graphic design for a range of purposes, including: editorial illustration; branding and packaging design; children's picture books; graphic novels and zines; art direction; motional graphics; 2D, 3D and strop motion animation; character and concept design; printed textiles; interior and production design; and clothing brands.
You will be introduced to the wealth of professional possibilities, contexts and present-day markets for your work across the contemporary creative sector both in the UK and internationally. In fulfilling projects, you may also find yourself involved in design and publicity, the creation of exhibition/sales space, installation and presentation of work, a catalogue or other publicity or sales based materials.
95%
of students agreed that our staff are good at explaining things
NSS, 2016
Modules
Overview
The first year focuses on developing your ideas, new skills and applying these to project briefs. You will have the opportunity to learn essential software packages, including the full Adobe Creative Suite, together with key skills in screen print, graphic design, illustration for editorial and narrative, character design and typography. For example, in the past, brief topics have included setting up a pop-up shop, designing typefaces, Illustrating a social movement and creating an international cardboard village.
Modules
Introduction to Illustration and Graphics

Studio Practice 1

Professional Development 1

Professional Practice 1
Add+vantage
The focus on preparing students for successful futures sets Coventry apart as a university.
The Add+vantage modules teach a range of work experience and extra-curricular activities that are taken each year, and broaden students knowledge and skills within a work focused environment. There is a very wide range of Add+vantage free-choice subject areas, and they are arranged in themes.
Overview
In the second year, our focus is on developing your personal approach to illustration and design, helping you to find your unique creative voice, so that you can begin to apply this within a professional context and develop an amazing body of work to demonstrate your subject matter and individual identity to greatest effect.
Experimentation is encouraged and you will explore a range of workshops, such as 3D modelling, moving image and digital approaches, including creating a social movement, a narrative illustration brief, designing websites, external competition and professional practice briefs.
Modules
Illustration and Graphics Exploration

Studio Practice 2

Professional Development 2

Professional Practice 2
Add+vantage
The focus on preparing students for successful futures sets Coventry apart as a university.
The Add+vantage modules teach a range of work experience and extra-curricular activities that are taken each year, and broaden students knowledge and skills within a work focused environment. There is a very wide range of Add+vantage free-choice subject areas, and they are arranged in themes.
Overview
After your second year, you have an opportunity to undertake a sandwich year studying abroad or on professional placement. In the past, students have worked at home and abroad, for example at Ash Gaming, Rawww Design Agency and Christian Aid.
Modules
Study Abroad

Professional Placement
Overview
By the final year, you will be working independently, developing your own individual creative strengths, skills and project work aimed at externalising your practice beyond University.
Throughout the course, you will be expected to create a highly creative and professionally credible portfolio, which culminates with a substantial project in the final year, aimed towards your chosen career path, working with subject specialists to create bespoke projects best suited to your needs.
Past students have launched their own streetwear brands, created children's books or designed and art directed magazines, animated short films, created new product branding, designed new games, built theatre sets and staged exhibitions of their work.
Modules
External Practice

Major Project

Dissertation
Add+vantage
The focus on preparing students for successful futures sets Coventry apart as a university.
The Add+vantage modules teach a range of work experience and extra-curricular activities that are taken each year, and broaden students knowledge and skills within a work focused environment. There is a very wide range of Add+vantage free-choice subject areas, and they are arranged in themes.
We regularly review our course content, to make it relevant and current for the benefit of our students. For these reasons, course modules may be updated.
15th
We are ranked as the 15th best University in the United Kingdom Guardian University Guide 2020
Taught by artists and current practitioners whose experience ranges from illustration, design, print, animation, fine art, music, performance, moving image and CGI, this studio-based course focuses on image and object making. It includes drawing, printmaking, animation, photography and digital – encouraging you to push boundaries to create new and exciting forms of visual communication combining a mixture of approaches.
Experimentation is a key focus of the course and you will experiment across print, 3D and moving image formats. You'll have access to a wide range of technologies, studios and workshop facilities, including Adobe Creative Suite software, 3D software, screen printing facilities, 3D clay modelling, laser cutting, stop motion animation studio, photography and video resources and digital print bureau.
Our emphasis on industry readiness is one of the course's core strengths; from the outset, we aim to focus on your own professional development so that you can graduate with the know-how, skills and confidence to find your place in the creative world. There will be opportunities to gain practical experience through a mix of in-house assignments, self-initiated tasks, national and international competition opportunities, project briefs and concept visualisation briefs.
We have strong links with many regional arts organisations, for example, the Mead Gallery at the Warwick Arts Centre, New Art West Midlands, Coventry Art space, the Herbert Art Gallery and Museum, Birmingham Open Media, Flatpack Festival and Eye Candy Festival. These industry relationships provide opportunities to collaborate on a wide range of professional creative briefs, set by practitioners in the field. Past projects have included: student commissions for Coventry City Council's Swanswell Health Centre; editorial illustrations for the Camping and Caravaning club magazine; video animations for the 'Specials'; illustrated hoardings for the University's Engineering and Computing building; and creative briefs set by B-Hive and Glenn Howells Architects.
You have the option of spending a sandwich year studying abroad or on professional placement. In the past, students have worked at the following places: Venice Printmaking Studio, Silverback Studios; Nucleo Design Studios-Italy, Ash Gaming, Rawww Design Agency, Christian Aid and have undertaken Erasmus study placements at Accademia di Belle Arti Bologna and Universidad Europea de Madrid. Additionally, our FACETS talks provide an opportunity to hear direct from some of the most innovative contemporary artists and creative practitioners from the UK and beyond – recent topics have explored current changes in cultural opportunities across Eastern and Western Europe, post-object art practices in the context of digital media and the impact that artists can have on their environments.
Optional study trips at home and abroad, in the past to China, Barcelona, Amsterdam, Berlin, Prague and New York.
Technical workshops and demonstrations in specialist software such as The Adobe Creative Suite, Maya, Rhino 3D and Muse
Work alongside our staff who continue to work as professional artists, designers, illustrators and animators on external research projects;
Access to specialist photographic and media resources, including digital audio recorders and manual/digital still/video cameras via our dedicated Media Loan Shop.
Impressive guest lecture programme, which in the past has featured talks from: Paul Davis, Gemma Correll, Ian Francis, Bob and Roberta Smith, Fig Talor and John Stezaker.
Opportunities to show your work – past students have exhibited nationally and internationally at D&AD New Blood, Free Range and New Designers exhibitions in London, as well as the Hangzhou Animation Festival, China.
A thriving studio culture with dedicated workspaces for all students in purpose-built studios with permanent exhibition displays, supported by wide-ranging technical facilities in both traditional and new technologies.
Strong track record of student success in a range of competitions. Previously, our students were shortlisted in 2015 for the House of Illustration Prize and the 2015 Silent Book Contest, and have previously won and been highly commended for the Macmillan Prize for Children's Picture Book Illustration, highly commended by the D&AD, and achieved Gold in the Creative Conscience Awards
71% of research in the 'Art and Design: History, Practice and Theory' category was rated world-leading or internationally excellent, 4* and 3*, in the Research Excellent Framework (REF) 2014.
Your main study themes are:
Illustration and graphics: We will introduce you to the key concepts across both illustration and graphics, exploring the breadth of design and visual communication as a subject and in reference to contemporary and historical practice. Our focus is to enable you to identify and develop your personal design process – enhancing your research skills and conceptual thinking strategies, as well as experimenting with digital and traditional approaches to creating visual language. You should create new and exciting visual languages and artefacts that are relevant to the cutting edge of contemporary practice. Central themes explore include how meaning is transmitted to audiences through the creation and combination of visual material, ideas and texts and how different media, technologies and delivery methods are central to this communication. We will cover idea generation, strategic problem solving and the translation of ideas through visualisation and making skills, with the chance to take workshops in digital and moving-image software and 3D modelling.


Studio Practice: You should learn to relate your developing skills to a range of historical, cultural and practice-based themes as relevant to the illustration discipline in its broadest sense. Working on project briefs, live, competition, self-initiated or concept visualisation briefs, you will be expected to maintain an exploratory and experimental approach in an increasingly self-directed environment that addresses scientific, technical, narrative and cultural themes. Emphasis will be on ideas generation, encouraging you to formulate solutions, professionally, articulately and within strict deadlines. We will address specific core skills, such as measured perspective drawing and the image-to-text relationship. You will be expected to develop appropriate levels of negotiation, reflection, technical and visual research and ideas development together with growing awareness of professional practice. The projects will provide a professional experience of issues including scheduling, turnaround times, verbal and visual presentation, budgeting and meeting the expectations of clients and contractors.


Professional development: We will consider the professional worlds of illustration, graphics, animation, fine art and other areas of professional creative practice. To improve your understanding of current areas of creative practice and emerging genres, we ask you to collect, organise and analyse the work of creative professionals within the broad and expansive field or creative practice, comparing and contrasting these with your own developing practice. You will be expected to focus on self-presentation, identify and explore your community of practice and consider your skills and knowledge in relation to possible opportunities. You will be shown practical methods to prepare for external opportunities, such as getting an illustrator agent, promoting and organising your freelance career, getting work in a design or animation studio, and explore ideas around employability, enterprise, social enterprise, volunteering, placements, funding for overseas opportunities, freelancing and live projects.
The course can be studied full-time over three years and part-time over six years, starting in September or January. You have the option of extending your studies by a year and undertaking study abroad or a professional placement.
This is a practical based course and students make significant use of the dedicated studio spaces and access to the University's extensive traditional and specialist digital and media resources and workshop spaces. The course is taught through a range of lectures, tutorials, critiques and practical workshops. You will work through a wide variety of creative briefs with staff guidance; these range from short one week projects to longer projects as you progress through the course. Briefs are set to professional standards and relate to real-world scenarios and challenges. Projects also enable you to develop your critical understanding of the subject and gain a deeper insight into the impact of social, cultural and political contexts which affect illustration and design studies. For example, students create a social movement in their second year and a wide range of creative work that communicates their ideas through a variety of media types and channels.
Active creative professionals and researchers, our teaching team will bring the reality and expectation of creative professional practice into the studio. They have published papers, presented at conferences, exhibited and performed at such prestigious locations as the Bangkok Arts and Cultural Centre, Midland Arts Centre, BMAG, Aspex Gallery, the Ethnographic Museum of Kraków, BBC Radio 3, BBC Radio 6 Music, the ICA, the Flatpack Film Festival and the ICON Conference Los Angeles.
During tutorials and weekly studio critiques, you will be asked to discuss ideas, strategies and methodologies with staff and fellow students adapting and developing your approaches in the light of this dialogue, at the same time enhancing your interpersonal skills, work ethic and methods of self-evaluation and critical reflection. Through a menu of technical workshops, we will introduce you to skills in printmaking, sculptural processes and digital imaging, as well as being inducted into safe working practices within the studio and various workstations.
As part of our commitment to your professional development, you will have opportunities to undertake professional practice by participating in external briefs involving contemporary illustration, graphics and animation. Typically related to the professional contexts you aspire to, these projects enable you to complete creative work that relates to your future goals as well as gaining hands-on experience of establishing contacts, working for clients, project and time management, market place opportunities, presentation, portfolio review and development.
During your course of study, you will be invited to take part in study trips to exhibitions and events. Previous trips have taken place to Tate Britain, Tate Modern, White Cube, Saatchi Gallery, Victoria and Albert Museum, Birmingham Ikon Gallery, Digbeth First Friday, Liverpool Biennial and British Art Show and many others.
In addition to a series of professional artist presentations though FACETS (the Fine Art at Coventry Talk Series), we are also participating in the AA2A (Artists Access to Art Colleges) project, a national initiative providing residencies to visual artists and designers, which enables students to work alongside and interact with them. We currently have four artists with us, who will be giving talks and showing work throughout the year.
This course will be assessed using a variety of methods which will could vary depending upon the module. Assessment methods include practical coursework, essays/reports and presentations.
This course is predominantly assessed by coursework. The practical aspects of your work will culminate in the final year Degree Show.
The Coventry University Group assessment strategy ensures that our courses are fairly assessed and allows us to monitor student progression towards the achieving the intended learning outcomes. Assessments may include exams, individual assignments or group work elements.
On completion, you should have knowledge of:
Illustration and graphics fundamentals and their connection to other creative endeavour.
The factors that prompt a body of work to coalesce.
The significance of contextual study and theoretical discourse.
Research strategies and methods that bolster their practice and its relevance.
Requisite entrepreneurial and career opportunities.

On completion, you should be able to:
Demonstrate productive and critical reflection.
Generate individual and innovative responses to briefs and constraints.
Demonstrate harmonious conceptual, technical and material development into a personal style.
Process complex and possibly contradictory information, clarifying and explaining complex and ambiguous issues for specific audiences/purposes.
Use a range of specialist media productively and manage digital files competently.
Produce a coherent and representative body of work.
Present and/or exhibit your work expertly and professionally.
Apply workshop and health and safety instruction intelligently
In a typical teaching week, you will have up to 16 'contact' hours of teaching. This generally breaks down as:
Personal tutorial/small group teaching: 1 hour of small group or individually guided work and 12 allocated hours of studio time.
Medium group teaching: 1 hour of seminars each week.
Large group teaching: 14 hours of studio practice each week.
Additionally, you will be expected to complete 20 hours of self-directed studio practice or personal study.
Our teaching is underpinned by a worldview of contemporary art; this is reflected strongly in the course curriculum. You will study alongside students and staff from many different countries giving a great opportunity to enhance your global perspective and intercultural competence. Each year we also offer study trips abroad, previously to New York, Barcelona Prague and Berlin.
There are opportunities to engage with international students throughout the world, working on Online International Learning (OIL) projects. For example, our students have recently participated on brief-driven projects with their peers in Petaling Jaya College of Art and Design (PJCAD) in Kuala Lumpur and Central South University (CSU), Changsha. They were encouraged to think about the nature of illustration and graphics in relation to work being produced to the same brief but on another continent, communicating virtually to consider, compare their different approaches to illustration and graphics. The international nature of this project was intended to challenge assumptions and preconceived ideas about the nature of design and creativity in the contemporary world.
You can also apply to undertake a sandwich year of study or work abroad. Recent opportunities have included placements with Venice Printmaking Studio and Nucleo Design Studios in Italy, while we have exchange agreements with Accademia di Belle Arti Bologna, Universidad Europea de Madrid and Hanzehogeschool Groningen.
Global ready
Did you know we help more students travel internationally than any other UK university according to data from the experts in higher education data and analysis, HESA?
In 2016/17, we were able to provide a total of 3,482 experiences abroad that lasted at least five days.

Much of this travel is made possible through our Global Leaders Programme, which enables students to prepare for the challenges of the global employment market, as well as strengthening and developing their broader personal and professional skills.
Explore our international experiences
1st for
international experiences
Sending more students overseas than any other UK uni (HESA 2016/17)
3,482
Student experiences
The number of student trips abroad for at least 5 days in 2016/17
21,000
and counting
The number of students we've helped travel internationally so far
12
global programmes
As well as trips, we offer other opportunities like language courses
What our students say...
I enjoy being a student on this course as it is challenging (but fun) and encourages me to always experiment and develop ideas and skills.
Clearing places available on this course
See if you have enough points (UCAS tariff 2019)
Don't know your points total? Work it out
Additional requirements may apply
What our students say...
I enjoy being a student on this course as it is challenging (but fun) and encourages me to always experiment and develop ideas and skills.
Tuition Fees
We pride ourselves on offering competitive tuition fees which we review on an annual basis and offer a wide range of scholarships to support students with their studies. Course fees are calculated on the basis of what it costs to teach each course and we aim for total financial transparency.

For more information, please visit our Finance pages.
UK Scholarships
If you're a truly outstanding undergraduate candidate we may be able to offer you a Coventry University Scholarship.

Coventry University Scholarships are awarded to recognise truly exceptional sports achievement and academic excellence.
EU Scholarships
For the September 2019 intake we're investing in a range of EU Academic Excellence scholarships for high achieving and enterprising students. Fulfil your potential this academic year with Coventry University!
International Scholarships
For the September 2019 intake we're investing in a wide range of Academic Excellence scholarships for high achieving and enterprising international students. Fulfil your potential this academic year with Coventry University!
Course essentials at no extra cost
We're committed to communicating study costs clearly to make sure you're not faced with having to make any unexpected payments.
This is why our 'Flying Start' package provides you with a few course essentials. Your full-time fee for an undergraduate degree will cover the following:
UK field trips
Any mandatory site visits and trips within the United Kingdom.
Key material
This can include core textbooks, software and equipment.
Laser prints
1,000 A4 sides of black and white laser printing credits per year.
Optional year
Pay no tuition fees for optional work placements or study abroad trips.
As well as covering UK field trips, key materials and laser print, the fees for this course also include:
The following are additional costs not included in the fees:
Any optional overseas field trips or visits: £400+ per trip
Any additional specialist printing: £50+ per year
EU student fees
EU nationals and their family members starting in the 2019/20 academic year remain eligible for the same fees as home students and the same financial support. Financial support comes from Student Finance England, and covers undergraduate and postgraduate study for the duration of their course, providing they meet the residency requirement.
For tuition fee loans
EU nationals must have resided in the European Economic Area (EEA) or Switzerland for the three years prior to the start of their course. The purpose of that three year residency should not have been mainly for the purpose of receiving full time education.
For maintenance loans
EU nationals must have resided in the UK and Islands for the five years prior to the start of their course. The purpose of that five year residency should not have been mainly for the purpose of receiving full time education.
What our students say...
I enjoy being a student on this course as it is challenging (but fun) and encourages me to always experiment and develop ideas and skills.
Career prospects
The course is designed to reflect the expectations of creative, professional practice, encouraging you to produce work of the highest calibre.
Professional experience is embedded into our course and you will have the opportunity to undertake a commission, live brief or competition brief to give you a sense of the demands of working for a client or external agency.
We aim to help you develop skills including independent thought, innovation, imagination, critical reflection and confidence in your practice, as well as transferrable skills suitable for employment across the full breadth of the creative industries. Whether your career goals include publishing or exhibiting, working for clients or as a self-sufficient artist or all of them – you should be able to apply your skills in a variety of contexts and do so with confidence.
Our Creative Futures employment team is on hand to offer tailored career and enterprise support if you wish to gain employment or take advantage of professional practice opportunities within course specific industries. It provides a programme of workshops, embedded learning, lectures, professional experience and one-to-one guidance to help you develop the transferable skills and enterprising habits required for a successful career. Our dedicated enterprise officers also offer valuable assistance on how to begin as a freelancer/entrepreneur.
Coventry University is committed to preparing you for your future career and giving you a competitive edge in the graduate job market. The University's Careers and Employability team provide a wide range of support services to help you plan and prepare for your career.
Where our graduates work
Our graduates have gone on to enjoy success in a variety of national and international creative and media companies. These range from design studios, video and animation production companies, games companies, magazines, fashion brands, advertising agencies and schools. Others have found work as freelancers for clients such as record labels, streetwear brands, writers and galleries.
Employers of our recent graduates include: Lupos Films, Jam Sutton Studios, Pink Squid Limited, Applio, Strukta Group Ltd, ico Design Partners, Whisper.pr, Cogent Elliot, Abstract, Millennial Media, Extreme CSC and Herts for learning,
What our students say...
I enjoy being a student on this course as it is challenging (but fun) and encourages me to always experiment and develop ideas and skills.
Disclaimer
By accepting your offer of a place and enrolling with us, a Student Contract will be formed between you and the University. A copy of the 19/20 Contract can be found here. The Contract details your rights and the obligations you will be bound by during your time as a student and contains the obligations that the University will owe to you. You should read the Contract before you accept an offer of a place and before you enrol at the University.
The University will charge the tuition fees that are stated on the course webpage and in the prospectus for the first year of study. The University will review tuition fees each year. For UK and EU students, if Parliament permit an increase in tuition fees, the University may increase fees for each subsequent year of study in line with any such changes. Note that any increase for UK and EU Students is expected to be in line with inflation. For international students, the University may increase fees for each subsequent year of study but such increases will be no more than 5% above inflation.