Course code:
Study options:
3 years full-time
4 years full-time with study abroad / professional placement
Condensed option
Location:
Coventry University (Coventry)
Course code:
Study options:
3 years full-time
4 years full-time with study abroad / professional placement
Condensed option
Location:
Coventry University (Coventry)
The future graphic designer is curious, empathetic, responsible, knowledgeable and technically adaptable. Coventry University's Graphic Design BA (Hons) course challenges and guides you to become just that.
Graphic Design is a complex discipline that encapsulates a wide range of aims and outcomes. Through the use of visual language, graphic designers shape and challenge perceptions of the world around us. With this kind of power comes responsibility; designers don't just make "pretty pictures."
The course pushes you to become an independent designer with a conscience and boundless imagination. In doing so, you will be guided to explore your own passions, as well as adapt to changing briefs and diverse audiences. This is aligned with four key pillars that define the course's ethos: experimentation, critical thinking, community and vocation. As such, the course favours creative freedom and exploration of mediums, techniques and technologies to visualise research-informed concepts and innovative design strategies within a supportive network of staff, students, alumni, clients and industry guests. On this course, you are not only guided towards the development of a strong portfolio of work, but also encouraged to proactively define and pursue own interests in alignment with your long-term goals.
Ranked among the 10 best universities in the country for 'Design and Crafts' in the Guardian University Guide 2019, our graphic design students are regular winners of reputable design competitions such as D&AD, YCN and the Penguin Student Design Awards. Our graduates have gone on to create award winning advertising campaigns for Silver Spoon and moving imagine work for The Mill, user interfaces for IBM, book covers for the The Hunger Games, campaign collateral for Lush, and even launch their own jewelry company as worn by Lily Allen, Slothai and Mini Swoosh.
Why Coventry University?
An award-winning university, we are committed to providing our students with the best possible experience. We continue to invest in both our facilities and our innovative approach to education. Our students benefit from industry-relevant teaching, and resources and support designed to help them succeed. These range from our modern library and computing facilities to dedicated careers advice and our impressive Students' Union activities.
COVID-19
The University may deliver certain contact hours and assessments via emerging online technologies and methods across all courses. In response to the Covid-19 pandemic, we are prepared for courses due to start in or after the 2020/2021 academic year to be delivered in a variety of forms. The form of delivery will be determined in accordance with Government and Public Health guidance. Whether on campus or online, our key priority is staff and student safety.
Due to the ongoing restrictions relating to Covid-19, some facilities (including some teaching and learning spaces) and some non-academic offerings (particularly in relation to international experiences), may vary from those advertised and may have reduced availability or restrictions on their use.
Global ready
An international outlook, with global opportunities
Employability
Career-ready graduates, with the skills to succeed
Teaching Excellence
Taught by lecturers who are experts in their field
Course essentials
A degree which offers you more, at no extra cost
Accreditation and Professional Recognition
This course is accredited and recognised by the following bodies:

Adobe
As part of our extensive skills development, we offer you the chance to take Adobe accredited modules as part of the University's Add+Vantage scheme. Assessed by exams, this training will give you official Adobe accreditation in whichever software you've elected to study, providing a valuable addition to your CV, which is sure to enhance your employability.
This course is currently accredited by Adobe for the 2021/22 entry. If there are any changes to the accreditation of this course, we would notify applicants and students as soon as possible.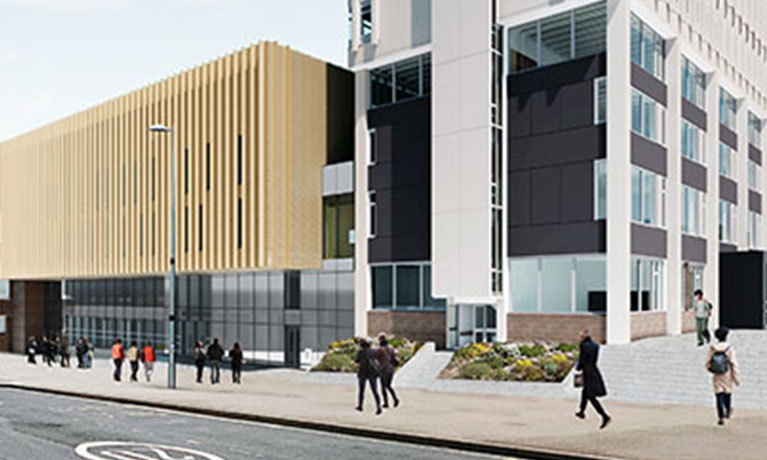 We are currently in the process of a major redevelopment of our Faculty of Arts and Humanities buildings. The building will be open to the public as well as students, and will feature an expansive gallery space.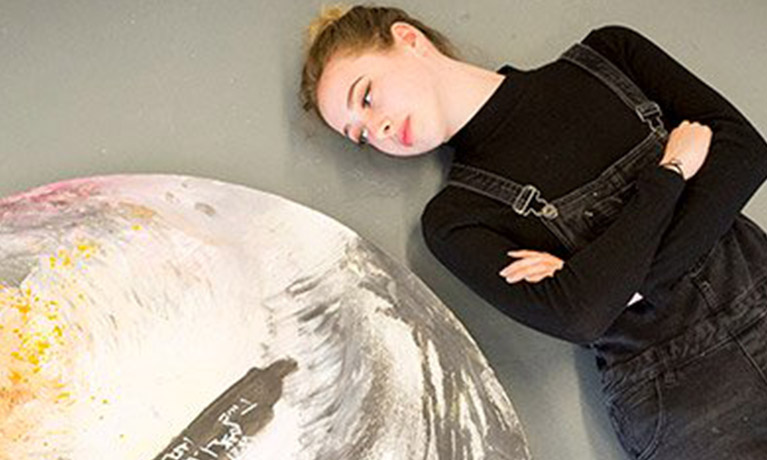 We hope that you are all staying safe in these uncertain times. Creative activities can really help fill the days, while we are spending more time at home and we have some ideas to keep you busy.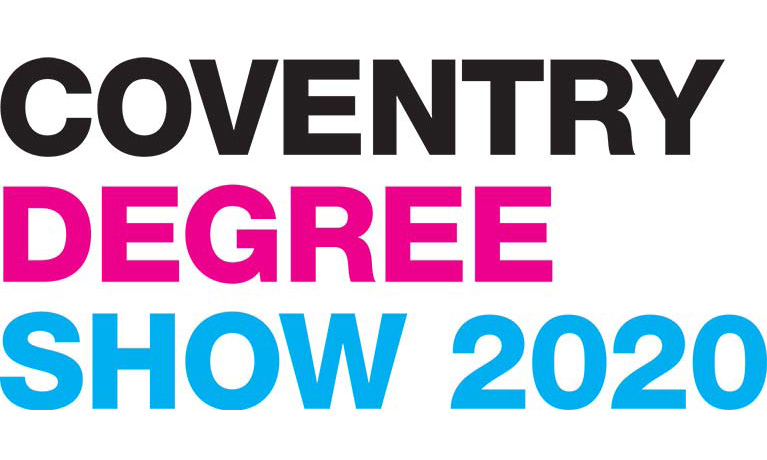 Visit our online degree show where we have brought together the work of over 500 students.




What our students say
Graphic Design is just awesome, my teachers are well prepared for every lecture and seminar, everybody is really friendly and I just love the studio practice sessions.
On this course, we teach within a framework that takes into account the multi-faceted roles a graphic designer might perform. Be it a storyteller, a problem solver or a persuasive strategist, the course allows you to explore these roles through a wide variety of projects along four main threads of inquiry: Narrative & Time, Systems & Information, Strategy & Direction and Personal Development Planning.
Cumulatively, these four branches of learning and their respective modules, make up the full course curriculum and celebrate the course's key pillars: experimentation, community, vocation and critical thinking. Therefore, we'll help you discover your individual style as you engage in creative play and begin defining your personal design identity; you'll explore technologies and materials and get the chance to use a variety of digital and traditional making workshops to visualise your ideas; you'll engage with industry through live client-led projects and through simulated projects, including competition briefs; and you will underpin your entire design journey in critical investigation of theories and research. In all modules, you are encouraged to explore lateral thinking, develop the capacity to advocate for your work and take risks in a safe environment.
97%
of our students are satisfied with the quality of the course
NSS, 2016
We regularly review our course content, to make it relevant and current for the benefit of our students. For these reasons, course modules may be updated.
1st
We have been ranked joint first amongst Modern Universities in England for career prospects - Guardian University Guide 2021
The course prides itself on a holistic approach and exposes you to a wide range of design contexts and outputs. The course might therefore appeal to you regardless of whether you identify as a generalist or specialist:
Generalists: the course is an intensive exploration of today's vast graphic design landscape. Guided by our modules and briefs, you'll delve into branding, packaging, mapping, editorial design, font design, advertising campaigns, experimental work and design writing.
Specialists: the course is a fantastic springboard towards a more specialised trajectory, be that in post-graduate education or employment. By exploring a multitude of design outputs and contexts throughout the first two years, you'll be encouraged to begin shaping and directing your focus towards your preferred personal areas of interest in the final year.
The course is not prescriptive, instead proposing lines of inquiry that enable you to become owners of your own learning. Typical graduate portfolios might therefore include branding, publicity, info-graphics, animations, publishing or web and app design in a range of technology and media, from a mix of inhouse assignments, self-initiated tasks, national / international competition opportunities (such as D&AD and YCN), live project briefs and possible input from courses in other Schools in the Faculty and beyond. You are actively encouraged to be imaginative, ambitious and resourceful to face the challenges of an unpredictable, demanding, globally competitive and technologically-driven world.
Teaching and Learning Ethos
The teaching and learning strategy on the course aims to instil principles around four key pillars:
Community – The course fosters a sense of belonging to a community of practice in all of aspects of teaching and assessment through: collaborative projects, international trips (previous destinations include Berlin, Amsterdam, Copenhagen) and global studio visits (including PearlFisher, AKQA, Design Bridge, Kontrapunkt, Pentagram and JKR ) peer critiques, course exhibitions, and other initiatives. We're keen on conversation and constructive exchanges between staff and students, and so you'll be invited to drive parts of the curriculum and may write their own briefs and co-create learning materials.
Vocation – The course intends for all students to have positive graduate outcomes, be that through employment or entrepreneurship. You'll be prepared for professional contexts through live briefs, exposure to competition briefs, industry speaker talks (past speakers include Craig Oldham, Anthony Burrill and Jonathan Barnbrook), studio visits, portfolio reviews, the annual Future Proof alumni conference, and specialised lectures and workshops on personal and professional promotion and action planning.
Experimentation – Expression, play and experiments are serious components on the course. Channeled through key modules, they allow students to explore materials, tools, processes and ideas of personal interest. The course is attuned to industry standards, but it does not aim to replicate the working world; instead, it provides a safe space for innovation and uninhibited creativity.
Critical Thinking – To be a world-leading designer means being a designer who is aware of the global impact of their work. To ensure that students are sensitive to the wider contexts in which their work might perform and the overall value of graphic design, the course guides students through research methods, critical thinking, design writing and critique. In a world of questionable news and misinformation, an informed, inquisitive designer can begin to make a change in local, national and global communities.
Facilities
The course facilitates learning and production of innovative design solutions through access to specialised facilities including: PC and Mac suites running the latest industry standard software, traditional print-making and making workshops (etching, silk-screen printing, relief printing, woodwork, laser-cutting, 3D printing) as well as a generously stocked letterpress room. You'll also be able to access specialised photographic material including photographic studios through the University's renting scheme (Extracurricular workshops are subject to availability, application and additional costs). You will be encouraged to use our spaces and facilities to explore multiple materials, techniques and equipment, pushing the boundaries of visual communication. For example, you might design a brand-new font in Illustrator, make it in wood on the latest laser-cutter, print it on a 150-year-old hand-operated press, then scan it and animate it in After Effects.
The course has maintained three successive years of overall student satisfaction in excess of 80% (NSS 2017, NSS 2018, NSS 2019).
Strong graduate employability record – 90% of graduates in work or further study after six months (DLHE 2014/15).
The School of Art and Design is an 'Adobe Partner by Design', as well as being an Adobe Outstanding Centre of Excellence. Whilst the University hopes and anticipates that this Partnership continues, if it were to dissolve, we would notify applicants and students as soon as possible.
Current, excellent links with industry, many of whom in the past have offered employment, placements or professional guidance to our students, like IBM, Opus Books and Design Bridge.
Access to a network of practitioners through our Creative Voices speakers programme and regular studio visits, both local and international. Past speakers include Craig Oldham, Anthony Burrill and Jonathan Barnbrook. Previous studio visits include Pearlfisher, AKQA, Design Bridge, Kontrapunkt, Pentagram and JKR.
Opportunity to participate in self-funded study trips abroad to places like Cyprus, Finland and Australia through the Erasmus scheme, as well as Holland and China as part of shorter cultural trips (subject to availability, competitive application process, meeting visa requirements and additional costs).
Strong track record of student success in national and international competitions. In recent years, these have included: first prize and runners-up for the Penguin Student Design Awards book cover design competition; a D&AD Yellow Pencil and 'Best of the Year' commendations; nominations for YCN;
Opportunities to work collaboratively with Coventry University Graphic Design students based in Hong Kong, Singapore and Malaysia.
Excellent links with industry such as Watermill, IBM, and Opus Books.
Your main study themes are:
Narrative & Time
Enables the exploration of design as storytelling, revolving around the power of image and text to communicate expressively and conceptually. This branch of study is built on the belief that designers can and should exercise their authorship, exploring and expressing stories of personal interest, as a way of becoming more capable at design communication in the service of others. Potential design outputs include, but are not limited to: zines, publication and editorial design, website, film and moving image, artists' books, installation and sculptural design.
Systems & Information
Promises the investigation and application of design as a functional practice rooted in problem solving. It engages with typographic principles alongside various visualisation methods and explores design as a service to others in utilitarian contexts. Through this thread you'll also get to explore the sustainability and the production dimension of design. Potential design outputs include, but are not limited to: maps, packaging, type design, wayfinding, exhibition design, identity design.
Strategy & Direction
Allows for the practice of design within authentic industry contexts: client led briefs and renowned design competitions. The focus is on design as strategy, with a clearly defined aim and impact on an audience. Through this thread you will also get to explore social and ethical facets of design practice, as well as effective ways of collaboration and co-creation with peers. Potential design outputs include, but are not limited to: promotional, awareness and advertising campaigns (posters, website, apps, merchandise, design for social media).
Personal Development Planning
Puts you and your self-discovery at the core of its delivery enabling the development of self-awareness, reflexivity and criticality in relation to their practice and how this is situated within the wider professional contexts. Potential design outputs include, but are not limited to: personal blog, portfolio design, CVs, essays.
The course normally lasts three years when studied full-time and four to six years part-time. After successfully completing the first two years of the course, you can opt to take a sandwich year and spend a year on a professional placement or studying abroad with students previously studying design in countries including Australia, Germany, Finland and Spain (subject to availability, a competitive application process, meeting visa requirements and additional costs).
Teaching on the course has a double purpose: enabling you to acquire fundamental design skills and experience a breadth of design contexts and allowing you to shape the development of specialist skills in line with your personal creative identity. As such, the course balances taught sessions with independent and self-directed practice. Both are necessary to ensure you build an individualised collection of work for your portfolio that meets industry standards, is considerate of its context and can contribute positively to current conversations around design. Our agile teaching responds to your progress and is sensitive to changing student requirements. Students are taught via a range of similar activities with changing scope and focus across all modules. These activities will mostly comprise of lectures, workshops, seminars and tutorials.
The course is practice- based and teaching days involve engagement with the off key concepts and processes through a variety of hands-on activities and debates. This leads to rich and dynamic ideas underpinning your design thinking. A typical teaching day might start with a lecture framing the focus of the day. You might then engage in small-group seminars, discussing and exploring new ideas with your peers, or a full-class workshop aimed at putting into practice new methods and approaches. We engage regularly in critique sessions and tutorials and in doing so you are encouraged to develop your communication skills and become a strong advocate for your own work. These are key opportunities for you to get valuable feedback from your peers and educators. On top of these teaching events, you may go on a fieldtrip to gather research about a brief, undertake group work around a specific brief, work independently under supervision in the studio, and put up an exhibition to pick-up key presentation skills.
The course recognizes the importance of technical skills, and places focus on adaptability to new technologies. Technical skills instruction sessions are taught regularly and act as tasters. This allows you to explore and become acquainted with a wide spectrum of industry standard software, and places specialization and deeper investigation of specific tools in your hands. This reinforces the course's overall approach to technical skills: although undeniably important, in the current climate where industry standard software is publicly accessible and relatively easy to pick-up even by non-designers, software skills take a secondary place in the delivery of the curriculum, which places conceptual innovation and appropriateness first.
All taught content is carefully developed around your module briefs and in support of your response to these. Sessions are facilitated both within a studio environment and online. We place a keen focus on experimentation, play and critical thinking, and our teaching staff will encourage and prompt you in these directions. We value the importance of multiple voices and we regularly invite guest speakers and industry experts to supplement our teaching, with recent visitors including Craig Oldham, JKR's Joe Hall, Sarah Coleman and Coventry University alumni Tobias Hall and Rob Wilde. You may also have the opportunity to visit galleries in this country, such as the V&A, Ikon, Herbert, National Gallery, Photography Gallery or, Design Museum, or take part in industry trips to Birmingham and London (subject to availability and additional costs may apply).
You are invited to take ownership of your own development and therefore we offer a range of extra workshops you can sign up for with an aim to enrich your skills in things like photography, print-making, 3D and digital media. In coming to Coventry University, you not only join a community of dedicated educators, but also one of inspiring peers. We try to facilitate meaningful exchange between all students through regular joint classes and course-wide social events (including Halloween and Christmas parties, and exhibition launches).
You will get technical support and access to industry-standard software and hardware, as well as in other technologies like silkscreen, letterpress and laser-cutting from specialist technicians
This course will be assessed using a variety of methods aimed both at the evaluation of acquired skills and learning specific to each module. This course is predominantly assessed by coursework; however assessment methods vary and depend on the module content and scope and may include, a portfolio of work, essays, presentations, exhibitions, reflective blogs and research and development documents. The choice of assessment methods seeks to prepare you for the diverse contexts in which your design work may exist. Through the assessment process, you will therefore acquire key presentation skills.
| | |
| --- | --- |
| Exhibition | Students will familiarise themselves with professional standards of presentation and will consider the reception of their own work within public facing environments. |
| Presentation or "Pitch" | Students will be encouraged to undertake assessment by presentation, where their communication and advocacy skills will be practiced. The presentation will take the form of both discussions and pitch to a panel as a way of exposing students to likely real-life scenarios. |
| Portfolio | Students will also submit portfolios of work, thus practicing visual presentation skills in preparation to their final exit portfolio. |
| Reflective Blog | Students will work on documenting, collecting and interrogating their own work, as well as engaging with the wider design landscape via blogs through all levels of study. Continuous and regular writing encourages reflective practice and paves the way to credible and informed action planning. |
| Academic Essay | Design writing is crucial to the development of critical design aptitudes and so we guide and support students in writing various academic essays throughout their study. The academic essays works symbiotically with the blog which acts like a platform for drafts, opinion pieces and stream of consciousness-like musings on design as informed by lectures and the student's own discoveries. |
| Process Document | A process document is a regular requirement of our module submissions. It takes the form of a well-curated digital presentation (in the form of a .pdf) that captures the student's key research findings and developmental milestones for any given modules. The presentation describes information the student has gathered in their module sketchbook and other online platforms. Instead of being a repository for this information, it is a well-annotated and explained document that responds to module-specific questions and clearly evidences the student's design rationale. |
The Coventry University Group assessment strategy ensures that our courses are fairly assessed and allows us to monitor student progression towards the achieving the intended learning outcomes. Assessments may include exams, individual assignments or group work elements.
On successful completion, you will be able to:
Evidence capabilities including accountability, adaptability and resilience to practice within wide and continuously changing diverse cultural contexts at a professional and socially-engaged level;
Position practice within its wider community and professional contexts, demonstrating ownership, engagement, initiative and self-awareness;
Work independently and collaboratively with professionalism;
Present and advocate work effectively and competently to a variety of audiences, demonstrating conceptual, visual, oral and interpersonal skills;
Practise curiosity and critical thinking through design development by applying sustained methods of research, investigation, analysis and interpretation;
Reflect on, synthesise and integrate learning towards the creation and optimisation of a coherent body of work which responds to relevant criteria, including context, stakeholder expectations, environmental factors and socio-cultural norms;
Employ both convergent and divergent thinking, speculative inquiry, experimentation and risk-taking in the processes of observation, investigation, visualisation and making;
Effectively communicate sustained creative and conceptual design outputs using appropriate tools, technologies and materials, applying key design theories and techniques in the control of form and content.
90%
of our graduates are in work or further study six months after the course
DLHE 2014/15
In a typical teaching week, you will have approximately 17 'contact' hours of teaching. This includes a combination of:
Large group teaching: lectures, workshops
Medium group teaching: workshops , seminars
Small group teaching: seminar, critiques
Studio Practice
The contact hours may be made up of a combination of face-to-face teaching, individual and group tutorials, and online classes and tutorials.
There are opportunities for exchange with students on a similar course in overseas universities. For example, second and third year students may be provided with opportunities to visit an international university as part of their studies, and European cultural visits will be offered to all students in all years.*
Throughout the course, graphic design projects are set with an international focus, enhancing your global experience and broadening your mindset. Students are also encouraged to engage in Collaborative Online International Learning (COIL) projects with partner institutions and other international universities around the world.*
*(Subject to availability, a competitive application process, meeting visa requirements and additional costs).
Global ready
Did you know we help more students travel internationally than any other UK university according to data from the experts in higher education data and analysis, HESA?
In 2018/19, we provided a total of 5,469 experiences abroad that lasted at least five days.
Explore our international experiences
1st for
international experiences
Sending more students overseas than any other UK uni 2016/17
5,469
Student experiences
The number of student trips abroad for at least 5 days in 2018/19
12,000
and counting
The number of students we've helped travel internationally since 2016
12
global programmes
As well as trips, we offer other opportunities like language courses
What our alumni say
I am very grateful for the amount of support, guidance and advice our tutors have given us. With all of this, as well as my own effort, I am proud to be able to say I am a professional graphic designer with a graduate degree.
Entry Requirements
University Course Code: AHU006
A Level
BTEC
IB Diploma
GCSE requirement
BBC
DMM
29 points
Minimum five graded 9-4 including English
Portfolio
You may be required to submit a portfolio/show-reel/written work (as appropriate for the particular course) and you may be asked to attend an interview if it is practical to arrange.
A-Levels
A-Level applicants are required to have three
 A2 Levels. Coventry University may include AS grades within an offer for certain courses, but we are not able to accept two AS Levels in place of one A2 Level. In some courses it may be necessary for entrants to have passed specific A2 Levels in nominated subjects. Please see the course pages for more information.
Access Diplomas
A pass in the Access Diploma, plus GCSE English Language at grade A*-C, or a specified equivalent.
Coventry University welcomes applicants who have completed, or who are studying, the Access to HE Diploma developed by the Quality Assurance Agency for Higher Education (QAA). Successful completion of the course will require you to gain 60 credits with at least 45 to be achieved at Level 3 (with the remainder at Level 2). In some cases we will require you to have gained Merit or Distinction grades in a number of units or in nominated subjects. For more information on the entry requirements for your chosen course please see the relevant course pages.
BTEC Level 3 Diplomas
The University will accept the BTEC Level 3 Extended Diploma for entry to most courses. In some cases we will require applicants to have studied either certain named modules or a specific named Diploma. The appropriate course page will have full information on the entry requirements. The University also accepts the BTEC Level 3 Subsidiary Diploma and BTEC Level 3 Diploma for entry to degree programmes, provided that they are studied in combination with other qualifications that provide a total volume of study that is equivalent to three A2 Levels. For example, you could be studying a BTEC Level 3 Diploma plus an A2 Level, or a BTEC Level 3 Subsidiary Diploma plus two A2 Levels. Where a specific A2 or BTEC subject is required for entry then you must be offering this as part of your combination of qualifications.
Select your region to find detailed information about entry requirements:

You can view our full list of country specific entry requirements on our Entry requirements page.
Alternatively, visit our International hub for further advice and guidance on finding in-country agents and representatives, joining our in-country events and how to apply.
---
English language requirements

IELTS: 6.0 overall
If you don't meet the English language requirements, you can achieve the level you need by successfully completing a pre-sessional English programme before you start your course.
For more information on our approved English language tests visit our English language requirements page.
Portfolio
You may be required to submit a portfolio/show-reel/written work (as appropriate combination for the particular course) and you may be asked to attend an interview if it is practical to arrange.
In evaluating the candidate's potential and appropriateness we look for the following skills, which may be demonstrated through but not limited to design specific briefs:
Adaptability and curiosity
Propensity for acquiring technical skills
Critical engagement with ideas and concept making
Visual aptitudes: use of colour, composition, storytelling
Use and diversity of mediums: photography, illustration, typography
What our alumni say
I entered this course through clearing, not really knowing what my future as a graphic designer would look like. By my final year, I was fully aware of who I am and what I wanted to do!"
Tuition Fees
We pride ourselves on offering competitive tuition fees which we review on an annual basis and offer a wide range of scholarships to support students with their studies. Course fees are calculated on the basis of what it costs to teach each course and we aim for total financial transparency.

For more information, please visit our Finance pages.
Scholarships and bursaries
We offer a variety of scholarships and bursaries to students at Coventry University to help fund the cost of your study. Eligibility may depend on your circumstances and academic achievement.


Scholarships and bursaries
There are a number of scholarships available to international students at Coventry University. EU students may be eligible for a transition bursary.
Course essentials at no extra cost
We're committed to communicating study costs clearly to make sure you're not faced with having to make any unexpected payments.
This is why our 'Flying Start' package provides you with a few course essentials. Your full-time fee for an undergraduate degree will cover the following:
UK field trips
Any mandatory site visits and trips within the United Kingdom.
Key material
This can include core textbooks, software and equipment.
Laser prints
1,000 A4 sides of black and white laser printing credits per year.
Optional year
Pay no tuition fees for optional work placements or study abroad trips.
This course may incur additional costs associated with any field trips, placements or work experience, study abroad opportunities or any other opportunity (whether required or optional), which could include (but is not limited to) travel, accommodation, activities and visas.
This course may incur additional costs associated with any equipment, materials or additional specialist printing.
EU student fees
EU nationals starting in the 2020/21 academic year remain eligible for the same fees as home students and the same financial support. Financial support comes from Student Finance England, and covers undergraduate and postgraduate study for the duration of their course, providing they meet the residency requirement.
For tuition fee loans
EU nationals starting in the 2020/21 academic year must have resided in the European Economic Area (EEA) or Switzerland for the three years prior to the start of their course. The purpose of that three year residency should not have been mainly for the purpose of receiving full time education.
For maintenance loans
EU nationals starting in the 2020/21 academic year must have resided in the UK and Islands for the five years prior to the start of their course. The purpose of that five year residency should not have been mainly for the purpose of receiving full time education.
Reduced course fees for EU students
The UK Government has confirmed that EU students who are starting their course in September 2021 and onwards will be classified as an international student. To support our EU community who are affected by this change, Coventry University are providing an EU Member State Transition Bursary.
Students ordinarily domiciled in an EU Member State who prior to the 2021/22 academic intake qualified for UK fees (home fee status), are eligible for the EU Member State Transition Bursary. This will bring fee levels for those students across the Group into line with those of UK students for courses starting in the 2021/22 academic year.
Review more details on our EU Member State Transition Award/Bursary page.
What our alumni say
I really enjoy the focus on developing skills for industry—the emphasis on life after graduation is evident at Coventry University.
Career prospects
Graduate Immigration Route visa
Based on current information from the UK Government, international students whose study extends beyond summer 2021 may be eligible for a visa under the UK Government's Graduate Immigration Route, which will enable students to stay and work, or look for work, in the UK at any skill level for up to two (2) years. Check the most up to date guidance available to check your eligibility and any updates from the UK Government before making an application or enrolment decision.
The structure of the course, the experiences and support made available to you are all designed with a view to developing the skills, competencies and imaginative thinking necessary for a creative career in a demanding, competitive and rapidly changing work environment. Whether you choose to enter employment in a design agency or studio upon graduation, or have dreams of becoming self-employed, the course produces graduates that are flexible, responsive and resilient. Whatever your career trajectory we work together to make you industry ready.
As well as having the option of a year-long work placement (subject to availability, application and additional costs), you will also have the opportunity to practice design in professional contexts through live, client driven projects as soon as your second semester of your second year. You will be guided on how to position yourself within a community of practice and produce self-promotional material (CV, portfolio, website, merchandise) that represents both your skills, conceptual flair and aesthetic sensibilities. The course continuously maintains its ties with industry and alumni, who we regularly invite for talks and portfolio guidance during our yearly conference "Future Proof". That being said, the course doesn't not seek to simply replicate the industry environment. Whilst observing best-practice standards, it provides space for challenging the norm, innovation and uninhibited creativity within experimental and student-driven contexts. It is our belief that such explorations add to the development of skills that would enable our graduates to not only join the marketplace, but also drive the future of design.
The university's Talent Team is on hand to offer tailored career and enterprise support if you wish to gain employment or take advantage of professional practice opportunities within course specific industries. It aims to specialist careers information, advice and guidance to all our students from their first year through to final year and beyond graduation, helping them receive the opportunities to reach their desired career outcome.
Our dedicated enterprise officers also offer valuable assistance on how to begin as a freelancer/entrepreneur.
On graduation, you have the option to continue your study by applying for postgraduate study or setting yourself up as a design consultant, independent practitioner or as part of a studio collective. You could pursue careers, both freelance and in-house, across a wide range of disciplines within the contemporary creative industries or all manner of professional service organisations – from publishing to advertising, education to local government.
We are committed to preparing you for your future career. The university's Talent Team provide a wide range of support services to help you plan and prepare for your career.
90%
of our graduates are in work or further study six months after the course
DLHE 2014/15
Where our graduates work
Graduates from this course have gone on to provide graphic design services for a number of well-known companies including: Image+, Saatchi and Saatchi, the Mill, IBM, Springgetts, Interbrand, Scholastic, and Havas.
£18K
Our graduates earn an average salary of £18,000 six months after the course (DLHE 2014/15)
What our alumni say
Staff show care and concern for not only our well-being but for the immediate and eventual future of their students. This translates to better performance due to one on one tutorship and advice
Disclaimer
By accepting your offer of a place and enrolling with us, a Student Contract will be formed between you and the university. A copy of the 2021/22 Contract can be found here. The Contract details your rights and the obligations you will be bound by during your time as a student and contains the obligations that the university will owe to you. You should read the Contract before you accept an offer of a place and before you enrol at the university.
The tuition fee for the course that is stated on the course webpage and in the prospectus for the first year of study will apply. We will review our tuition fees each year. For UK and EU students, if Parliament permit an increase in tuition fees, we may increase fees for each subsequent year of study in line with any such changes. Note that any increase is expected to be in line with inflation. Following the UK's exit from the European Union, EU students should be aware that there may be a change to UK laws following the UK's exit, this may change their student status, their eligibility to study part time, and/or their eligibility for student finance. We will act in accordance with the UK's laws in force in relation to student tuition fees and finance from time to time.
For International students the tuition fee that is stated on the course webpage and in the prospectus for the first year of study will apply. We will review our tuition fees each year. For international students, we may increase fees for each subsequent year of study but such increases will be no more than 5% above inflation.