Graphic Design BA (Hons)
Study level:

Undergraduate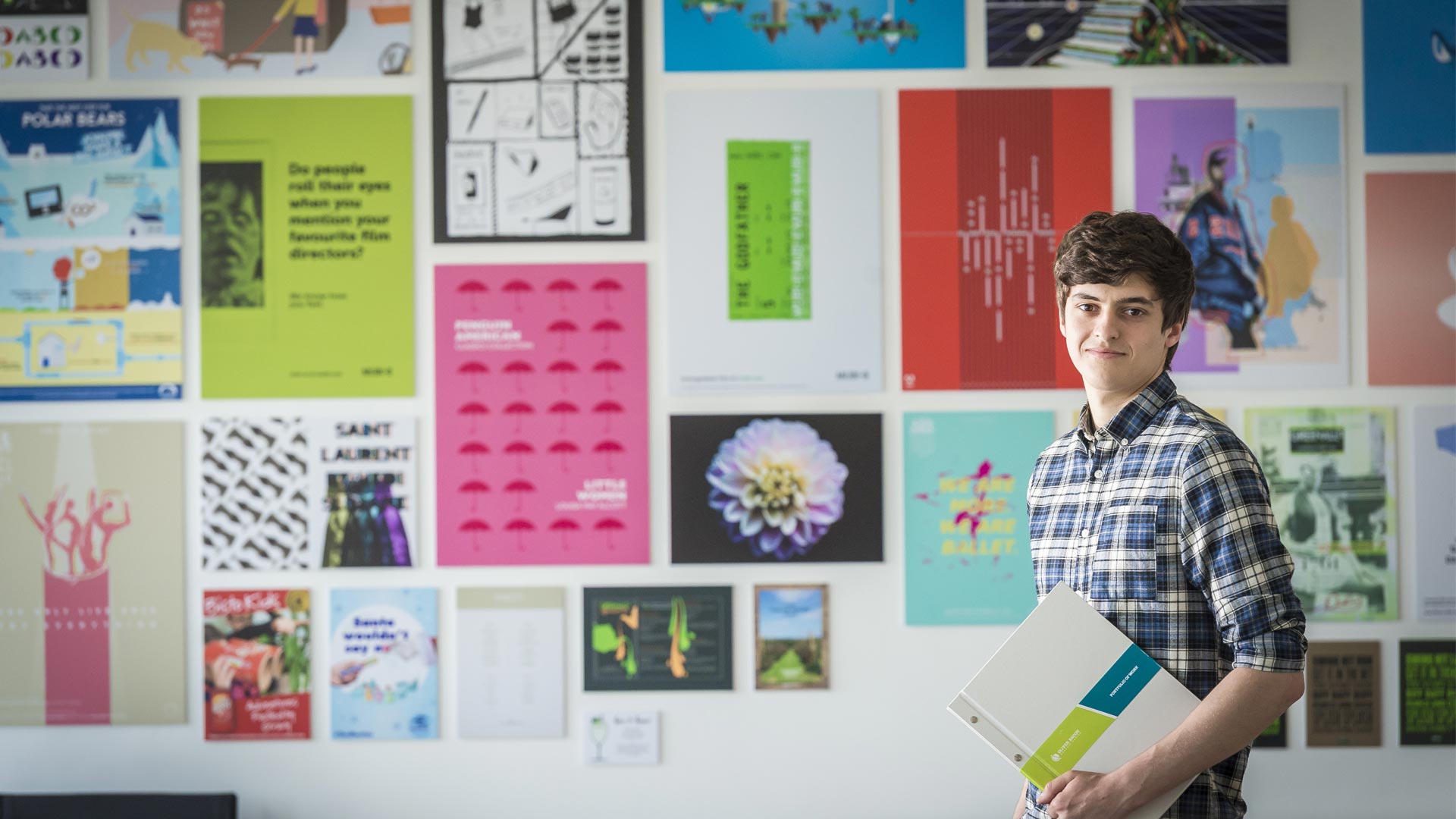 The future graphic designer is visionary, informed, responsible and technically adaptable. Coventry University's Graphic Design BA (Hons) course challenges and guides you to become just that.
Location
Coventry University (Coventry)
Study mode
Full-time
Sandwich
Duration
3 years full-time
4 years sandwich
Start date
September 2023
January 2024
---
Course overview
The course aims to get you industry-ready, whether that means joining a design business or starting up your own. During the course you will develop an all-round grasp of graphic design and a bespoke portfolio of work that suits your personal career aspirations.
The course aims to offer you:
A comprehensive design foundation: the course equips you with key design principles and experience across a wide range of design contexts. Through an intensive exploration of today's vast graphic design landscape and crucial design theory you'll delve into branding, advertising, packaging, mapping, editorial design, web design, font design and app design.
Creative ownership: the course empowers you to shape your learning alongside preferred routes. Through select modules you will get to choose your own briefs, practice skills you're passionate about and formulate your own views on design.
Expand your portfolio: your aim will be to develop a strong portfolio of work, and proactively define and pursue your own interests and long-term goals.

Joint Top Modern University for Career Prospects
Guardian University Guide 2021 and 2022

5 QS Stars for Teaching and Facilities
QS Stars University Ratings

Top 5 UK Student City (Coventry)
QS Best Student Cities Index 2023
Why you should study this course
Graphic designers harness the power of visual language to shape our perceptions of the world. With this kind of power comes responsibility. Graphic Design at Coventry University isn't just about making 'pretty pictures. Instead, the course enables you to practice graphic design as a means of making meaningful contributions to the world. Here is how:
Exploration: the course fosters ways of working that encourage creative discovery. Play and experimentation with analogue and digital mediums, methods and techniques is embedded in all modules. The course is attuned to industry standards, but it does not aim to replicate the working world; instead, it provides a safe space for innovation and uninhibited imagination.
Employability: the course prepares you to be a productive force within industry. You will gain confidence and key professional skills by working on authentic design briefs, with real clients, taking part in studio visits and portfolio reviews, attending guest and alumni talks and showcasing your work through participation in renowned competitions such as D&AD2. (All opportunities are subject to availability.)
Technical Skill: the course wants you to take pride in the work that you make. Attention to detail and industry standard designs are developed through practiced skill and iteration. Craftsmanship is considered just as important as a clever idea.
Critical Thinking: the course believes that an inquisitive and investigative mindset leads to original designs. You will learn to gather data, ask questions and draw conclusions to justify design decisions. In a world of questionable news and misinformation, an informed, inquisitive designer can begin to make a change in local, national and global communities.
Storytelling: the course channels the power of design to connect and engage with people. Not only will you use design to solve problems, but through storytelling methods you will also access design's ability to enchant and activate emotions.
Coventry Degree Show 2023
The Coventry Degree Show is an annual event to celebrate and showcase our graduating students' work.
Explore the work of our talented students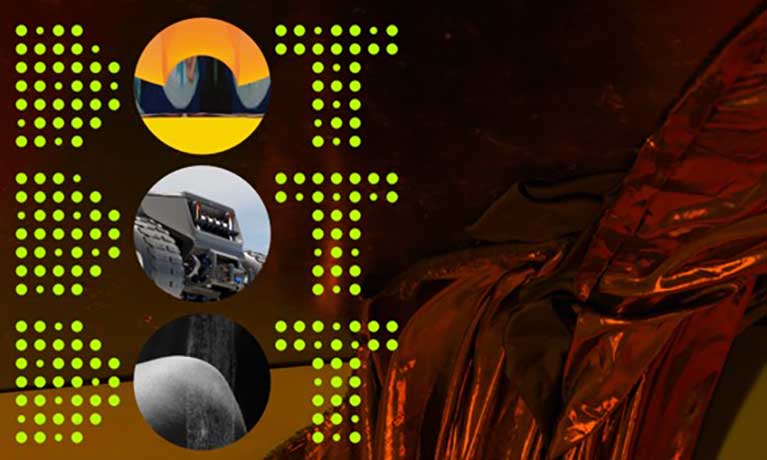 ---
What you'll study
This course has a common first year.
The common first year enables you to work alongside students doing similar courses to you, to widen your knowledge and exposure to other subject areas and professions. You will have the opportunity to collaborate with other students, so you can share your insights and experience which will help you to develop and learn.
If you discover an interest in a specific subject you have studied, upon successful completion of your first year, you could swap degrees with another course in your common first year (subject to meeting progression requirements).
Common first year courses:
Automotive and Transport Design BA (Hons)
Graphic Design BA (Hons)
Product Design BA (Hons)
In the first year, the curriculum is shared across related courses allowing you to gain a broad grounding in the discipline before going on, in the second and third years, to specialist modules in your chosen field.
In your common first year you will explore the fundamentals of design. With a focus on process, you will explore techniques, technologies and research-inspired design as you work on both individual and team projects.
Modules
Design Exploration - 20 credits

This module introduces you to a series of fundamental analogue processes, tools and techniques used in the expression and communication of design ideas. Through experimentation with hands-on tools, techniques and methods for exploration and idea generation, you will learn key foundational skills and how to apply them in graphic design work.

Design Visualisation - 20 credits

This module introduces you to some of the key graphic design software and principles that you will need to develop and finish work on the course. With an emphasis on the exploration of digital skills and processes, you will learn where and how to effectively apply techniques, and you will learn about essential formatting and file conventions.

Design Enquiry - 20 credits

This module focuses on research: what it is and why it's useful. You will be asked to produce graphic design work that draws on outside influences, and on design theory, for inspiration—and in doing so you will analyse and critique other designers, design thinkers and their work. This helps you to understand your own design decisions as part of the ongoing story of graphic design.

Design Reflection - 20 credits

This module encourages you to critically reflect on your graphic design work, your Coventry University learning journey and your career plans. In helping you to become more reflective, this module helps you to begin taking ownership of your design decisions and future thinking through consideration of your strengths, your areas for development and your design aspirations.

Design Context - 20 credits

This module challenges you to approach graphic design from a problem-solving perspective. In doing so, you will be factoring real-world issues into a design project. For instance, you will consider how your work might be manufactured and how an audience will use it. In doing this, you will become more adept at making functional and feasible pieces of graphic design.

Design Experience - 20 credits

This module is the culmination of the first year—a celebration of your progress! You will be asked to work in teams to produce a comprehensive project that expands on all your learning so far to promote ideas in engaging ways to specific audiences.
In year two, you will continue to develop the skills and knowledge you've learnt. We do this by embedding the following four principles into the curriculum and developing your:
Technical skills – digital fluency, backed with the right academic knowledge
Study skills – to be an adaptive, independent and proactive learner
Professional skills – to have the behaviour and abilities to succeed in your career
Global awareness – the beliefs and abilities to be a resilient, confident and motivated global citizen
In the second year, you will begin to think more professionally about graphic design. Projects will build up on your year one experience and develop your skills across editorial and web design, app design, font design, campaign work and design writing. All of this will help you to make more concrete decisions about your interests and aspirations. By the end of the second year, all students should be internship-ready, having also engaged with clients on real-life assignments.
Modules
Design System - 20 credits

This module pushes you to devise a commercially viable 'design system'. Design systems provide continuity and commonality across a range of design assets that help unify them as a single piece of work. Systematic thinking is crucial to graphic design, and you'll get to develop this skill through the creation of your very own typeface!

Design Interaction - 20 credits

This module asks you to balance audience needs, behaviours and motivations in the design of a fit-for-purpose app. You will look at UI / UX conventions in relation to accessibility, usability, and user expectations and needs, and you will be taught how to build and test your app using relevant software.

Design Narrative - 20 credits

This module allows you to explore the power of design to tell engaging stories. You will look at editorial and web design as narrative mediums that not only allow you to communicate content effectively, but also take audiences on a journey of discovery. In the design process you will learn key editorial tricks and fundamental web coding skills that are increasingly sought after in industry.

Design Activism - 20 credits

This module focuses on the practice of design-for-change and asks you to use online and offline channels to deliver compelling calls to action in service of a cause. You will look at historic and contemporary campaign work to establish likely successful approaches, and with this knowledge you will devise your own awareness campaign that is relevant to well-defined target audiences.

Design Profession - 20 credits

This module challenges you to further explore graphic design professional practice in team assignments for real clients. You and your team will negotiate briefs and deadlines and you will be responsible for meeting your client's needs in the production of publishable work. You will be supported by your tutors who will oversee the work and help you develop your project management skills.

Design Specialism - 20 credits

This module allows you to explore and interrogate a specialism of your choice which you will select from the broad spectrum of professional graphic design and graphic design-related roles. You will use a public-facing blog to document your discoveries and showcase your thoughts. To consolidate your investigation, you will write your very first design review or opinion piece to a publishable standard. In doing this, you will become more articulate in voicing design ideas and more familiar with a potential career route.
There's no better way to find out what you love doing than trying it out for yourself, which is why a work placement2 can often be beneficial. Work placements usually occur between your second and final year of study. They're a great way to help you explore your potential career path and gain valuable work experience, whilst developing transferable skills for the future.
If you choose to do a work placement year, you will pay a reduced tuition fee3 of £1250. For more information, please go to the fees and funding section. During this time you will receive guidance from your employer or partner institution, along with your assigned academic mentor who will ensure you have the support you need to complete your placement.
Whilst we would like to give you all the information about our placement/study abroad offering here, it is often tailored for each course every year and depending on the length of placement or study abroad opportunities that are secured. Therefore, the placement and study abroad arrangements vary per course and per student. Request further information about going on a placement or study abroad year.
Modules
UK Work Placement– 0 credits

This module2 provides you with an opportunity to reflect upon and gain experience for an approved placement undertaken during your programme. A placement should usually be at least 26 weeks or equivalent; however, each placement will be considered on its own merits, having regard to the ability to achieve the learning outcomes.

International Study/Work Placement – 0 credits

This module2 provides you with an opportunity to reflect upon and gain experience for an approved international study/work placement undertaken during your programme. A work/study placement should usually be at least 26 weeks or equivalent; however, each placement will be considered on its own merits, having regard to the ability to achieve the learning outcomes.
Your final year aims to bring you to the level to enter the world of work by consolidating your knowledge and skills from years one and two.
We aim to empower you to take ownership over the development of portfolio work in relation to your career aspirations. This means you'll be able to personalise module briefs to suit your individual developmental needs.
With your accumulated understanding of graphic design contexts and theory, an inquisitive mind and process driven design, you will be encouraged to challenge graphic design's boundaries through speculative projects and participation in renowned design competitions.
Modules
Design Agility - 20 credits

This module draws on external national and / or international competition briefs for which you will design and submit solutions.

Design Identity - 20 credits

This module picks up where your second year ended by advancing your professional thinking and positioning. You will consider your likely future career and prepare personal branding, write and design your CV and draw up plans for your exit portfolio which you will continue to build throughout the rest of this year.

Design Experiment - 20 credits

This module challenges you to redefine what graphic design can be and push the boundaries of the discipline. Through research as practice, you will get to explore aspects of design that interest you through an experimental mindset. You may therefore produce innovative work that defies standard definitions of design, but which allows you freely pursue ideas and develop skills you may have always been curious about but never got the chance to practice.

Design Adventure - 20 credits

This module draws on an external national or international competition brief for which you will design and submit solutions in a team. Your challenge is to exploit this opportunity to practise your expertise as part of a large project that capitalises on each team-member's strengths. You will be provoked to be adventurous in project definition and realisation, step outside of your comfort zone and explore the limits of your abilities.

Design Showcase - 20 credits

This module requires you to prepare, pitch and develop ideas for your end-of-year graphic design showcase. Working both individually and in teams, you will devise the brief and create a targeted brand and showcase assets as a presentation framework for your portfolio of work.

Design Culture - 20 credits

This module gives you space to demonstrate your intellectual prowess in the interrogation and debate of a graphic design idea related to your own practice and aspirations. You will draw on careful research (history, theory, etc.) to produce a critical, thoughtful and nuanced essay (written or video) that observes academic standards. This is your chance to give back and contribute to graphic design knowledge and culture.
We regularly review our course content, to make it relevant and current for the benefit of our students. For these reasons, course modules may be updated.
---
How you'll learn
The course prides itself on a holistic approach which exposes you to a wide range of graphic design contexts and outputs. You will experiment and practice with materials, methods and technologies as you learn about the creation, production and distribution of design work.
Theory, research and critical enquiry are seen as integral to the design process and will guide the development of work on most modules. Technical skills instruction sessions introduce you to fundamental practical and software tools, including the Adobe suite. The course encourages play and whilst it has employability at its core it does not aim to fully replicate the industry environment, making space also for creative exploration and the uninhibited investigation of ideas that could pave the way to future innovation.
You will achieve increasing levels of control over what you make and how you make it as your confidence and creative voice becomes more established during your Coventry University Graphic Design journey.
This course is taught through a combination of lectures, tutorials, seminars and workshops. The course is not prescriptive, instead it proposes lines of inquiry which you are encouraged to engage with and study outside of class.
---
Teaching contact hours
You will typically have 15-18 hours per week in your first year, 12-15 hours in your second year, and 9-12 hours in your final year. The contact hours may be made up of a combination of face-to-face teaching, individual and group tutorials, and online activities.
Additionally, you will be expected to undertake significant self-directed study each week, depending on the demands of individual modules.
We understand that everyone learns differently, so we'll look to manage your learning journey to match your strengths and aspirations. Your learning experience on each of our courses will consist of structured teaching sessions, which can include:
On campus lectures, seminars and workshops
Group work
Self-directed learning
Work placement opportunities2.
If you would like more information, you can request information about teaching hours.
Part of university life is undertaking self-directed learning. During a typical week you will have time that allows you to work independently to apply the skills and knowledge you have learnt in taught or facilitated sessions to your projects or assignment briefs. This self-directed learning allows you to use your research skills, consolidate your knowledge or undertake collaborative group work.
As an innovative and enterprising institution, the university may seek to utilise emerging technologies within the student experience. For all courses (whether on-campus, blended, or distance learning), the university may deliver certain contact hours and assessments via online technologies and methods.
In response to the COVID-19 pandemic, we are prepared for courses due to start in or after the 2022/2023 academic year to be delivered in a variety of forms. The form of delivery will be determined in accordance with Government and Public Health guidance. Whether on campus or online, our key priority is staff and student safety.
---
Assessment
This course is assessed using a variety of methods that recognise module-specific skills and learning. You are predominantly assessed by coursework and assessment methods prepare you for the diverse contexts in which your design work may exist.
Assessment methods include:
Practical coursework
Digital coursework
Individual work
Group work
Live presentations
Video presentations
Video essays
Academic essays
The Coventry University assessment strategy aims to ensure that our courses are fairly assessed and allows us to monitor student progression towards achieving the intended learning outcomes.
---
International experience opportunities
There are opportunities for exchange with students on a similar course in overseas universities. For example, second and third year students will be provided with opportunities to visit an international university as part of their studies. European cultural visits will be offered to all students in all years2.
Throughout the course, graphic design projects are set with an international focus, enhancing your global experience and broadening your mindset. Students will also engage in Collaborative Online International Learning (COIL) projects with partner institutions and other international universities around the world2.
To be a good graphic designer is to be a good communicator, and with that ability students have the potential to achieve within a huge spectrum of creative communications-related fields. We love seeing our students find their voices, grow their knowledge and develop their skills during their time with us.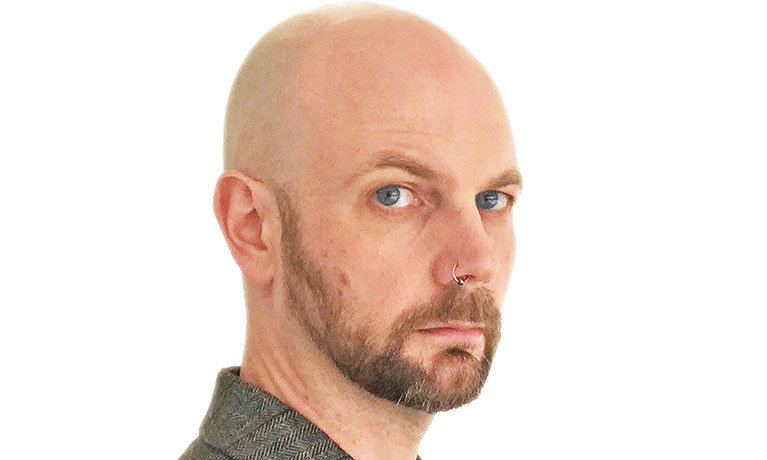 ---
Entry requirements
Typical offer for 2023/24 entry.
| Requirement | What we're looking for |
| --- | --- |
| A level | BBC |
| GCSE | Minimum 5 GCSEs graded 9-4 / A* - C or equivalent, including English |
| BTEC | DMM |
| IB Diploma | 29 points |
| Access to HE | The Access to HE Diploma. Plus GCSE English and Mathematics at grade 4 / C or above. |
We recognise a breadth of qualifications, speak to one of our advisers today to find out how we can help you.
Portfolio
You may be required to attend a portfolio showcase, activity session or audition or submit a portfolio via email (as is appropriate to your course), either virtually or face to face, as is practical to arrange. Invites for these sessions will be sent directly to your contact email.
Each application will be considered on its merits.
Are you eligible for the Fair Access Scheme?
We believe every student should have the opportunity to dream big, reach their potential and succeed, regardless of their background. Find out more about our Fair Access Scheme.
Select your region to find detailed information about entry requirements:

You can view our full list of country specific entry requirements on our Entry requirements page.
Alternatively, visit our International hub for further advice and guidance on finding in-country agents and representatives, joining our in-country events and how to apply.
If you do not have the typical entry requirements, you may want to consider studying this course with an international foundation year. Upon successful completion our International Foundation Year - Art, Design and Media will provide you with the knowledge and skills you need to progress onto this undergraduate degree.
English language requirements
IELTS: 6.0 overall, with at least 5.5 in each component area.
If you don't meet the English language requirements, you can achieve the level you need by successfully completing a pre-sessional English programme before you start your course.
For more information on our approved English language tests visit our English language requirements page.
---
Fees and funding
2023/24 tuition fees.
| Student | Full-time | Part-time |
| --- | --- | --- |
| UK | £9,250 per year | Not available |
| International | £19,850 per year | Not available |
If you choose to do a work placement2, you should consider travel and living costs to cover this. There is also a tuition fee3 of £1,250 that will cover your academic support throughout your placement year.
For advice and guidance on tuition fees and student loans visit our Undergraduate Finance page and see The University's Tuition Fee and Refund Terms and Conditions.
We offer a range of International scholarships to students all over the world. For more information, visit our International Scholarships page.
Tuition fees cover the cost of your teaching, assessments, facilities and support services. There may be additional costs not covered by this fee such as accommodation and living costs, recommended reading books, stationery, printing and re-assessments should you need them. Find out what's included in your tuition costs.
The following are additional costs not included in the tuition fees:
Any optional overseas field trips or visits: £400+ per trip.
Any costs associated with securing, attending or completing a placement (whether in the UK or abroad)
How do you know if you need to pay UK or international tuition fees?

We carry out an initial fee status assessment based on the information you provide in your application. Your fee status determines your tuition fees, and what financial support and scholarships may be available to you. The rules about who pays UK (home) or international (overseas) fees for higher education courses in England are set by the government's Department for Education. The regulations identify all the different categories of student who can insist on paying the home rate. The regulations can be difficult to understand, so the UK Council for International Student Affairs (UKCISA) has provided fee status guidance to help you identify whether you are eligible to pay the home or overseas rate.

If you meet all the criteria required by any one category, including any residence requirements, your institution must charge you the home rate. You only need to find one category that you fit into.
---
Facilities
The Faculty of Arts and Humanities is joining two of our school's completely refurbished Art and Design buildings and adding a range of new facilities4. These will include a hyper studio designed for cross-disciplinary projects; immersive studios with cutting-edge virtual reality and mixed-reality technologies. Our aim is to offer you sector-leading facilities in a unique environment. The new facility is set to open in 2023.
Our current digital and industrial workshops are of industry-standard quality and house 3D rapid prototyping, laser cutters and milling machines. These facilities are available to all students on our courses at no extra cost. These are subject to availability.
We also have a ceramic and small-metal-working workshop, a large digital print bureau, and clay modelling studios where you can realise your creative artistic and design solutions.
The fashion workshops have digital embroidery machines, digital printers and a printmaking workshop that includes etching, screen printing and a rare, one of only three in existence in the UK, letterpress studio.
In our Mac and PC CAD labs, you can become digitally literate in presentation and design skills using the Adobe suite of software. You can also learn other software packages including Alias, Toom Boom, Revit, and Maya that maybe relevant to your studies.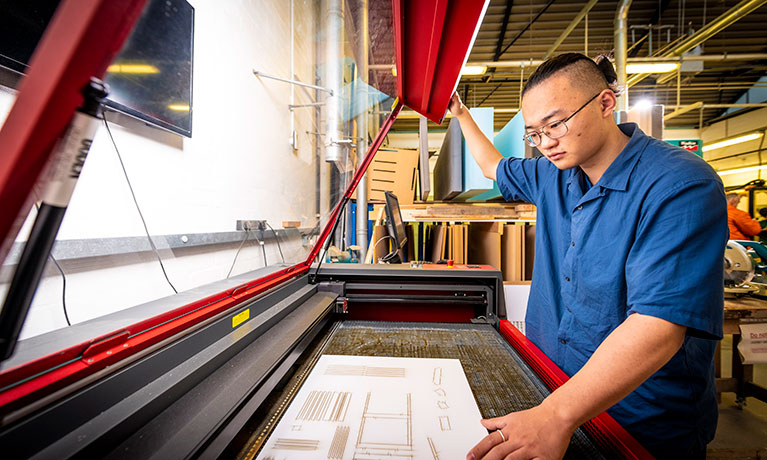 Print-making workshops
Our print-making space features silk-screen printing, relief printing and etching facilities that you can use to generate artwork for your graphic design projects. (Location: Delia Derbyshire Building)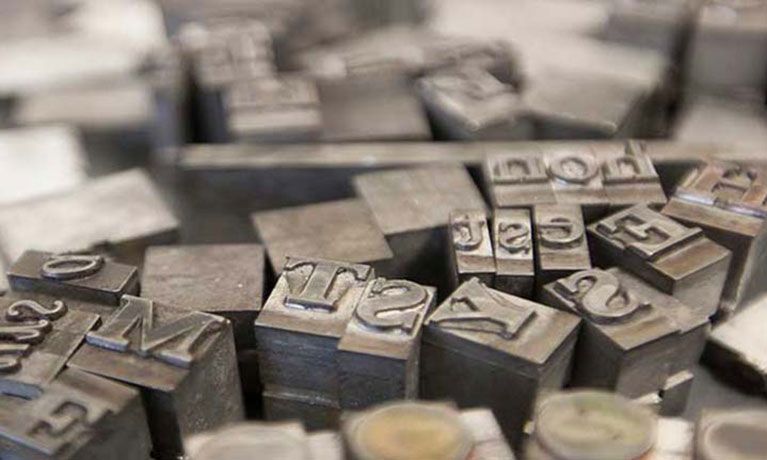 Letterpress workshop
Our letterpress workshop provides the opportunity to typeset using authentic metal and wooden type, and print your text on an original handpress.
(Location: Delia Derbyshire Building).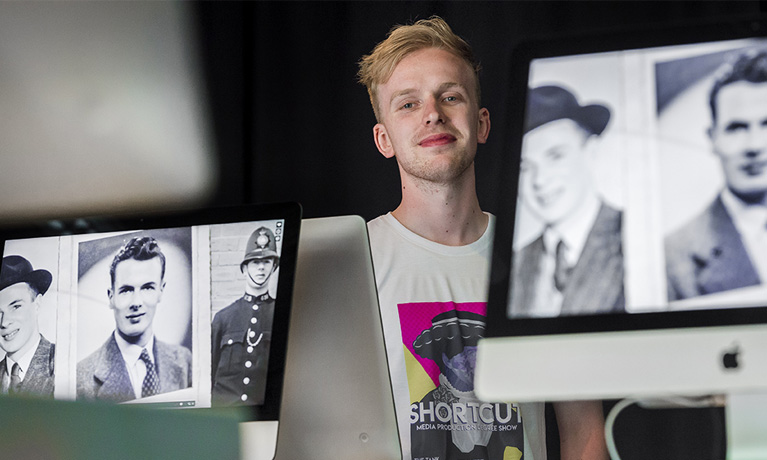 Software suites
Our studios are equipped with the latest Adobe software, meaning you have cutting-edge digital tools with which to design print or multimedia products. (Location: Delia Derbyshire Building).
---
Careers and opportunities
The structure of the course, the experiences and support made available to you are all designed with a view to developing the skills, competencies and imaginative thinking necessary for a creative career in a demanding, competitive and rapidly changing work environment.
Whether you choose to enter employment in a design agency or studio upon graduation, or have dreams of becoming self-employed, the course aims to produce graduates that are flexible, responsive and resilient. Whatever your career trajectory, we work together to make you industry ready.
The university's Talent Team is on hand to offer tailored career and enterprise support if you wish to gain employment or take advantage of professional practice opportunities within course specific industries. It aims to provide specialist careers information, advice and guidance to all our students from their first year through to final year and beyond graduation, helping them receive the opportunities to reach their desired career outcome.
Our Graphic Design students are regular winners of reputable design competitions such as D&AD and the Penguin Cover Design Award, and they received many YCN commendations. Our graduates have gone on to create award winning advertising campaigns for Silver Spoon and moving imagine work for The Mill, user interfaces for IBM, marketing work for premier UK football teams, and campaign touchpoints for Vintage Books' release of Kamala Harris' New York Times bestselling book 'The Truths We Hold'.
Where our graduates work
BOND Agency
Exient
FutureDeluxe
Kaizen
Rebel Creatives
Sky TV
Simon & Schuster
The Football Association
THG
Tottenham Hotspur Football Club
Whiteroom Agency
Our graduates have also produced freelance work for organisations including MTV, Natwest, Xbox, Nike, HEAD, BBC, Channel 4, Sports Relief and Children in Need.
Further study
Illustration MA
International Marketing MA
The course allowed me to gain both practical and theoretical knowledge that I can take into the future. It helped me gain confidence in my design work and enabled me to work alongside different studios in London and Liverpool to gain real experiences and network in the community. In addition, the lecturers were really helpful and encouraged me to produce my best work that allowed me to graduate from the course with a strong portfolio.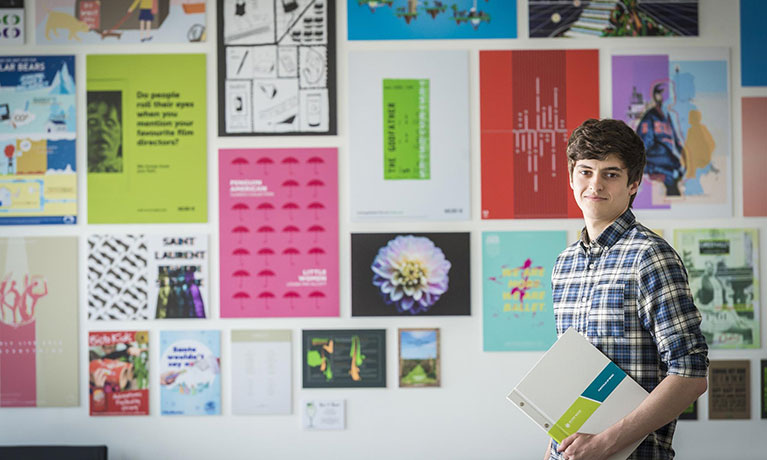 ---
How to apply
UK students

Full-time students applying to start in September 2023 can apply for this course through UCAS from 6 September 2022. Read our application pages to find out your next steps to apply.

Part-time students should apply directly to the university.

---

If you'd like further support or more information about your course get in touch with us today.

International students

International codes:
AHU090

Full-time students applying to start in September 2023 should apply directly to the university.

How to apply

For further support for international applicants applying for an undergraduate degree view our International hub.

You can also download our International guide which contains lots of useful information about our courses, accommodation and tips for travel.

---

Get in touch with us today for further advice and guidance.
Disclaimers

Coventry University together with Coventry University London Campus, CU Coventry, CU London, CU Scarborough and Coventry University Online come together to form part of the Coventry University Group (the "University") with all degrees awarded by Coventry University.

1Accreditations

The majority of our courses have been formally recognised by professional bodies, which means the courses have been reviewed and tested to ensure they reach a set standard. In some instances, studying on an accredited course can give you additional benefits such as exemptions from professional exams (subject to availability, fees may apply). Accreditations, partnerships, exemptions and memberships shall be renewed in accordance with the relevant bodies' standard review process and subject to the university maintaining the same high standards of course delivery.

2UK and international opportunities

Please note that we are unable to guarantee any UK or International opportunities (whether required or optional) such as internships, work experience, field trips, conferences, placements or study abroad opportunities and that all such opportunities may be subject to additional costs (which could include, but is not limited to, equipment, materials, bench fees, studio or facilities hire, travel, accommodation and visas), competitive application, availability and/or meeting any applicable travel COVID and visa requirements. To ensure that you fully understand the visa requirements, please contact the International Office.

3Tuition fees

The University will charge the tuition fees that are stated in the above table for the first Academic Year of study. The University will review tuition fees each year. For UK (home) students, if Parliament permit an increase in tuition fees, the University may increase fees for each subsequent year of study in line with any such changes. Note that any increase is expected to be in line with inflation.

For International Students, we may increase fees each year but such increases will be no more than 5% above inflation. If you defer your course start date or have to extend your studies beyond the normal duration of the course (e.g. to repeat a year or resit examinations) the University reserves the right to charge you fees at a higher rate and/or in accordance with any legislative changes during the additional period of study.

4Facilities

Due to COVID-19, some facilities (including some teaching and learning spaces) and some non-academic offerings (particularly in relation to international experiences), may vary from those advertised and may have reduced availability or restrictions on their use.

Student Contract

By accepting your offer of a place and enrolling with us, a Student Contract will be formed between you and the university. The 2023/24 Contract is currently being updated so please revisit this page before submitting your application. The Contract details your rights and the obligations you will be bound by during your time as a student and contains the obligations that the university will owe to you. You should read the Contract before you accept an offer of a place and before you enrol at the university.
---
---