Course Code
UCAS Code: W225
International Code: AHU157
Location
Coventry University (Coventry)
Study mode
Full-time
Sandwich
Duration
3 years full-time
4 years full-time with study abroad / professional placement
Start date
September 2022
---
Course overview
Study level: Undergraduate
If you want to turn your interest and passion for image making, drawing and creative ideas into an exciting and fully formed professional creative career, then this course may be for you. It is currently designed and run by successful practicing illustrators, artists and designers who all share a common desire to push the boundaries of illustration.

Global Ready
An international outlook, with global opportunities

Teaching excellence
Taught by lecturers who are experts in their field

Employability
Career ready graduates, with the skills to succeed
Why you should study this course
This course encourages experimentation and play so you can develop your unique portfolio that reflects your ideal career in the arts. Our course focuses on four key areas of your growth: research, development, portfolio and professional practice.
This course aims to start with a programme of traditional and digital technology workshops. Here, you can learn transferable skills and how to use a wide range of tools to bring your ideas to life. You will also take a deeper look into illustration through practical and useful research and develop your professional portfolio. A series of business and marketing materials aim to guide you through the steps you'll need to take after graduation to have a successful and sustained career in Illustration.
The course will guide you through a diverse range of practical projects. We use a contemporary and interdisciplinary teaching approach to the subject by engaging you in an array of materials, processes and technologies. These include, but are not limited to, traditional drawing skills, numerous printing methods, digital software, moving image and 3D sculptural work. The interconnection of multi-disciplinary activities makes this an ideal Illustration course if you want to develop your practice into other areas.
Employment opportunities in illustration are varied. Previous graduates have gone on to work in editorial illustration, fashion, advertising, comic books, theatre, TV and film production, children's picture books, textile design, professional artists, arts management, curatorship, art direction, games art and animation, teaching and study at postgraduate level.
By studying this course you will benefit from:
A unique cross-disciplinary course that gives you the opportunity to create a highly creative portfolio relevant to the most contemporary design both in the UK and internationally.
Professional practice is a key component of the course with scope to undertake placements and live client briefs.
An inter-disciplinary and flexible approach enabling you to individually develop your creative practice and portfolio towards a wide range of potential career paths.
Opportunity to develop skills and experiment with a wide range of technology and traditional media.
Opportunity to take a placement or study abroad year.
Current teaching staff are industry experienced (practitioners) and/or research active (staff may be subject to change).
Current staff have worked for a wide range of clients and on major arts-funded projects. They bring their considerable knowledge and experience of the industry into our teaching environment. They do this through their practical teaching activities and project work, which are core to the curriculum and helps to maintain the course contents' currency and professional alignment. Staff maintain a continuous relationship with industry and have a significant and growing portfolio of collaborative and industry-focused projects that inspire student research, design and development activities (staff mat be subject to change).
No. 13
Guardian University Guide 2022
---
The first year focuses on developing new skills and applying these to project briefs. You will have the opportunity to learn about essential software packages, screen printing and drawing skills as well as developing your ideas skills in illustration for a range of purposes including editorial, publishing, advertising, sequential narrative, product, site specific, character design and self-directed projects. Alongside this, you have the chance to study professional practice and contextual modules.
Modules
Introduction to Illustration

Illustration Play

Narrative Illustration

Professional Presentation
In Year 2 you will focus on developing your own personal approach to illustration and begin to apply this within a professional context. You are encouraged to experiment and explore a range of workshops including 3D modeling, moving image and digital approaches. You can undertake projects that engage you in social and political subjects, as well as those that develop your external profile and visual presence online.
Modules
Socially Engaged Illustration

Material and Style

Illustration in Context

Online Presence
After the second year, the course offers an optional International Enhancement or Professional Enhancement year
Students can opt to take a Professional Enhancement Year or International Enhancement Year module which runs for a full academic year between years 2 and 3. Students can progress onto the relevant Professional Enhancement Year or International Enhancement Year module if they successfully complete the first two years of the course (i.e. having accumulated 240 credits). Students confirm they are undertaking this option at the end of their second year, typically in August. They might choose one of:
An International Study placement
an approved professional work placement separately and independently organised that is international
an approved professional work placement separately and independently organised within the UK.
Students opting for either the International Enhancement or Professional Enhancement year will be registered on one of the specific modules listed below. Such modules are non-credit bearing but will appear on a student's final academic transcript if completed. No additional tuition fees apply to such modules. If you complete the optional International Enhancement year or Professional Enhancement year, your degree award title will also provide the additional suffix of "With Professional Enhancement" if you've gone on placement and "With International Enhancement" if you've gone on a study abroad or International placement programme for a year.
Please note that the university cannot guarantee any placement and/or study abroad opportunities and that all such opportunities may be subject to additional costs (e.g. travel, accommodation, visas etc.), application, availability and/or meeting any applicable visa requirements. To ensure that you fully understand the requirements in this regard, please contact the International Office for further details if you are an EU or International student.
In the final year, you have the chance to undertake a major project as well as a variety of competitions and live external briefs. You can work towards building a highly creative and professionally credible portfolio ready to enter your chosen industry specialism and career path. You can enter a broad range of creative fields and to support you in doing this, you will research and produce a range of marketing and business planning materials to enable you to begin your career path.
Modules
Entrepreneurial Illustrators

Illustration Specialism

Professional Portfolio (FMP)
We regularly review our course content, to make it relevant and current for the benefit of our students. For these reasons, course modules may be updated.
---
How you'll learn
In a typical teaching week, you will have approximately 13 'contact' hours of teaching. This includes a combination of:
medium group teaching: workshops, seminars and lectures
small group teaching: seminar, critiques and tutorials
studio practice and bookable workshop access
The contact hours may be made up of a combination of face-to-face teaching, individual and group tutorials, and online activities.
The School of Art and Design often provides opportunities to engage in external or collaborative activities such as competition/Industry briefs and speakers beyond your course studies. We strongly encourage you to take advantage of these opportunities to support your learning journey.
As an innovative and enterprising institution, the university may seek to utilise emerging technologies within the student experience. For all courses (whether on-campus, blended, or distance learning), the university may deliver certain contact hours and assessments via online technologies and methods.
---
Assessment
This course will be assessed using a variety of methods which may vary depending upon the module concerned. Assessment methods include exams, practical coursework, essays/reports, presentations, individual assignments and/or group work elements.
This course is predominantly assessed by coursework.
---
Job ready
On successful completion of this course, you will:
Develop subject specific and scholarly understanding within a professional and historical context;
Develop a studio learning culture that gives time and space to develop and encourages creative passion, collaboration, risk-taking and playfulness;
Promote inclusivity and diversity throughout the curriculum, enabling students to effectively communicate their ideas through their idiosyncratic creative journey;
Give students the opportunity to experiment with both traditional making techniques and contemporary technology as means to innovate within the field of illustration;
Embed in students a philosophy of continued independent learning, critical reflection and fluid engagement in multi-disciplinary activities, resulting in the acquisition of valuable transferable skills;
Produce a portfolio of professional work, with a confident understanding of the contextual framework it sits within;
Engage students in a global community of practice;
Equip students with the entrepreneurial skills to turn their passion into a sustainable career.
---
Entry requirements
Haven't met the entry requirements or don't have the right qualifications? You may still be able to progress onto a degree you'd love by studying a foundation or access course.
View our full list of country specific entry requirements on our Entry requirements page. You can also explore our International foundation year courses.
---
Fees and funding
2022/23 Fees
| Student | Full time | Part time |
| --- | --- | --- |
| UK | £9,250 per year | Not available |
| International | £18,050 per year | Not available |
For advice and guidance on tuition fees and student loans visit our Undergraduate Finance page and see The University's Tuition Fee and Refund Terms and Conditions.
We offer a range of International scholarships to students all over the world. For more information, visit our International Scholarships page.
Tuition fees cover the cost of your teaching, assessments, facilities and support services. There may be additional costs not covered by this fee such as accommodation and living costs, recommended reading books, stationery, printing and re-assessments should you need them. Find out what's included in your tuition costs.
---
Facilities
The Faculty of Arts and Humanities is joining two of our school's completely refurbished Art and Design buildings and adding a range of new facilities*. These will include a hyper studio designed for cross-disciplinary projects; immersive studios with cutting-edge virtual reality and mixed-reality technologies. Our aim is to offer you sector-leading facilities in a unique environment.
Our current digital and industrial workshops are of industry-standard quality and house 3D rapid prototyping, laser cutters and milling machines. These facilities are available to all students on our courses at no extra cost. These are subject to availability.
We also have a ceramic and small-metal-working workshop, a large digital print bureau, and clay modelling studios where you can realise your creative artistic and design solutions
The fashion workshops have digital embroidery machines, digital printers and a printmaking workshop that includes etching, screen printing and a rare, one of only three in existence in the UK, letterpress studio.

In our Mac and PC CAD labs, you can become digitally literate in presentation and design skills using the Adobe suite of software. You can also get Adobe accreditation as part of an Add+vantage module and learn other software packages including Alias, Toom Boom, Revit, and Maya.
*Approximate opening date: Autumn 2022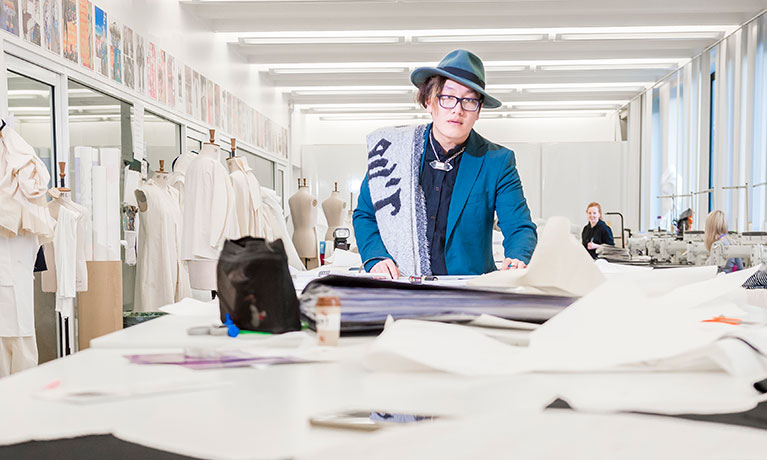 You will have access all kinds of industry-grade equipment* for a range of textiles: from laser cutting, digital embroidery, sonic wielding and screen printing, to manufacturing tools for accessories, embroidery and garments.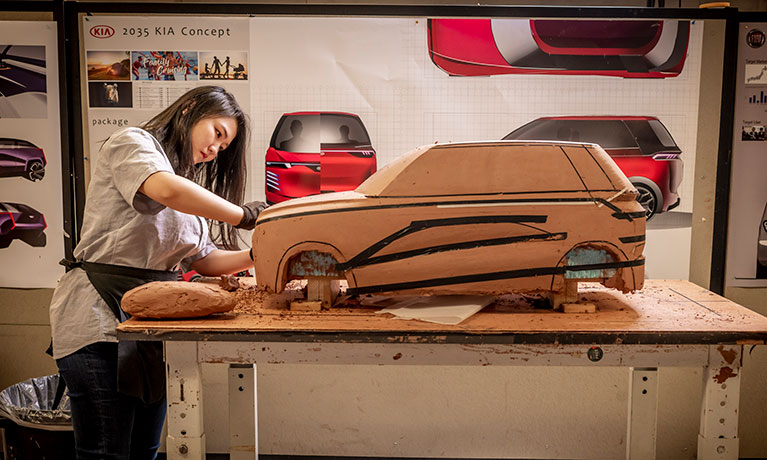 In our clay studio*, your ideas become realised by using technological software and clay. Here you can create whatever you imagine, whether that's an animated character, a sleek car design or theatre props.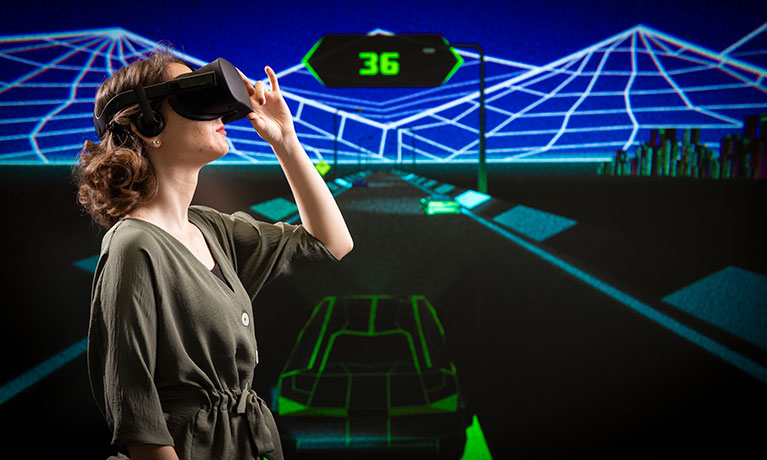 Games Technology laboratory
Our gaming lab is a technological paradise, equipped with high-end gaming PCs that have all of the industry-standard software necessary for your course*. It also houses virtual reality game development and motion capture technology.
---
Careers and opportunities
The course is creative and exciting and offers a wide range of employability destinations, both in its own right, as well as underpinning many other creative professions.
After studying, students go on to work in the following areas: freelance editorial illustration, fashion, advertising, comic books, tv and film production, children's picture books, textiles and homewares design, artists, art direction, games art and animation, teaching and study at postgraduate level.
Further study
You can choose to continue your studies at Coventry University with the Illustration and Animation MA. You may be entitled to an alumni discount on your fees if you decide to extend your time with us by progressing from undergraduate to postgraduate study.
---
How to apply
UK Students

Full-time students applying to start in September should apply for this course through UCAS. Read our application pages to find out your next steps to apply.

Part-time students should apply directly to the university.

---

For further support or more information about your course get in touch with us today.

International Students

Full-time students applying to start in September should apply directly to the university. Read our application pages to find out your next steps to apply.

How to apply

For further support for international applicants applying for an undergraduate degree view our International hub.

You can also download our International guide which contains lots of useful information about our courses, accommodation and tips for travel.

---

Get in touch with us today for further advice and guidance.
Disclaimers

Student Contract

By accepting your offer of a place and enrolling with us, a Student Contract will be formed between you and the university. A copy of the 2021/22 Contract can be found here. The Contract details your rights and the obligations you will be bound by during your time as a student and contains the obligations that the university will owe to you. You should read the Contract before you accept an offer of a place and before you enrol at the university.

Tuition fees

The tuition fee for the course that is stated on the course webpage and in the prospectus for the first year of study will apply. We will review our tuition fees each year. For UK and EU students, if Parliament permit an increase in tuition fees, we may increase fees for each subsequent year of study in line with any such changes. Note that any increase is expected to be in line with inflation. Following the UK's exit from the European Union, EU students should be aware that there may be a change to UK laws following the UK's exit, this may change their student status, their eligibility to study part time, and/or their eligibility for student finance. We will act in accordance with the UK's laws in force in relation to student tuition fees and finance from time to time.

For International students the tuition fee that is stated on the course webpage and in the prospectus for the first year of study will apply. We will review our tuition fees each year. For international students, we may increase fees for each subsequent year of study but such increases will be no more than 5% above inflation.

Accreditations

The majority of our courses have been formally recognised by professional bodies, which means the courses have been reviewed and tested to ensure they reach a set standard. In some instances, studying on an accredited course can give you additional benefits such as exemptions from professional exams (subject to availability, fees may apply). Accreditations, partnerships, exemptions and memberships shall be renewed in accordance with the relevant bodies' standard review process and subject to the university maintaining the same high standards of course delivery.

Facilities

Facilities mentioned on this page may not be relevant for every course. Due to the ongoing restrictions relating to COVID-19, some facilities (including some teaching and learning spaces) and some non-academic offerings (particularly in relation to international experiences), may vary from those advertised and may have reduced availability or restrictions on their use.

Placements and study abroad opportunities

Please note that we are unable to guarantee any placement or study abroad opportunities and that all such opportunities may be subject to additional costs (e.g. travel, visas and accommodation etc.), competitive application, availability and/or meeting any applicable visa requirements. To ensure that you fully understand the requirements in this regard, please contact the International Office for further details if you are an EU or International student.

Additional costs

This course may incur additional costs associated with any field trips, placements or work experience, study abroad opportunities or any other opportunity (whether required or optional), which could include (but is not limited to), equipment, materials, bench fees, studio or facilities hire, travel, accommodation and visas).
---