Graphic Design MA
Study level:

Postgraduate
This course is for those who want to enhance their existing professional portfolio and expand and deepen their understanding of graphic design practice.
Location
Coventry University (Coventry)
Study mode
Full-time
Part-time
Duration
1 year full-time
2 years part-time
Course code
AHT040 (full-time), ADT082 (part-time)

---
Course overview
This course is for those who want to enhance their existing professional portfolio and expand and deepen their understanding of graphic design practice.
Students explore graphic design practices, such as typography, photography, copywriting, art direction, animation and interactive design
You will develop your entrepreneurial, creative and technical skills to harness radical, original approaches and solutions to current visual communication design issues.
You will have the option to apply for a 'professional experience' opportunity2 designed to further develop your skills and knowledge with the aim of maximising your employability prospects. See modules for more information.

Global ready
An international outlook, with global opportunities

Teaching excellence
Taught by lecturers who are experts in their field

Employability
Career ready graduates, with the skills to succeed
Why you should study this course
The Coventry University School of Art and Design is home to a vibrant and long-established postgraduate teaching and learning community.
We have taught art and design for over 150 years and at its heart is its creative, studio-centric learning environment housing a wide range of creative disciplines. Our postgraduate portfolio embraces design thinking, making, creative processes and the critical and enterprising production of innovative making, artefacts and user experience solutions.
Access to specialist workshops on topics such as printmaking, sublimation, laser cutting to help you realise your practice to the fullest extent (subject to availability4).
Access to dedicated design studios, the software packages for page layout, image manipulation and multimedia design, such Adobe Creative Suite, 3D software and animation software.
Facilities including fully equipped digital production, sound recording and editing, film, photography, video, ceramics and print facilities, including a printmaking workroom, screen printing studio and a digital print bureau4.
Excellent links with industry such as IBM, OPUS books and Compton Verney, many of whom provide professional guidance and collaborate on real-life projects2.
I came onto the Master's course having taken a year out after finishing the BA at Coventry. I wanted to get back into the world of graphic design, improve my portfolio and develop it into something that I was not only proud of, but would consequently get me a job when I came out the other side.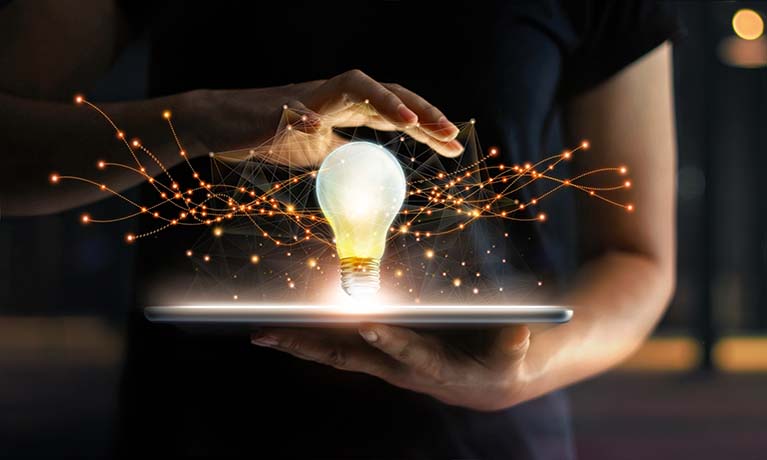 ---
What you'll study
This is an ideas-based course and is focused on practical outcomes, which combine visual and written language. This is achieved through intensive and challenging creative briefs, underpinned by sound academic research, self-critical reflection and contextually relevant practice. Students participate in projects that range across many topical and current themes in design. Students also engage and explore graphic design practices, such as typography, photography, copywriting, art direction, animation and interactive design, experimenting with a wide range of digital and analogue media.
The course is suitable for applicants who have already undertaken a sustained period of creative practice in education or industry, and who wish to enhance their career as designers or art directors. The course benefits from international cohorts and Collaborative Online International Learning Projects (COIL) which provides an international perspective from the associated peer learning opportunities2.
During Semester 1 students will focus on collaborative learning experiences and provide a theoretical and practical introduction to academic standards of research and ethics which are core to level 7 study. In Semester 2 students will critically develop their specialist practice/interests and start to question where personal boundaries and creative activities can be furthered or built upon at PG level. Students will work closely with peers and consider their own practice in a professional context. During Semester 3 students will work on their Final Project.
Modules
Collaboration in Practice - 30 credits

This module explores the nature and definitions of research in art, architecture and design-based disciplines. You will also have the opportunity to work with students across the postgraduate disciplines within the School of Art and Design and internationally to enable you to develop a broader understanding of the context for your practice, encouraging you to dynamically engage with external partners and apply your ideas in 'real world contexts'.

Graphic Design Specialist 1 - 30 credits

This module requires the management and implementation of an appropriate critical investigation. It will be based upon a project plan developed over Semester 1 and 2. This module will help gain specialist insight or a new knowledge base to support Final Specialist Project. The outcome will be a personal project brief or initial creative directions inspired by the data, discourse or analysis.

Professional Context - 20 credits

This module asks students to consider the professional contexts of their discipline. It explores the ways in which creativity, innovation, problem-solving and entrepreneurship intersect in creative practice. It employs real-world examples to enable student to think about their professional practice, employability, portfolio development and approaches to communication.

Graphic Design Specialism 2 - 30 credits

This module emphasises the importance of adopting a flexible and responsive approach to practice that enables designers to stay relevant, maintain an understanding of key developments, trends, changing interpretations of good practice and respond positively to criticisms of the field. It explores how graphic designers work and is shaped by disciplinary and wider cultural debates.

Transnational Professional Development - 10 credits

The module is based on students selecting a series of topics related to intercultural and transnational communication, professional development and management/leadership to provide students with both a theoretical and practical framework to help build key skills.

Graphic Design Specialist Investigation - 30 credits

This module requires the management and implementation of an appropriate critical investigation. It will be based upon a project plan developed over Semester 1 and 2. This module will help gain specialist insight or a new knowledge base to support Final Specialist Project. The outcome will be a personal project brief or initial creative directions inspired by the data, discourse or analysis. This is the most substantial theoretical assignment on the course and needs to be managed effectively.

Graphic Design Final Project - 30 credits

The module requires students take responsibility for the development and management of an independent project from the conception, through research and organization, to the delivery of a substantial body of practical work. Through this process, students are expected to develop and demonstrate specialist skills in the delivery of outcomes that reveal the individual practitioner's particular style and depth of engagement and understanding within the chosen area of study.
With professional experience option
The professional experience opportunity2 enables you the opportunity to apply for optional professional experience in semester 1, which, upon successfully securing an opportunity, will extend the duration of your master's to either 16, 20 or 24 months. The professional experience provides an opportunity for you to develop expertise and experience in your chosen field with the aim of enhancing your employability.
Please note that the optional professional experience modules incur an additional tuition fee, which for 1 semester of professional experience is £1,333.33, for 2 semesters of professional experience is £2,666.67, and for 3 semesters of professional experience is £4,000.
Professional experience may also be subject to additional costs, visa requirements being met, subject to availability and/or competitive application. Professional experience opportunities are not guaranteed but you will benefit from the support of our Talent Team in trying to find and secure an opportunity. Find out more about the professional experience option.

We regularly review our course content, to make it relevant and current for the benefit of our students. For these reasons, course modules may be updated.
---
In a typical teaching week, teaching methods include a combination of:
medium group teaching: workshops, seminars and lectures
small group teaching: seminar, critiques and tutorials
studio practice and bookable workshop access
The contact hours may be made up of a combination of face-to-face teaching, individual and group tutorials, and online activities.
The School of Art and Design often provides opportunities to engage in external or collaborative activities such as competition/Industry briefs and speakers beyond your course studies. We strongly encourage you to take advantage of these opportunities to support your learning journey.
This course can be offered on a part-time basis. Whilst we would like to give you all the information about our part-time offering here, it is tailored for each course each year depending on the number of part-time applicants. Therefore, the part-time teaching arrangements vary. Request further information about part-time study.
---
Teaching contact hours
Part of university life is undertaking self-directed learning. Across the course of the week you will have non 'taught' time that allows you to work independently to apply the skills you have learnt in taught or facilitated sessions to your projects or assignment briefs. This is particularly important in the school of art and design as it allows you to engage and develop your practice.
This self-directed learning allows you to monitor and self-evaluate your development and how to manage this time to best impact your creative work. SDL is key to designing and making as it is a process that takes discipline and repetition. This mode of learning underpins an art and design community of practice approach.
Approximately a third of your time will be taken up with scheduled taught sessions whether that is individual, seminar, group and in the remaining hours you will be applying that learning to your ongoing assignments. Every learner is different and will manage their learning journey to their strengths and aspirations.
As an innovative and enterprising institution, the university may seek to utilise emerging technologies within the student experience. For all courses (whether on-campus, blended, or distance learning), the university may deliver certain contact hours and assessments via online technologies and methods.
In response to the COVID-19 pandemic, we are prepared for courses due to start in or after the 2022/2023 academic year to be delivered in a variety of forms. The form of delivery will be determined in accordance with Government and Public Health guidance. Whether on campus or online, our key priority is staff and student safety.
---
Assessment
This course will be assessed using a variety of methods which could vary depending upon the module. In the School of Art and Design, we design our assessment methods to replicate the creative industry ways of working. This ensures that you have the chance to learn skills for future career opportunities.
Group work
Presentations
Reports
Projects
Coursework
Individual Assignments
The Coventry University Group assessment strategy ensures that our courses are fairly assessed and allows us to monitor student progression towards achieving the intended learning outcomes.
---
International experience opportunities
Coventry School of Art and Design has a multinational population and you will have the opportunity to work alongside students from all over the globe. We see this as a particular strength of the course as it enables students to work alongside students from differing cultural backgrounds and design perspectives. It gives them experience of working collaboratively and cross-culturally. The capacity to work across cultural and disciplinary boundaries is becoming an essential skill in our ever-more interconnected world.
Collaborative learning may include exchange lectures by International academics, visiting tutors from our link universities on site in the UK and abroad. Many of our courses run Collaborative Online International Learning projects allowing you to develop cultural connections and global design sensitivity with students from other universities from around the world2.
Hear from our students
We caught up with some MA students after they had submitted their Final Major Projects to the Coventry Degree Show Postgraduate Showcase, to find out what their experience at Coventry had been like.
---
You will need to be ambitious, highly motivated with either a degree in a relevant subject or a body of professional work.
Applicants should ideally hold a good honours degree 2:2 or above in a Graphics/Design discipline.
We recognise a breadth of qualifications, speak to one of our advisers today to find out how we can help you.
Portfolio
No portfolio will be required if the academic qualifications in the subject area as defined above are met.
If a portfolio is required it should feature a maximum of approximately 10-15 examples of work or 3-4 projects undertaken within the past 2 years, 3 or 4 of which should be major, substantial, in-depth projects which demonstrate ability to conceptualise solutions to creative problems, and to assimilate and combine written language or content with the visual. This will clearly demonstrate the level of creative, craft and production skills achieved, either in a previous course of study or in a professional design studio, as a freelance designer or during an internship.
Projects should ideally be accompanied by a brief summary of the work or projects, notes on the software used, and dated. As a graphic designer a genuine, demonstrable interest in typography and good typographic skills is required beyond the basic level.
You will need to be ambitious, highly motivated with either a degree in a relevant subject or a body of professional work.
Select your region to find detailed information about entry requirements:
You can view our full list of country specific entry requirements on our Entry requirements page.
Alternatively, visit our International hub for further advice and guidance on finding in-country agents and representatives, joining our in-country events and how to apply.
Portfolio
You will be required to submit a portfolio of work and may be interviewed either face to face or virtually, to determine your suitability for the course.
English language requirements
If you don't meet the English language requirements, you can achieve the level you need by successfully completing a pre-sessional English programme before you start your course.
For more information on our approved English language tests visit our English language requirements page.
---
Fees and funding
2022/23 tuition fees.
| Student | Full-time | Part-time |
| --- | --- | --- |
| UK | £10,600 | £4,000 (Work placement option additional fee) per year | Request fee information |
| International | £16,950 | £4,000 (Work placement option additional fee) per year | Not available |
For advice and guidance on tuition fees3 and student loans visit our Postgraduate Finance page.
We offer a range of International scholarships to students all over the world. For more information, visit our International Scholarships page.
How do you know if you need to pay UK or international tuition fees?

We carry out an initial fee status assessment based on the information you provide in your application. Your fee status determines your tuition fees, and what financial support and scholarships may be available to you. The rules about who pays UK (home) or international (overseas) fees for higher education courses in England are set by the government's Department for Education. The regulations identify all the different categories of student who can insist on paying the home rate. The regulations can be difficult to understand, so the UK Council for International Student Affairs (UKCISA) has provided fee status guidance to help you identify whether you are eligible to pay the home or overseas rate.

If you meet all the criteria required by any one category, including any residence requirements, your institution must charge you the home rate. You only need to find one category that you fit into.
---
Facilities
The Faculty of Arts and Humanities is joining two of our school's completely refurbished Art and Design buildings and adding a range of new facilities, which is planned to fully open in 2023. These will include a hyper studio designed for cross-disciplinary projects; immersive studios with cutting-edge virtual reality and mixed-reality technologies4. Our aim is to offer you sector-leading facilities in a unique environment.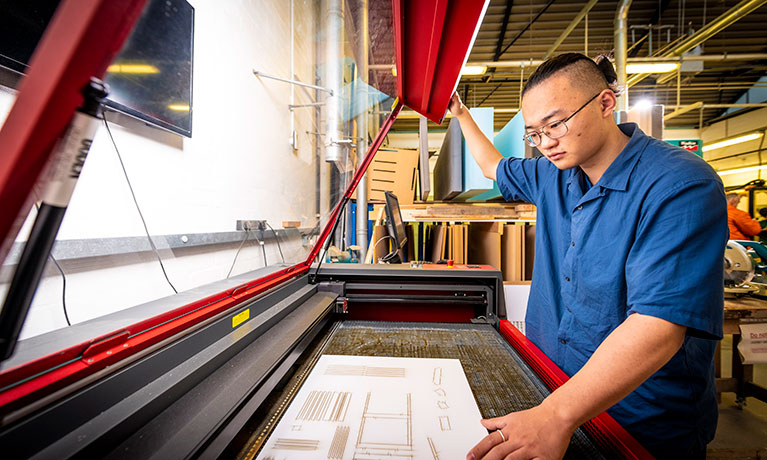 Design workshops
Our digital and printing workshops bring your ideas to life through different media. You'll find a high-powered laser cutter, 3D printers, scanners and traditional print-making and making workshops for etching, silk-screen printing, relief printing and woodwork, as well as a generously stocked letterpress room.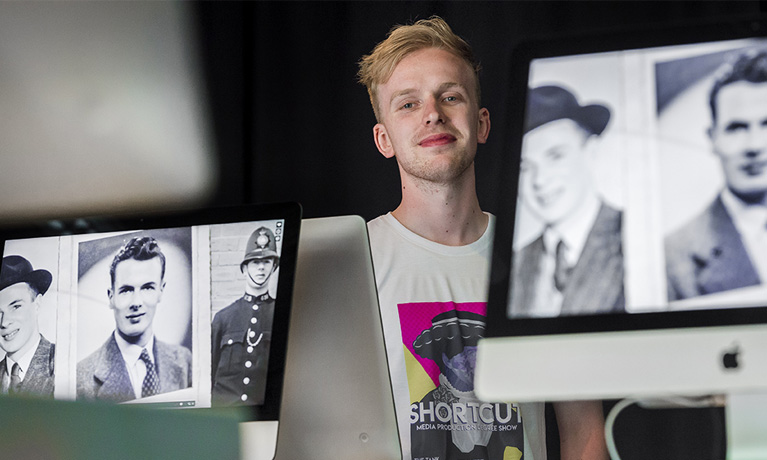 PC and Mac suites
Maximise your learning in our cutting-edge computer suites. You'll have access to PCs and Macs running the latest industry standard software needed for your course, including graphic design packages such as Adobe Creative Suite.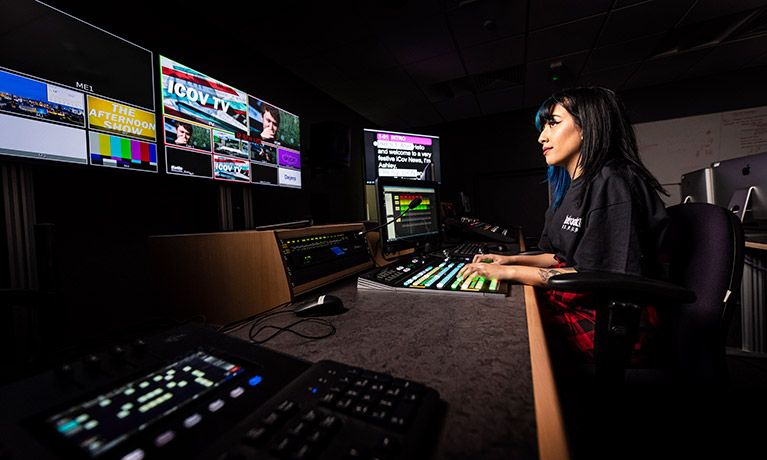 In the School of Art and Design, we shape our teaching and assessment methods to replicate the creative industry ways of working. This includes working in a studio-centric working environment.
---
Careers and opportunities
Upon successful completion, you will be able to:
Undertake research and evaluative reflection in order to synthesize and articulate an advanced knowledge of the theoretical and thematic concerns within their chosen area of graphic design practice.
Deploy skills, techniques and technologies with originality and imagination in relation to graphic design for continued practice at an advanced level.
Realise complex and ambitious artefacts/projects for identified and diverse audiences and contexts.
Contribute to the shaping of a global contemporary discourse by engaging with innovative, experimental, hybrid and creative approaches to graphic design practice.
Deploy advanced personal skills, judgement and critical awareness enabling problem-solving and innovation applicable to a wide range of creative, professional, social and collaborative contexts.
Innovate and apply creative depth during graphic design practice with respect to market requirements, professional clients and user contexts.
You will be encouraged to adopt a creative, enquiring and critical approach to the graphic image and its uses in contemporary practice. Furthermore, you will graduate with relevant industry experience, having worked with a variety of design professionals.
Depending on your individual study, you may also benefit from a range of transferrable skills highly sought after by future employers, including: team working, working independently, critical thinking, report writing, project management, ideas generation, presentation and finance.
National and international graduate career prospects are many and varied and in the past have included: education, curating, film, television, special effects, print and publishing, multimedia, advertising, animation, moving image, web and interactive design, video games, music, marketing and public relations.
Where our graduates work
Recent graduates have gone on to undertake PhDs, to lecture, to work as graphic designers for Leisure concepts, BYG Systems Limited, Opus books and Country Wide groups.
---
How to apply
UK students

To apply to study for a postgraduate course at Coventry University, you can apply online.

---

For further support or more information about your course get in touch with us today.

International students

Full-time international students applying to start in September should apply directly to the university. Read our application pages to find out your next steps to apply.

How to apply

For further support for international applicants applying for postgraduate degree view our International hub.

You can also download our International guide which contains lots of useful information about our courses, accommodation and tips for travel.

---

Get in touch with us today for further advice and guidance.
Disclaimers

1Accreditations

The majority of our courses have been formally recognised by professional bodies, which means the courses have been reviewed and tested to ensure they reach a set standard. In some instances, studying on an accredited course can give you additional benefits such as exemptions from professional exams (subject to availability, fees may apply). Accreditations, partnerships, exemptions and memberships shall be renewed in accordance with the relevant bodies' standard review process and subject to the university maintaining the same high standards of course delivery.

2UK and international opportunities

Please note that we are unable to guarantee any UK or International opportunities (whether required or optional) such as internships, work experience, field trips, conferences, placements or study abroad opportunities and that all such opportunities may be subject to additional costs (which could include, but is not limited to, equipment, materials, bench fees, studio or facilities hire, travel, accommodation and visas), competitive application, availability and/or meeting any applicable travel COVID and visa requirements. To ensure that you fully understand the visa requirements, please contact the International Office.

3Tuition fees

The University will charge the tuition fees that are stated in the above table for the first Academic Year of study. The University will review tuition fees each year. For Home Students, if Parliament permit an increase in tuition fees, the University may increase fees for each subsequent year of study in line with any such changes. Note that any increase is expected to be in line with inflation.

For International Students, we may increase fees each year but such increases will be no more than 5% above inflation. If you defer your course start date or have to extend your studies beyond the normal duration of the course (e.g. to repeat a year or resit examinations) the University reserves the right to charge you fees at a higher rate and/or in accordance with any legislative changes during the additional period of study.

4Facilities

Facilities are subject to availability. Due to the ongoing restrictions relating to COVID-19, some facilities (including some teaching and learning spaces) may vary from those advertised and may have reduced availability or restrictions on their use.

Student Contract

By accepting your offer of a place and enrolling with us, a Student Contract will be formed between you and the university. A copy of the 2022/23 contract can be found here. The Contract details your rights and the obligations you will be bound by during your time as a student and contains the obligations that the university will owe to you. You should read the Contract before you accept an offer of a place and before you enrol at the university.
Coventry University (Coventry)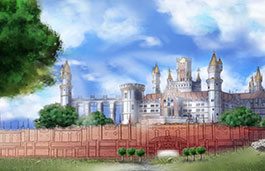 Illustration and Animation MA
Coventry University (Coventry)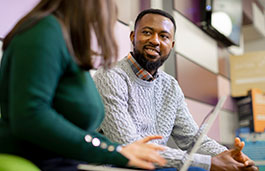 Product Design Innovation MA
Coventry University (Coventry)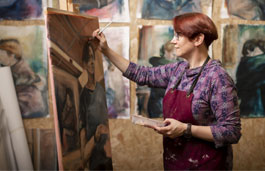 ---