Literacy
FOCUS OF OUR RESEARCH
Our research links theoretical perspectives of learning to read and write with more practical intervention work. Literacy skills underpin all areas of the curriculum and it is essential that children are enabled to achieve all that they can in primary school, in order to unlock their potential across the curriculum at secondary school. To that end we focus on a range of different themes, including:
The difficulties shown by children with dyslexia,
Oral language impairments or hearing impairments;
The role of technology and digital media in literacy;
The role of motivation and self-esteem in reading progress;
The links between spoken language skills and literacy development. In this final case, we are interested how understanding of the sounds, rhythms and structures of spoken language can help children develop their written language.
Much of our research focuses on literacy interventions, often working closely with partners such as the Educational Endowment Foundation, the Reading Agency or the National Literacy Trust to assess 'real world' programmes. This work is backed up with our theoretically oriented work focusing on the role of oral language skills and personality factors in reading development and difficulties.
THE TEAM
| | |
| --- | --- |
| | Reading, literacy, writing, phonology, morphology, dyslexia, language impairment |
| | Reading, literacy and reading development |
| | Literacy development, dynamic assessment, alternative approaches to education |
| | Reading and spelling development, morphology, hearing impairment/deafness and dyslexia |
| | Cyberbullying, children and young people use of social media and educational psychology practice |
| | Childrens literacy and evaluation methodologies |
| | Developmental psychology |
| | Language impairment, reading comprehension and bilingualism |
PSBS MEMBERS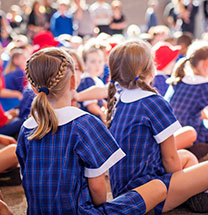 COVENTRY UNIVERSITY'S SCHOOL RESEARCH NETWORK
We're bringing together researchers that specialise in education and schools to benefit the right people.
UPCOMING EVENTS
We hold regular public engagement events, particularly for teachers and educational practitioners. If you would like to receive information about these, please email Emma Vardy.