Matej Christiaens
RESEARCH SUBJECT AND INTERESTS
I am looking at UK policies that deal with sport participation for disabled people. More specifically I will be looking at how different levels of policy making, policy implementation and the people who the policy is made for interact with each other. I'll be looking if there are any gaps between these different levels. My method of choice to gather data is conducting interviews and surveys. These will roll out in two phases. In the first phase data will be gathered to determine the important aspects of disability sport policy. In a second stage a much bigger sample is collected to quantify the data and to determine if any gaps actually exist.
Director of studies is Ian Britain who is an established academic in the field of disability studies. Meanwhile, Benoit Senaux strengthens our team with his expert knowledge in the field of policy making and governmental structures.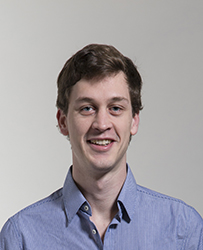 PhD Student
Building: Jaguar Building
Email: Christ43@uni.coventry.ac.uk
BIOGRAPHY
Matej Christiaens is a Bachelor in Physical Education at University College Leuven-Limburg, a Postgraduate Bachelor in Advanced Business Management with distinction at University College Leuven-Limburg and a Master of Science in Sport Management with Merit at Coventry University. Matej also holds a Certificate of the Global Leaders Programme at Coventry University.
Interests: Sport, Sport Management, Sport Marketing, Sport Branding, Disability Sport, Sport Participation.
OUTPUTS
Christiaens, M. (2012)

LGBT's and Sport: A Work in Progress. Unpublished dissertation. Flanders: University Colege of Leuven-Limburg
Christiaens, M. (2014)

Sponsorship or Partnership: A Parallel Case Study Examining Chevrolet- Manchester United and IBM-Wimbledon Relationship. Unpublished Master's thesis. Coventry: Coventry University